If you're looking for easy and low cost indoor activities for kids – we have a list of over 100 ideas for you! From simple activities to fun crafts that can keep kids busy during school breaks or on a rainy day. You can even cross off each one as you do them with our free printable!
RELATED:  Summer Bucket List for Kids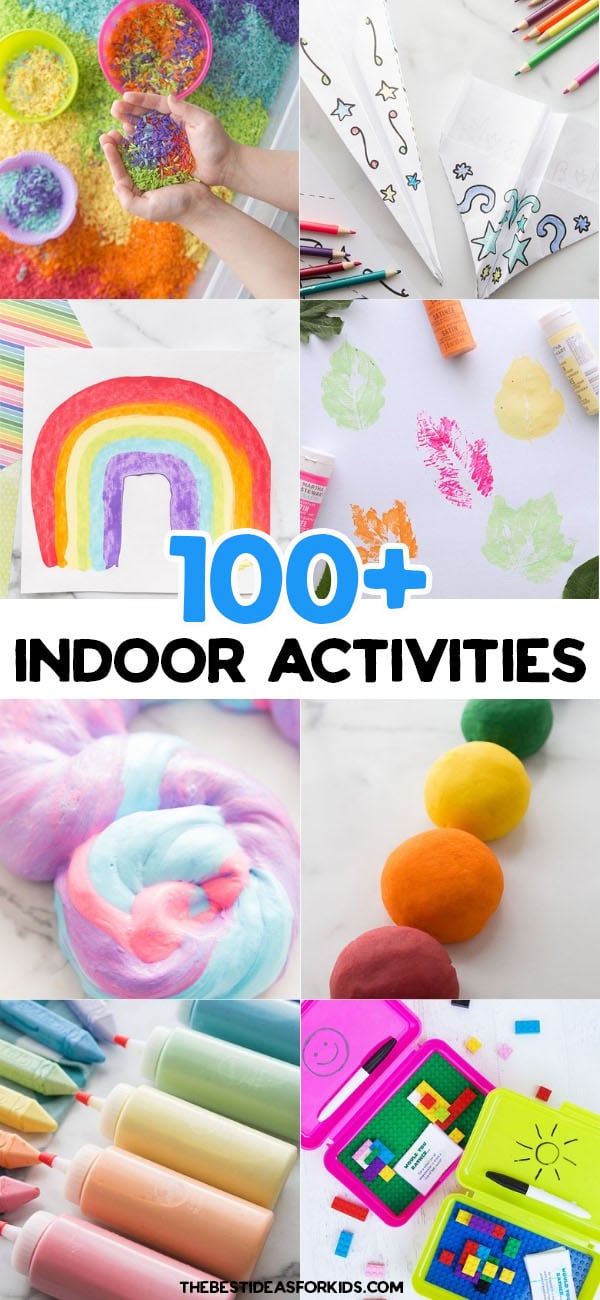 To make it easy, we have created a printable list of the 100+ Activities for Kids so you can easily print off the list.
We also have all of the ideas in this post if you need them.  You can copy and paste to create your own printable, or use the one that we have already created for you! We only ask that if you are reprinting in a community newsletter or school newsletter that you credit our website as the source.
Indoor Activities for Kids – Over 100 Ideas!
We've organized the ideas by crafts, activities, games and educational. Hopefully this list will also provide inspiration for you to think of other ideas too!
And if you love making crafts with things you have around your home, check out our Recycled Crafts for Kids book. It has 60 crafts for kids with things you can use from around your home and a few other simple supplies.
SENSORY PLAY
CRAFTS
ACTIVITIES
Build a Fort
Have a Pillow Fight
Write a Story
Make Ice Cream in a Bag
Make Homemade Gummy Bears
Make Fruit Roll-Ups
Have a Movie Day
Put on a Fashion Show
Bake Cupcakes or Muffins
Do Yoga
Build an Obstacle Course
Make Dinner Together
Play with Magnetic Tiles
Build Something With Lego: You can even make your own travel lego case!
Build a Stack of Cards
Put on a Puppet Show
Make a Treasure Hunt. This newspaper pirate hat is fun to make with it!
Make Your Own Indoor Bowling. Use paper towel rolls as your bowling pins and use a ball to bowl
Learn to Draw
Put on a Play
Make Indoor Hopscotch. Use masking tape to make your own hopscotch on tiles in your own
Do a Family Chore Together. See our free printable chore charts.
Have a Dance Party
Have a Tea Party
Play with Water In a Bin With Toys
Set up a Play Store. Grab a shopping basket and set up the merchandise. We like this play cash register too!
Make a Sock Toss Game. Use mismatched socks and fill them with beans or rice. Then try to see how many you can 'score' in a laundry basket.
Make Perler Bead Art
Write in a Journal
Use Dot Markers
GAMES
Play Would You Rather
Play I Spy. See all of our printable I spy games!
Play Simon Says
Play Board Games
Play Hide and Seek
Have an indoor scavenger hunt.
Play Bingo
Play Card Games
Do a Puzzle
Play Charades
Build Your Own Game
Play Freeze Dance
Play Hot Potato
Play Marbles
Play Keep the Balloon Up
Play Dominoes
Play Hangman
Play Tic-Tac-Toe
EDUCATIONAL
Read Books
Do a Science Project
Learn Origami
Learn About a New Animal
Learn a New Card Game
Learn to Sew
Learn to Knit
Do Brain Teasers
Learn a New Language
Learn About a Country
Over 100 ideas are included in this indoor activities for kids free printable.
Get the free printable here.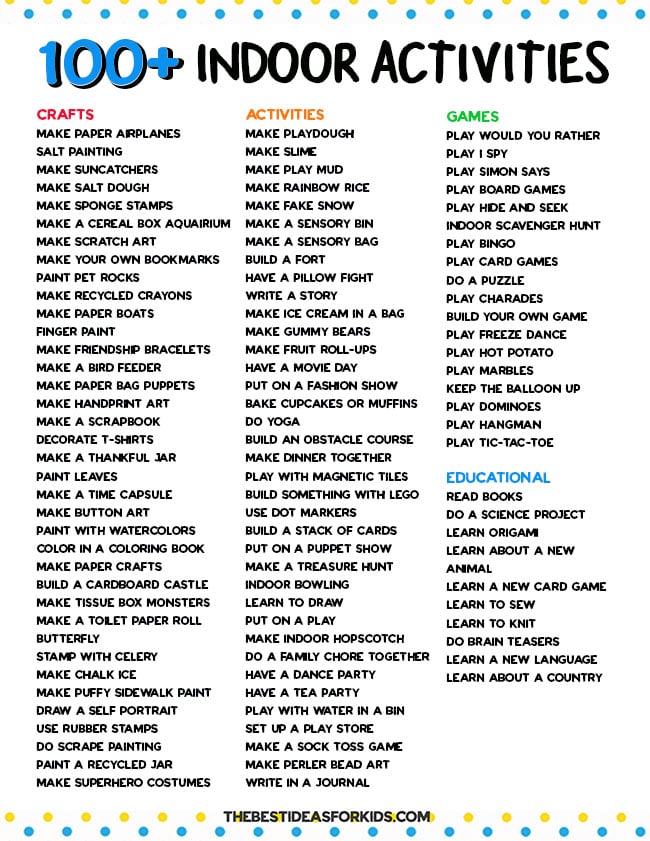 And for more ideas, see our book – Fun and Easy Crafting with Recycled Materials.  This book is bursting with recycled crafts that use things you can find around your home. There are chapters with egg cartons, cardboard, newspaper, popsicle sticks, jars and more!
For more outdoor summer activity ideas, see our Summer Bucket List for Kids.