If you are looking for ways to keep kids entertained but also learning, then this list of YouTube channels may be a great resource for you.  We have compiled a list of the 15+ Best Educational YouTube Channels For Kids. There is something here for almost every subject, including Math, Science, Art and even general channels with a breadth of learning videos.
RELATED: Educational Apps for Kids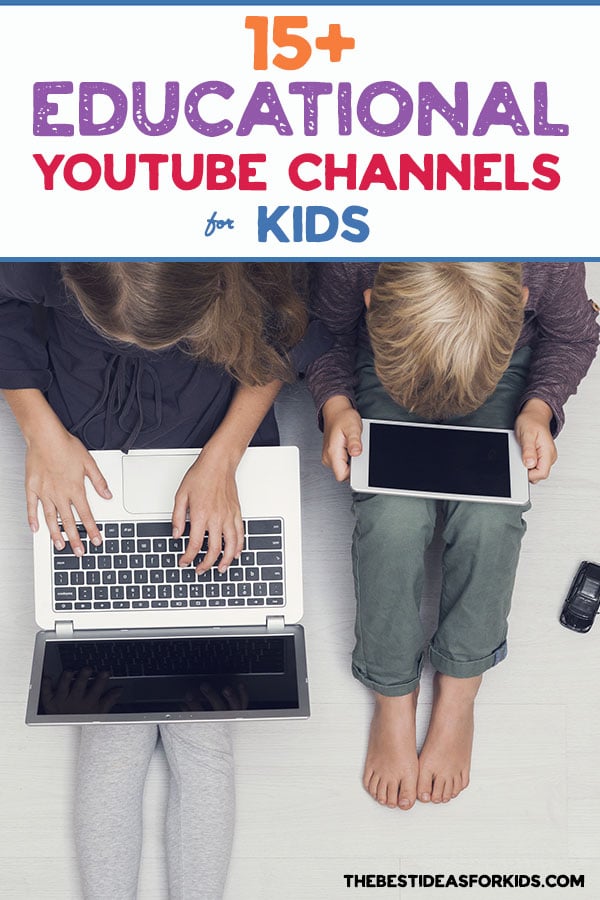 Most of these channels are geared toward younger elementary kids and preschool children but some of them also have something for kids of all ages.  This is also a great resource for teachers, parents, childcare workers and grandparents.
15+ Best Educational Videos For Kids
Nothing can replace a great hands-on learning experience, but when there are days that you need a little extra help and support, YouTube can be a wonderful resource.
Some of these channels are educational and entertaining and some of them are a little more interactive. Some are silly and some get right down to business when it comes to learning. This list of YouTube resources is one that you can keep coming back to anytime you feel bored or want to learn something new with your kids!
Another thing to try is to search questions or topics on YouTube.  For example, why do bees make honey? Why is the sky blue? You'll be able to then select a video to get a video explanation to supplement your learning.
Because there are so many different YouTube channels, we have divided this list up by subject matter to make it easier for you to navigate and refer to.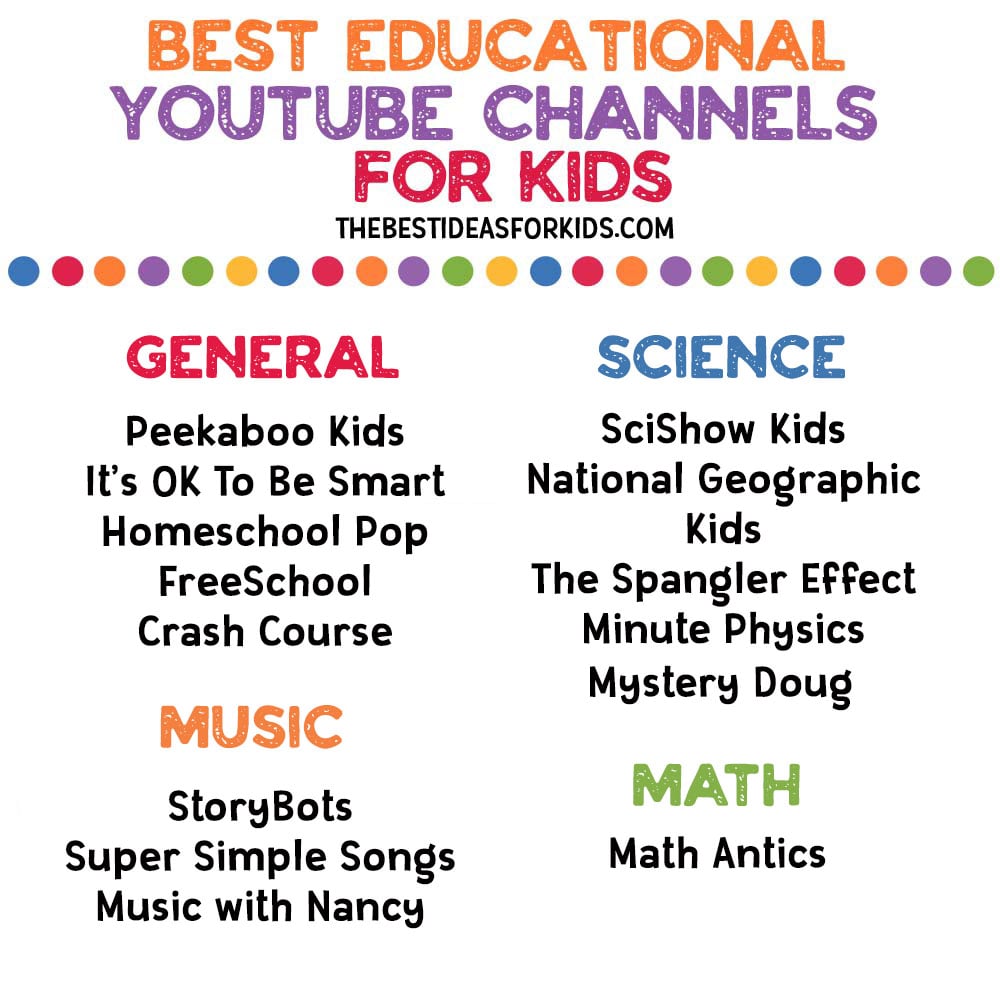 Peekaboo Kids
You will find videos for kids of all ages on this channel.  Most of the videos are all about math, science or phonics. Whether you have a preschooler or older child, this channel has something to offer!
It's OK To Be Smart
If you need some education support for biology, physics, anatomy, space, animals or more, then check out this YouTube channel. There is a large variety of videos on all sorts of subjects!
Homeschool Pop
Even if your kids aren't homeschooled, this channel is still an excellent learning resource. There are videos for different grade levels and subjects, making it easy to search just what you are looking for. Almost every subject is covered on this channel.
FreeSchool
This channel focuses on history, animals and science. The videos are short, informative and fun. This is a great place to go if you need some extra support for teaching kids about a specific subject.
Crash Course
Crash course is a great educational resource for kids. The videos are very well made and they span a wide variety of subject matters. Older kids will love this channel for learning!
Sesame Street
Sesame Street has lots of short clips on different topics from the show your kids love to watch. From science to literacy they cover it all!

SciShow Kids
There are videos on all different types of scientific subjects such as nature, animals and science experiments. These videos are short, entertaining and educational for kids!
National Geographic Kids
National Geographic for kids offers videos that are funny, entertaining and educational for kids. These videos are well done and there is something to offer for everyone.
The Spangler Effect
See lots of different science experiments by Steve Spangler.
Wild Kratts
A new video is released every Wednesday. Full episodes are available on Netflix but you can get short clips with lots of educational content about animals on their YouTube channel.
Mystery Doug
This channel answers questions for kids like –  Can animals laugh? Why do we have tears? Why do bears hibernate? It is chock full of interesting questions your kids will love learning about!
Minute Physics
For a more advanced science channel about physics – Minute physics provides hand drawn animations to explain cool physics and other science facts.

Math Antics
You can find videos on all different types of math subjects such as fractions, algebra, decimals, division and more. This is a great resource if you are looking for videos to teach a specific math theory to kids.

Super Simple Songs
Super Simple Songs has lots of educational songs for kids. From learning about bedtime routines, foods, and colors, there is a song about almost every topic here!
StoryBots
All of your favorite songs from the StoryBots are here in one playlist. Learn about different topics with these songs!
Music with Nancy
Nancy creates educational, interactive songs for kids. Kids will love singing along to some of her songs like Planets, Planets to learn about the solar system.

Lunch Doodles With Mo Willems
This is a new Youtube Channel started by the children's book author, Mo Willems. If your kids love Mo Willems' books, then this channel will be a huge hit. Mo shows kids how to draw some of his most iconic characters.
Art For Kids Hub
A wide selection of drawing and art videos are available on Art for Kids Hub. Kids will love the step-by-step and kid-friendly instructions on how to draw different cartoon animals, characters, food items and more.
We hope you find this list helpful for you to find educational resources for kids on YouTube!
Also see our list of 35+ Best Educational Apps for kids. These are great learning apps and many are free! 
More Indoor Activities for Kids
Would you rather is a fun game for kids to play – it gets their brains thinking about the alternatives. We have 100 Would You Rather questions for kids and you can grab a free printable to create your own cards.