With Christmas just around the corner, what better way to get into the Christmas spirit than to do some fun Christmas Crafts for Kids? You have come to the right place at The Best Ideas for Kids to get inspired with so many fun Christmas activities and crafts for your kids! We've gathered over 50+ of our favorite Christmas kids crafts. And be sure to check back often for new Christmas crafts and activities. We'll be adding new ideas every week!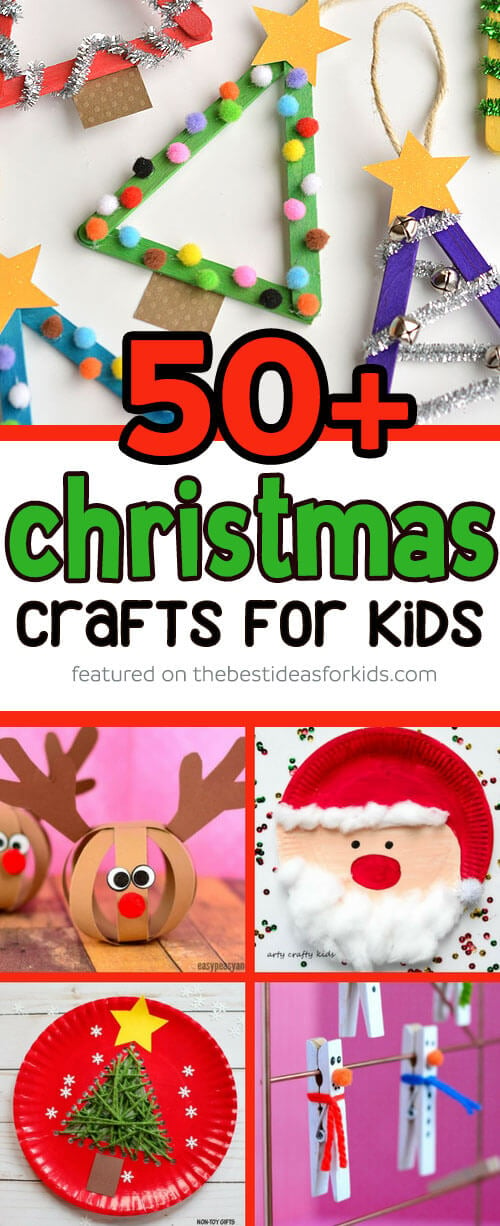 50+ Christmas Crafts for Kids
We've broken down the crafts into different sections for you to make it easy to find the perfect Christmas craft for your kids!
Santa Crafts for Kids
Santa crafts have to be one of our favorite – crafting with pom poms and cotton balls couldn't be more fun for kids!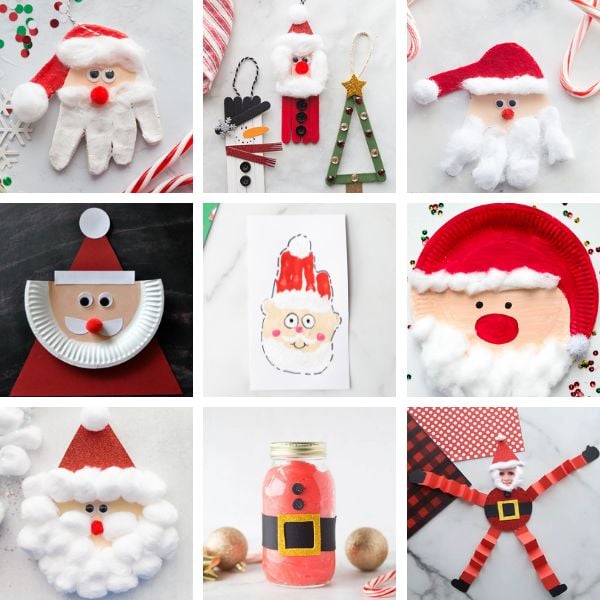 1. Salt Dough Santa Handprint
2. Popsicle Stick Santa
3. Santa Handprint Card
4. Paper Plate Shape Santa
5. Handprint Santa
6. Paper Plate Santa
7. Cotton Ball Santa Card
8. Fluffy Santa Slime
9. Wiggly Paper Santa Craft
SEE ALSO: Free Printable Santa Beard Countdown
Christmas Tree Crafts for Kids
Oh Christmas Tree, Oh Christmas Tree… look at all these amazing Christmas Tree crafts! These are such a great selection of creative Christmas tree crafts including popsicle sticks, papers and handprints!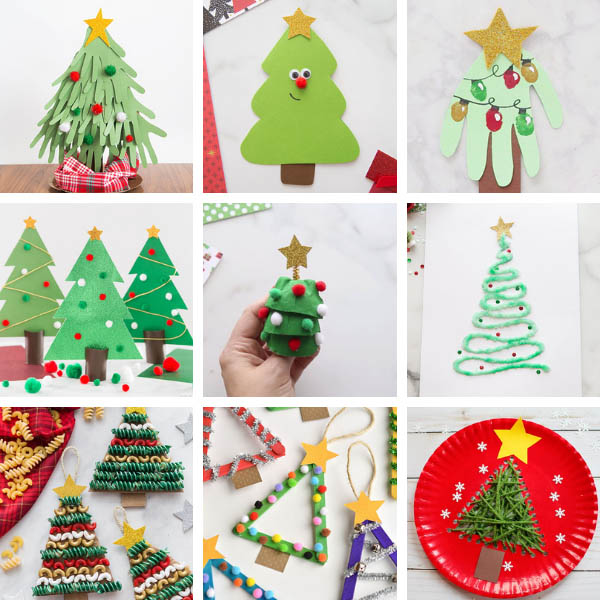 1. Handprint Christmas Tree
2. Christmas Tree Card
3. Handprint Christmas Tree Card with Fingerprint Lights
4. 3D Paper Roll Christmas Tree
5. Egg Carton Christmas Tree
6. Salt Painted Christmas Tree
7. Pasta Noodle Christmas Tree
8. Popsicle Stick Christmas Trees
9. Yarn Paper Plate Christmas Tree
SEE ALSO: Fork Painted Christmas Trees
We also love these Pine Cone Christmas Trees.
Reindeer Crafts for Kids
Christmas eve wouldn't be the same without Rudolph. We love Christmas crafts for kids that put Rudolph's nose in the spotlight!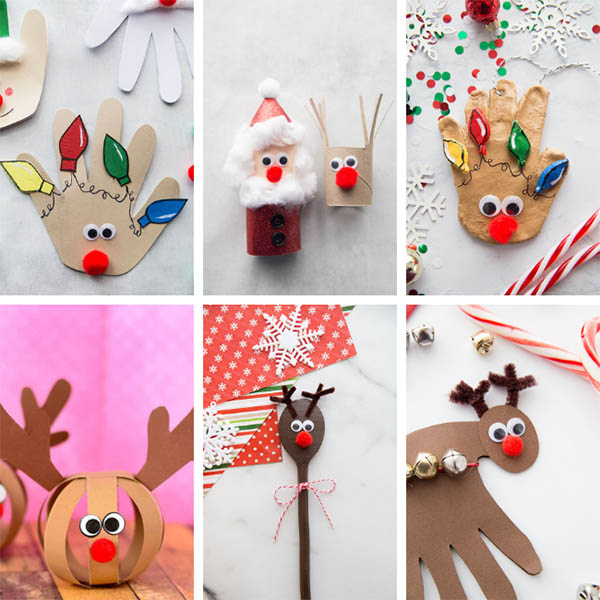 1. Reindeer Lights Handprint Card
2. Toilet Paper Roll Reindeer
3. Salt Dough Reindeer Handprint
4. Paper Strip Reindeer 
5. Wooden Spoon Reindeer
6. Handprint Reindeer Card
SEE ALSO: Reindeer Footprint
Snowman Crafts for Kids
We love this selection of unique and creative snowmen crafts.  From snow globes to clothespins there's a snowman craft here for everyone!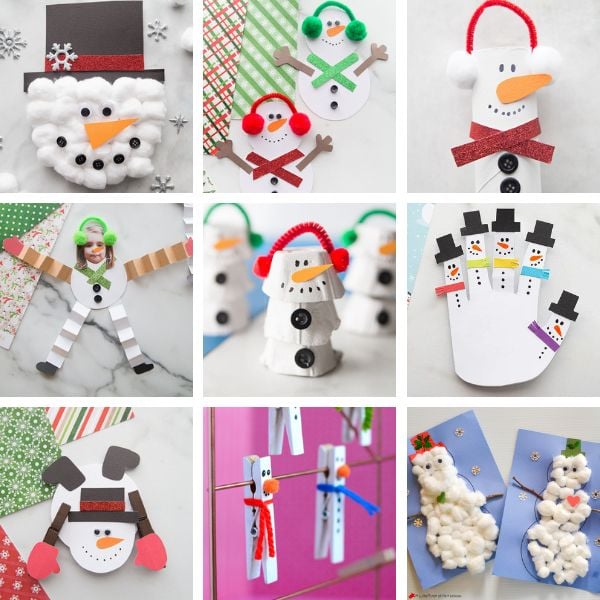 1. Cotton Ball Snowman Card
2. Snowman Cards
3. Toilet Paper Roll Snowman
4. Wiggly Paper Snowman
5. Egg Carton Snowman
6. Handprint Snowman Card
7. Upside Down Clothespin Snowman
8. Clothespin Snowmen
9. Cotton Ball Snowmen
See also: How to Make a Cork Snowman
Elf Crafts for Kids
We can't forget about Santa's little helpers. The elves are busy at work so why not work on an elf craft? Grab some cardboard tubes or popsicle sticks and make some of Santa's helpers today!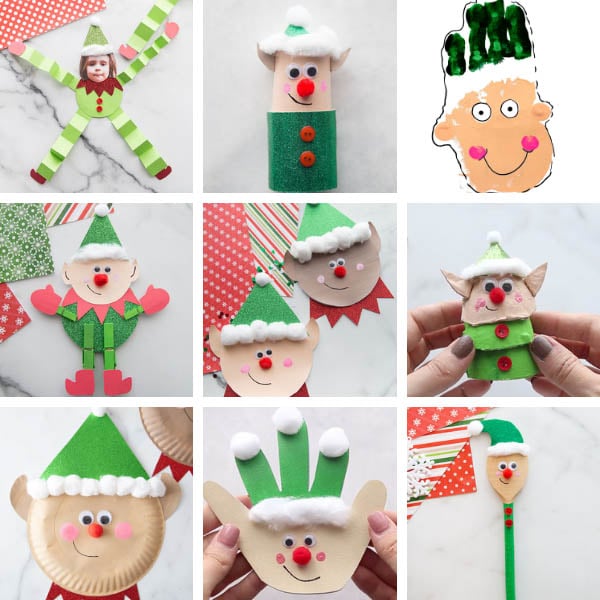 1. Wiggly Paper Elf Craft
2. Toilet Paper Roll Elf
3. Handprint Elf
4. Clothespin Elf
5. Elf Cards
6. Egg Carton Elf
7. Paper Plate Elf
8. Handprint Elf Card
9. Wooden Spoon Elf
Snowflake Crafts for Kids
We love how beautiful and unique these snowflake crafts are! Make paper or coffee filter snowflakes. Or turn popsicle sticks into snowflakes and make ornaments for your tree!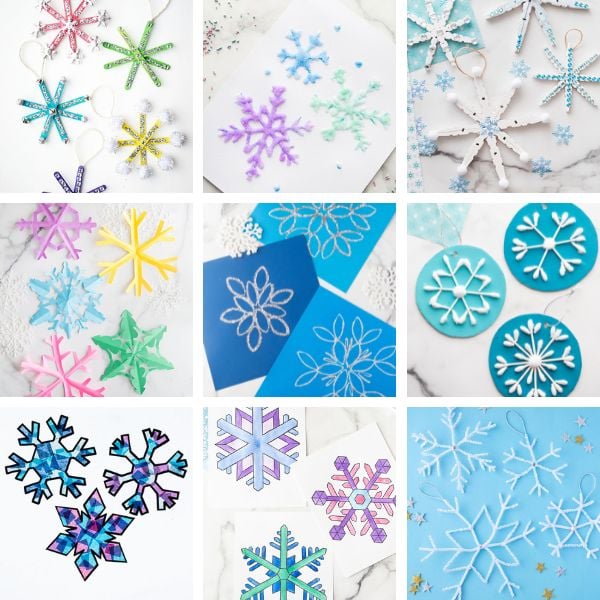 1. Popsicle Stick Snowflakes
2. Salt Painted Snowflakes
3. Clothespin Snowflakes
4. Paper Snowflake Templates
5. Paper Roll Stamped Snowflake Art
6. Q-tip Snowflakes
7. Snowflake Suncatchers
8. Watercolor Snowflake Art
9. Pipe Cleaner Snowflakes
Ornament Crafts for Kids
Finally, we have selected our favorite ornaments for kids to make. Choose from making your own ornaments with macaroni noodles or from salt dough. These ornaments will be cherished for many years to come!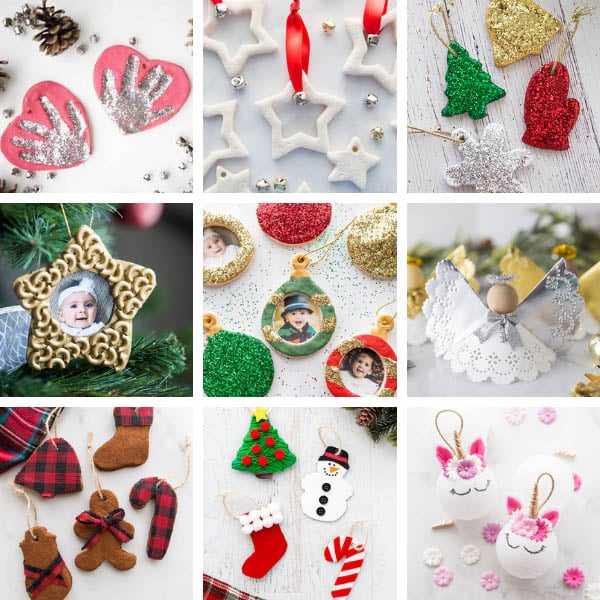 1. Salt Dough Handprint Ornament
2. Salt Dough Star Ornament
3. Glitter Salt Dough Ornaments
4. Pasta Christmas Ornaments
5. Salt Dough Ornament Shape
6. Doily Angel
7. Cinnamon Applesauce Ornaments
8. Cardboard Ornaments
9. Unicorn Ornament
SEE ALSO: Scrabble Tile Ornaments
You can also make pipe cleaner candy canes and hang them on the tree!