Bath bombs can be expensive to buy but they can be a fun activity and relatively inexpensive to make on your own! This bath bomb recipe for kids is also fun to turn into a bath time surprise activity by hiding little toys inside. Once the bath bomb dissolves you'll get to see the surprise toy waiting inside!
RELATED: Fluffy Slime Recipe for Kids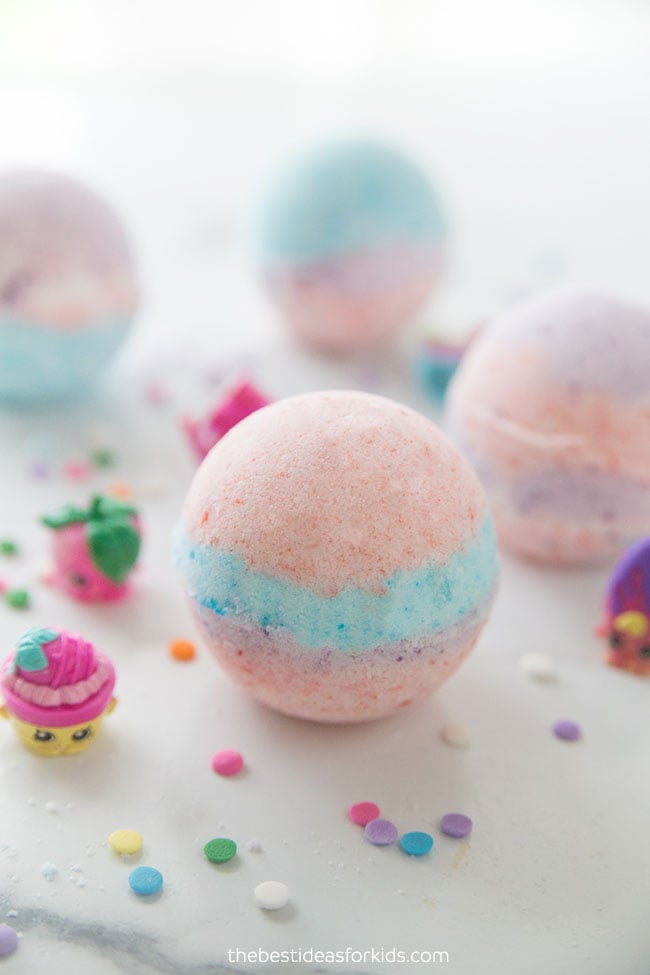 DIY Bath Bomb Recipe for Kids
These bath bombs are colorful and fun for kids! We love that you can hide little toys and trinkets inside to make bath time extra special! Use shopkins, small dinosaurs or other little toys that will fit inside the molds.
The best part about making your own bath bombs is you know where all of the ingredients come from. We like to select brands or products that state where the source of the ingredient comes from and we can support companies that ethically source ingredients.
Bath bombs can also be expensive to purchase – so you can save money making your own!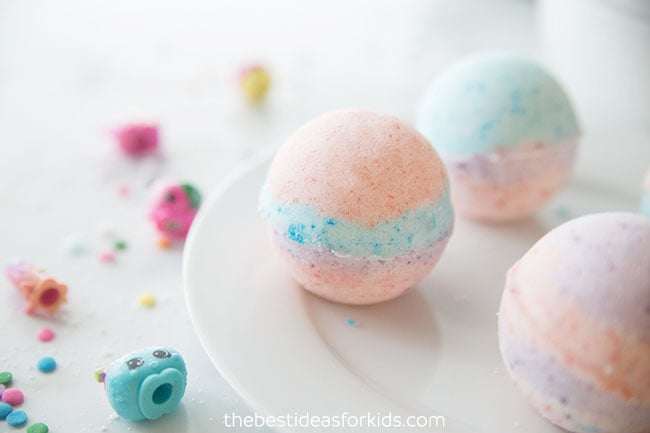 Safety with Bath Bombs
We love doing bath bombs in our house as a fun activity during bath time. We do it sparingly though – as the ingredients in bath bombs can irritate skin if used too frequently. I would recommend to not use a bath bomb more than once a week with kids.
Since bath bombs contain baking soda and citric acid, we need to take some precaution when making them. I have included all of the safety tips you will find on any bath bomb making kit so please read and keep these in mind when making your own.
A couple of notes of safety: 
Adults only should make the bath bombs. Kids can help with measuring and stirring under adult supervision.
Keep away from eyes and mouth. Wash hands thoroughly after handling.
Do not use small toys with children under 3. This activity is recommended for ages 6+.
Do not put the bath bombs near your mouth or nose. We always wash hair and body first before placing the bath bomb in the water. Do not allow kids to put their head under the water once the bath bomb is in the bath. Do not allow kids to drink the bath water.
Rinse eyes immediately with water for several minutes if product comes in contact with them.
Do not use if you have any broken or irritated skin.
Do not put any small figurines in the drain of your tub. Take toys out before draining the tub.
Rinse the tub and body after use.
Bath bombs are not intended for cleansing the body. Avoid holding the bath bomb once it is placed in the water.
In case of adverse reaction, stop using and contact a physician.
Baking soda may cause an allergic reaction.
Do not use bath bombs every day. Use sparingly in a month and not more than once per week.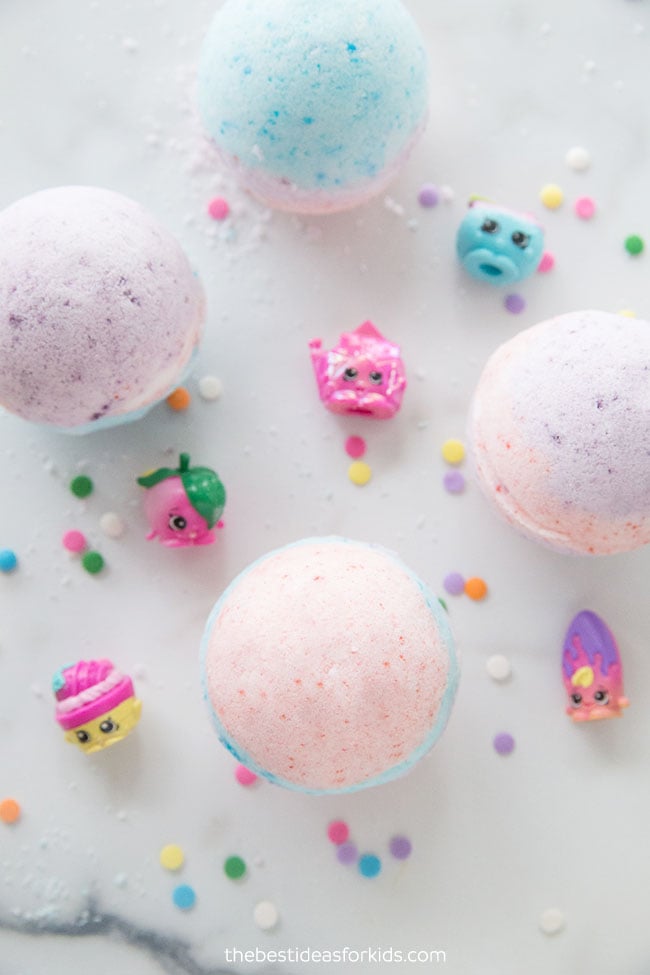 You can customize these DIY bath bombs to be any color you'd like! You can include any kind of small toy inside or just make them plain too.
Supplies Needed to Make Bath Bombs
See the full recipe below for exact quantities needed for each recipe. 
Small toys – like shopkins or dinosaurs (optional)
Salt Options for DIY Bath Bombs
Salt is not required to make a bath bomb. We have included fine sea salt as a replacement for Epsom salt you will see in a lot of recipes. If you would like to use Epsom salt instead, speak to your doctor before using for children.
Do not replace the fine sea salt with regular table salt. If you do not have fine sea salt, you can exclude this from the recipe.
Do the Bath Bombs Stain the Tub?
Only use a few drops of food coloring and you shouldn't have a problem with staining in your tub. Because your bath is filled with water the food coloring becomes very diluted when dissolved in the tub. Do test a small amount first. And if any coloring remains after the bath, use a paper towel to wipe it off right away, then rinse with water. Use only 1 bath bomb per bath.
You can also use bath soap coloring dye which is water soluble and states it is stain free.
Storage Tips for Bath Bombs
Store inside a sealed plastic bag in a cool, dry place. If left out exposed to air, it will gradually lose some fizzing effect. Also avoid touching the bath bombs with wet hands.
Watch the Video Tutorial
Directions to Make Homemade Bath Bombs for Kids
Prevent your screen from going dark
Recipe will make at least 4 large bath bombs. If using smaller molds you may get 1 or 2 extra. 
Please read the safety tips above before making bath bombs for kids. 
Remove the figure or toy from the water before draining. Never put the toy in the drain. If any of the coloring remains in the tub, wipe it off right away with a paper towel and rinse with water.
We hope you have fun making your own DIY bath bombs!
More Activities with Kids
For more fun activities at home, try our homemade playdough recipe.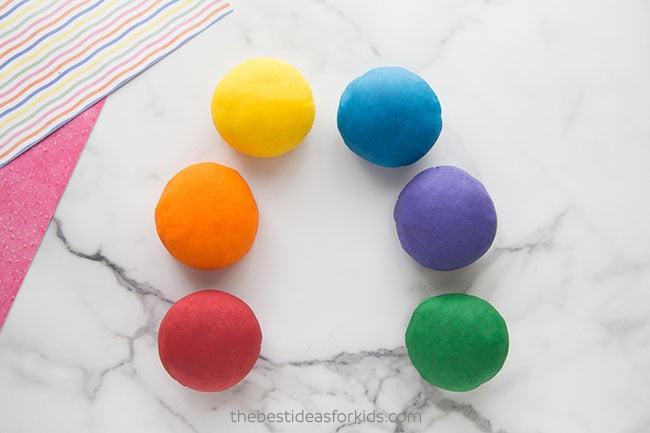 This fluffy slime is a lot of fun to make with kids too!