These Christmas Tree Waffles are really easy to make and will become a favorite Christmas breakfast or brunch. Kids can decorate the tree themselves with sprinkles and a gold star on top too!
RELATED: Christmas Tree Rice Krispies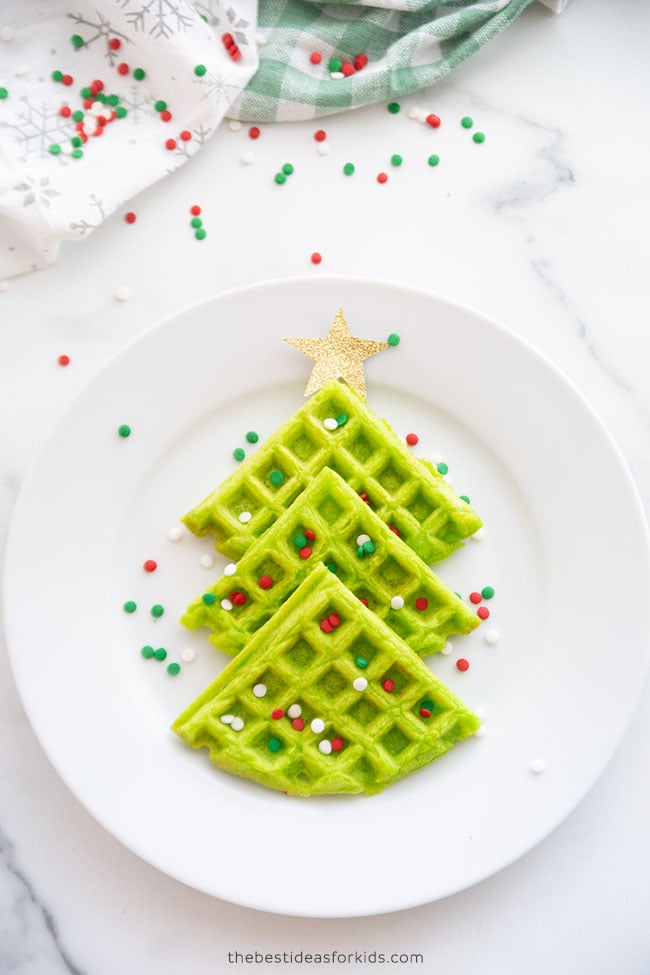 Christmas Waffles – a Fun Christmas Breakfast Idea!
If you love waffles, then you'll enjoy making these Christmas waffles. This waffle recipe is easy to make  – and of course you can always buy waffle mix and use that too!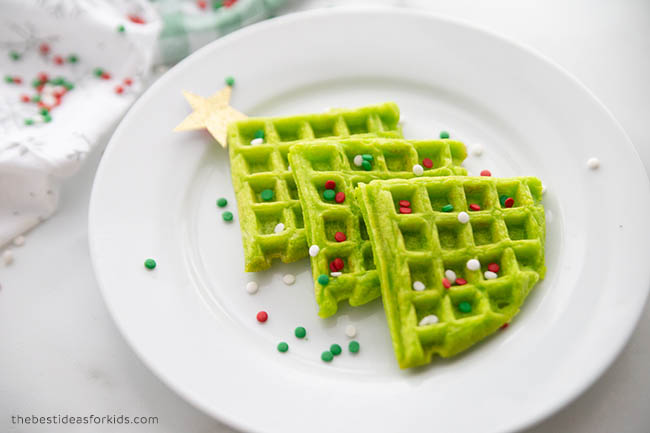 These Christmas tree waffles were so fun to make and your kids will love helping you make this on Christmas morning!
What Kind of Food Coloring Should I Use?
If you use regular food coloring, you're going to need a lot of it – almost a full bottle to get the batter to fully turn green. We like to use concentrated food coloring because then you only need a few drops – and a little goes a long way.
This set comes with a neon green which will make this bright green color you see in the waffles we made.
A regular green food coloring will make the waffles a more traditional evergreen color.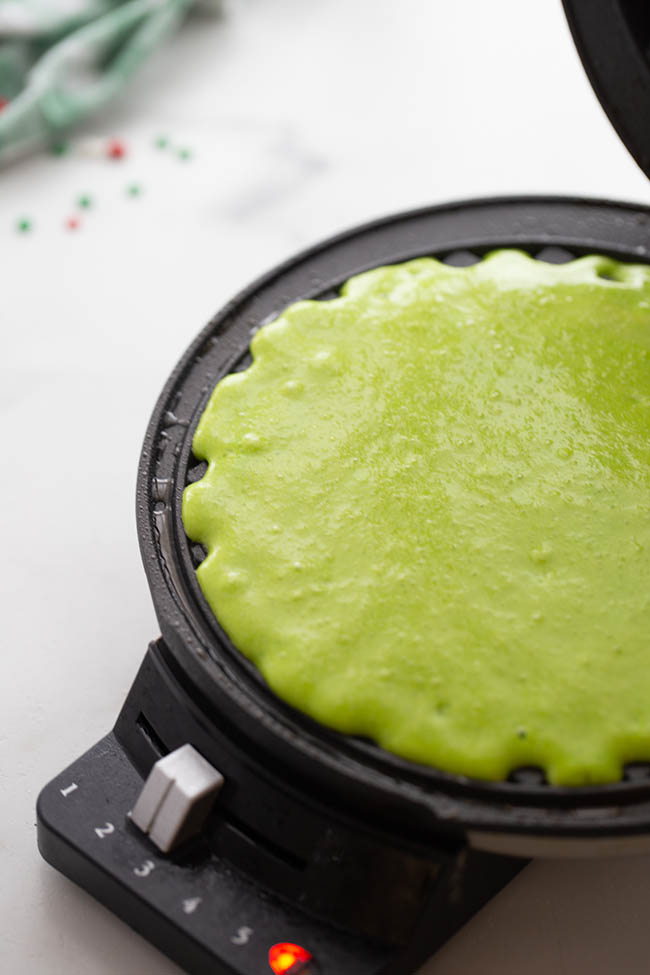 Why are my Christmas Tree Waffles Brown?
The key to keeping the green color is not overcooking the waffles. Make sure to set the waffle maker on the lowest setting possible and monitor the waffles as it cooks. If overcooked, the waffles will turn brown so start off really low and check often for the first one so you know how long to leave them in.
How to Make Christmas Tree Waffles
You'll  love this waffle recipe – it's easy to make and is really fluffy!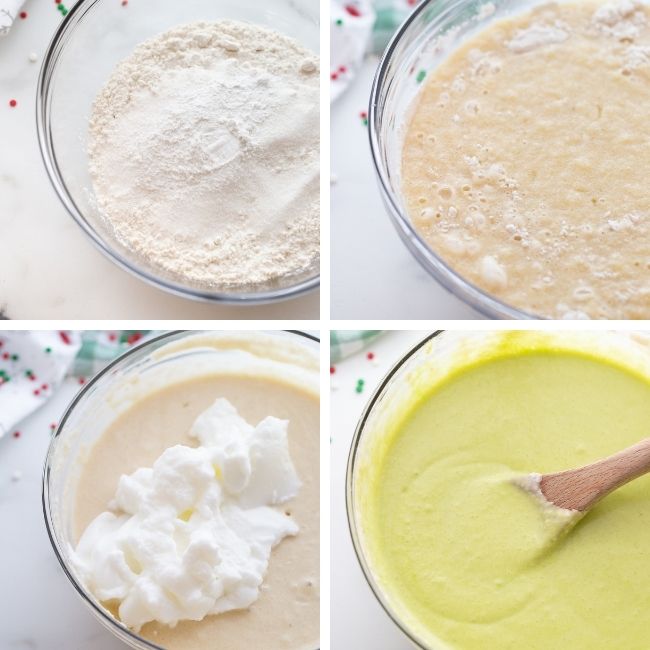 Start by mixing your dry ingredients together.
Mix your wet ingredients (except the egg whites) together. Then add to your dry ingredients.
Beat the egg whites and add to your mixture.
Add in your food coloring until you are happy with the color of green. See note above about the concentrated food coloring we use (regular food coloring will work but you will need a lot more).
See the full recipe here and make sure to watch the video! 
In a mixing bowl, mix the flour, sugar and baking powder.

Separate the egg yolks from the egg whites. In a separate bowl, lightly beat the egg yolks. Add the milk, butter and vanilla to the egg yolks.

Add the wet mixture to the dry ingredients.

Now beat the egg whites until stiff peaks form (you can do this manually or with an electric hand mixer).

Add the egg whites to the batter mix and stir to combine.

Add in the green food coloring. Mix until you get the desired green color. You may need to add a lot depending on the strength of your food coloring.

You can now add your mixture into the waffle maker.

When baking in the waffle maker, make sure to set the waffle maker on the lowest setting possible and monitor the waffles. If overcooked, the waffles will turn brown so start off really low and check the coloring often for the first one.

Break the waffle up into 3 pieces to form the Christmas tree.

Cut out a star out of gold glitter paper and tape to a toothpick to put on top of the tree. Don't forget to remove the star before you eat the waffles!

Serve with Christmas sprinkles and maple syrup.
Calories: 324kcal, Carbohydrates: 55g, Protein: 11g, Fat: 6g, Saturated Fat: 3g, Cholesterol: 78mg, Sodium: 405mg, Potassium: 239mg, Fiber: 1g, Sugar: 16g, Vitamin A: 293IU, Calcium: 320mg, Iron: 3mg
Note: serving portions will vary depending on waffle maker size. This recipe will make 5 Christmas tree waffles but this may vary depending on your waffle maker and how much batter you put into the waffle maker. 
This recipe is not very sweet because it is meant to be served with maple syrup. If you are not eating with maple syrup you may want to increase the amount of sugar to 1/2 cup. 
Looking for more fun Christmas Ideas? 
Create a memorable ornament to hang on your Christmas Tree with these Salt Dough Handprint Ornaments!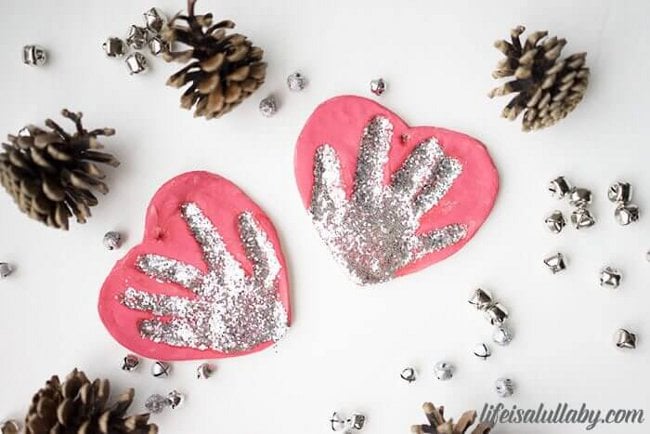 And for some glittery salt dough ornaments – see these easy to make ornaments!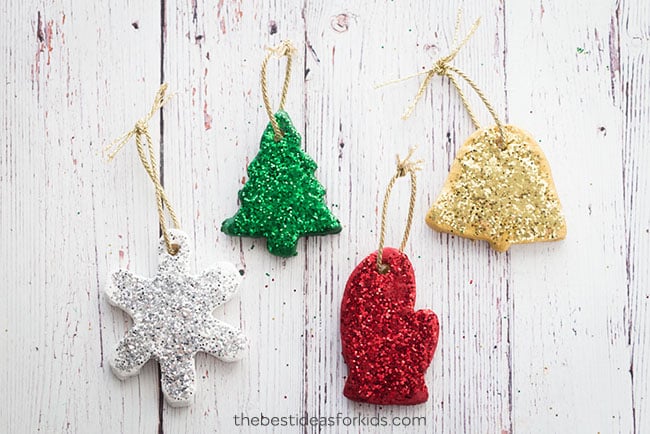 And if you want to make Christmas Eve extra special – see our Christmas Eve box idea!