There are so many fun fall activities to do with kids. We've compiled over 100 fun and kid friendly ideas for making the most of fall. We've turned it into a free printable Fall Bucket List for you to print off and check off as you go.
RELATED: Summer Bucket List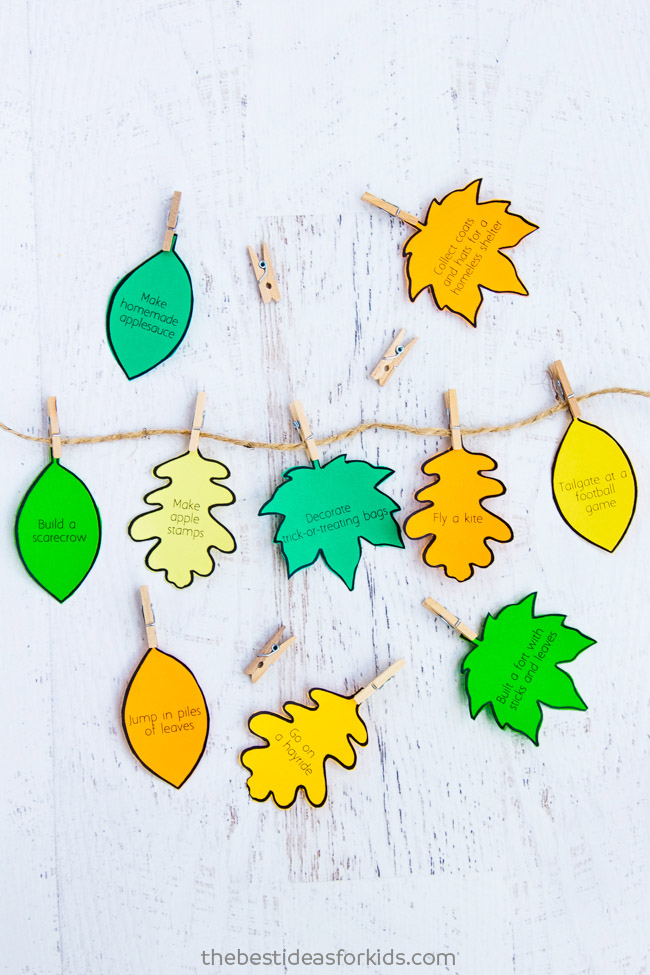 Grab your free Fall Bucket List printable at the bottom of the post and check off all of these fun fall things to do as you go!
You can simply print off our fall bucket list and use it as a checklist, or you can get crafty and print off our fall bucket list leaf templates. Print the leaves on some colored paper and have fun cutting them out.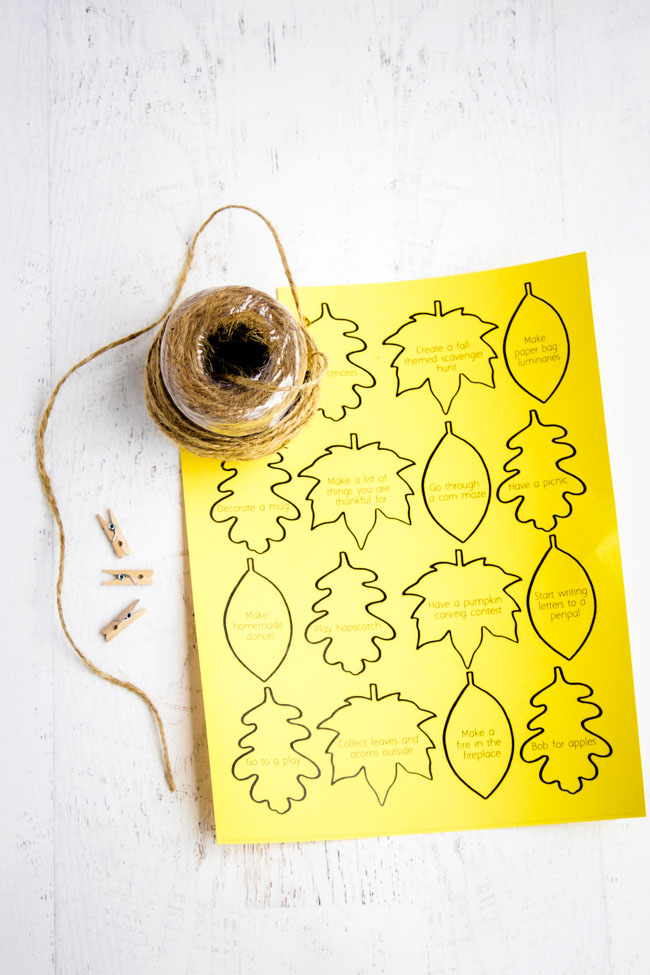 Use some small clothespins to attach them to a piece of twine to create the cutest fall banner to display all of your fall bucket list ideas!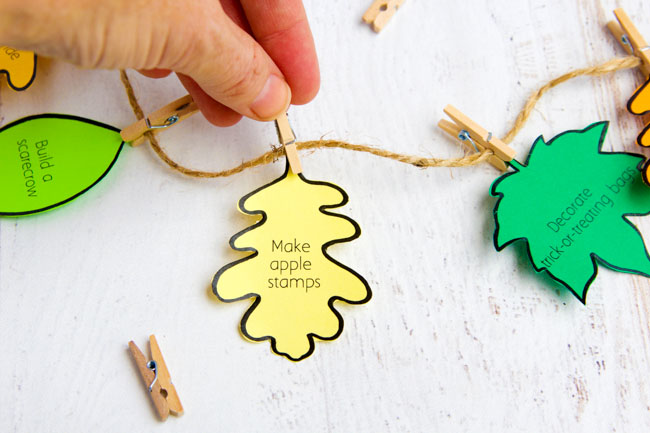 Free Printable Fall Bucket List
What can you expect from a fall bucket list? We have a list of over 100 ideas for everything fall ranging from outdoor activities, family fun, serving the community and yummy fall treats. You will love having this fun fall guide to give you ideas for fun things to do in the fall.
See the bottom of the post for the printable.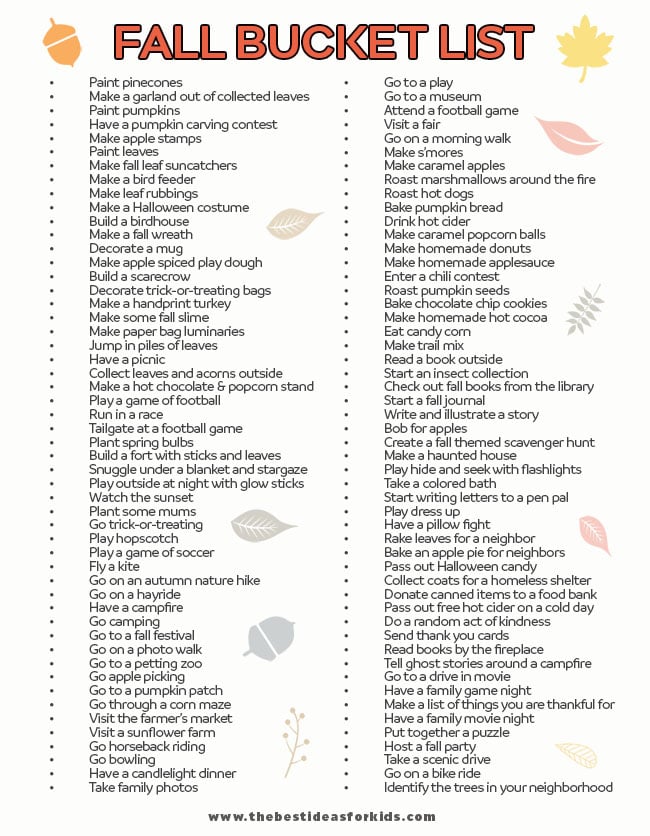 You will love printing off the leaf template to create an adorable and useful fall banner. Hang it on the mantel or in a kids' bedroom this fall. You can clip on each activity as you do them, or take the leaves down after it is completed.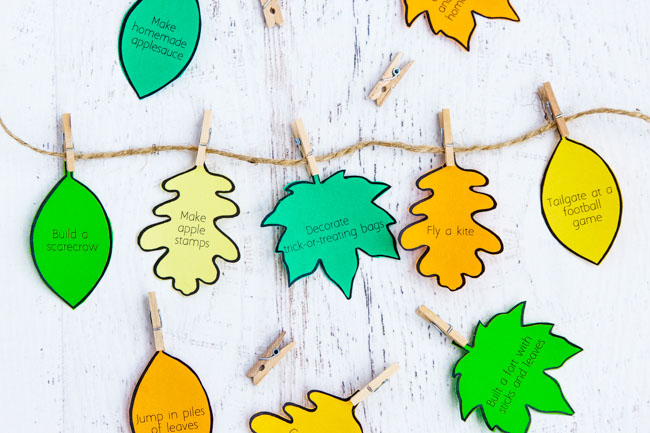 Some of our favorite arts and crafts activities are:
You will also find some fall inspiration from one of these outdoor activities:
Jump in piles of leaves

Collect leaves and acorns outside

Set up a hot chocolate and popcorn stand

Tailgate at a football game

Plant spring bulbs

Build a fort with sticks and leaves

Snuggle under a blanket and stargaze

Play outside at night with glow sticks

Play a game of soccer

Fly a kite
If you want to go on an excursion, check out one of these options:
Go on a hayride

Have a campfire

Go to a fall festival

Go on a photo walk

Go to a petting zoo

Go apple picking

Go to a pumpkin patch

Go through a corn maze

Visit the farmer's market

Visit a sunflower farm

Go horseback riding
Fall is the perfect time to enjoy one of these yummy treats:
Make s'mores

Make caramel apples

Bake pumpkin bread

Drink hot cider

Make homemade donuts

Make homemade applesauce

Roast pumpkin seeds

Make homemade hot cocoa

Eat candy corn

Make trail mix
We also have ideas for serving the community as a family:
Rake leaves for a neighbor

Bake an apple pie for neighbors

Pass out Halloween candy

Collect coats and hats for a homeless shelter

Donate canned items to a food bank

Pass out free hot cider on a cold day
For family activities, try one of these:
Make fall slime

Read books by the fireplace

Tell ghost stories around a campfire

Go to a drive-in movie

Have a family game night

Put together a puzzle

Host a fall party

Take a scenic drive

Go on a bike ride

Have a candlelight dinner

Take family photos
These fall games are sure to be a hit:
Bob for apples

Create a fall-themed scavenger hunt

Make a haunted house

Play hide and seek with flashlights

Take a colored bath

Write letters to a pen pal

Play dress up

Have a pillow fight
Fall is also a great time to learn something new:
Read a book outside

Start an insect collection

Check out fall books from the library

Identify all the types of trees in your neighborhood

Start a fall journal

Write and illustrate a story
We know you will enjoy checking off the items on our fall bucket list this year!
For another fun Fall ideas for road trips – print off our Would You Rather Questions for Kids cards. These are great for on the go and car trips!
Get the Fall Bucket List Here
Here are some more favorite fall activities for kids: