This gold slime is a lot of fun to make for New Years or even for a birthday party or afternoon activity. Kids love how glittery the gold is in this slime. You can even pretend to have your own pot of gold and hide treasure in it too!
RELATED:  Fluffy Slime Recipe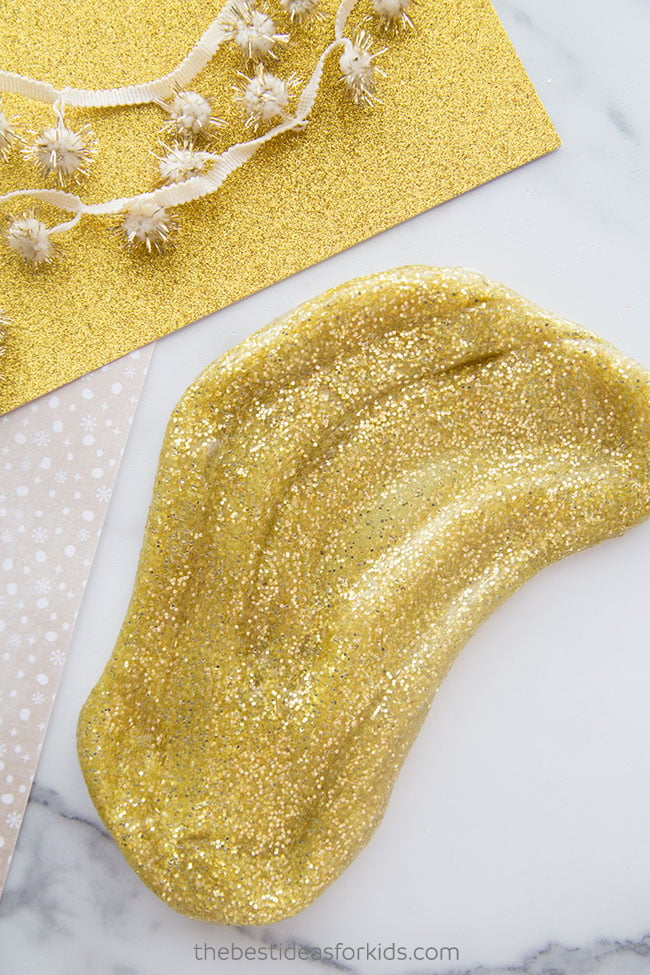 Gold Slime Recipe
This gold slime is perfect to ring in the new year! Make a batch for kids to play with as an activity for New Year's Eve. It's also fun to make for birthdays or just a fun afternoon activity.
To make glitter slime from scratch, you can use clear glue and color it yellow or gold too. We prefer to use Elmer's yellow glitter glue so you don't have to use food coloring. You can also get gold Elmer's glitter glue but we like the look the yellow glitter glue gives better.
We've tested a lot of ways to make glitter slime and this method for making glittery gold slime is our favorite.
You'll also need baking soda, contact solution, glitter and water. See the full recipe down below.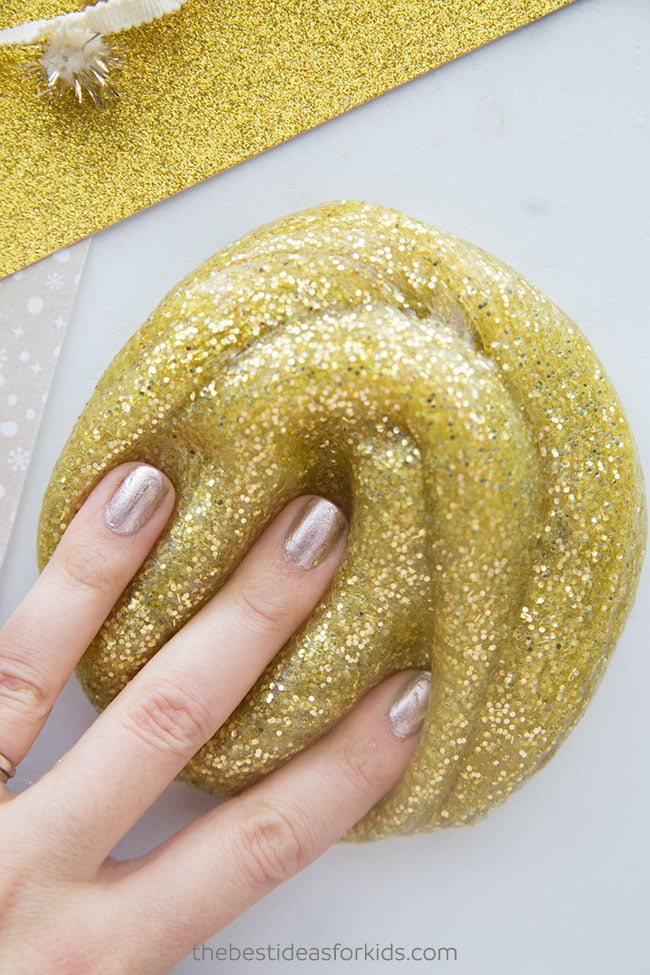 Watch the Video Tutorial!
What is Slime?
Slime is a polymer. Other examples of polymers are Jell-O, gum and rubber bands. White glue is also an example of a polymer. A polymer is made of long chains of polyvinyl acetate molecules. These chains slide easily making the substance like glue easily pourable.
The Science Behind Slime
When you add the contact lens solution to the glue, it counteracts the glue and forms a viscous substance of slime which can be shaped and pulled. This slime forms due to the glue molecules cross-linking with the borate ions. This is a bond that causes the large molecules to no longer slide freely past one another (like the substance was when it was a glue). Therefore resulting in the slime substance!
Will this Slime Recipe Work?
All of our slime recipes are easy to make and should turn out if you follow the instructions carefully. Do not substitute for other brands as your slime may not turn out. The type of contact lens solution we use is very important – this is what turns your glue into slime. We always recommend Elmer's glue because it's quality glue and creates the best slime. If you do not have Elmer's glue in your country you can substitute the glue for another quality PVA glue.
Safety tips: Adults only should make the slime and handle all chemicals. Do not substitute any ingredients in our slime recipes. If you have sensitive skin, wear gloves while playing with the slime. Always wash hands before and after use. If you notice any skin irritation discontinue use immediately. See the bottom of the post for more safety precautions before making your slime.
Ingredients Needed to Make Gold Slime
Gold Glitter – we like to use regular sized glitter because fine glitter will not show up as well in the slime.
1.5 tablespoons of Contact lens solution. **Important: your brand of contact lens solution must contain boric acid and sodium borate. We like this brand the best and use it in all of our slime recipes. See our full contact solution slime recipe for the brands we recommend. Do not substitute for any other brands.
Biodegradable Gold Glitter
There are a few biodegradable glitter options:
You can get this ultra fine biodegradable gold glitter.
Or there is regular biodegradable gold glitter.
I don't recommend using chunky gold glitter for this recipe.  We tested with a chunky version and the glitter pieces fell out of the slime too much because they are much larger. Ultra fine gold glitter will not show as well in the slime so we recommend using regular glitter.
Note that biodegradable glitter will start to break down after a few weeks when exposed to any liquid.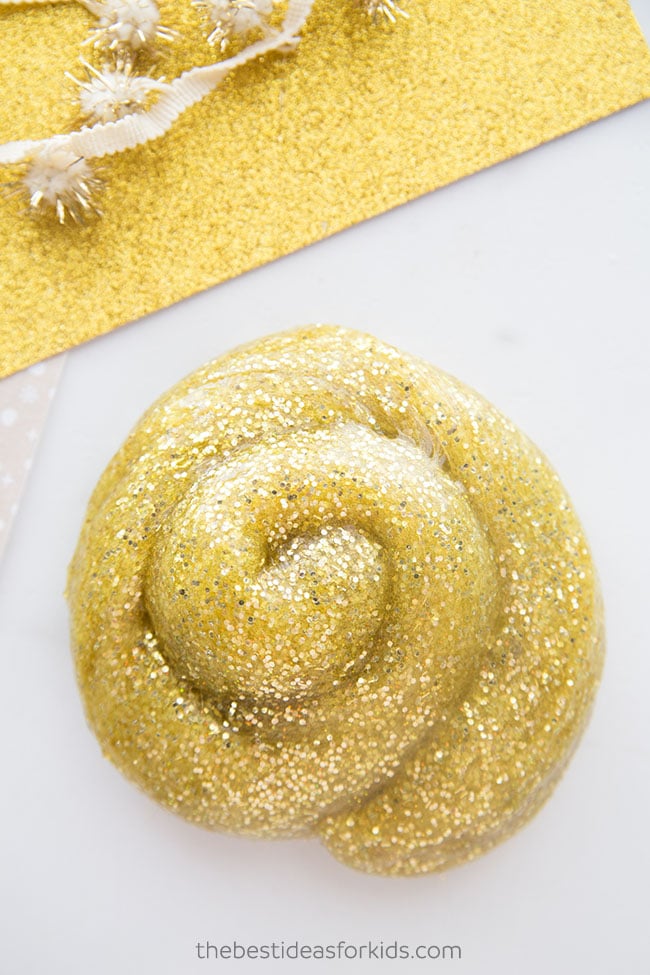 How to Make Gold Slime
1. Get a bowl to mix your slime ingredients in.
2. Add a bottle of Elmer's yellow glitter glue (6 oz).
If you'd like to substitute with a clear glue, you can use clear glue and a gold food coloring or gold acrylic paint.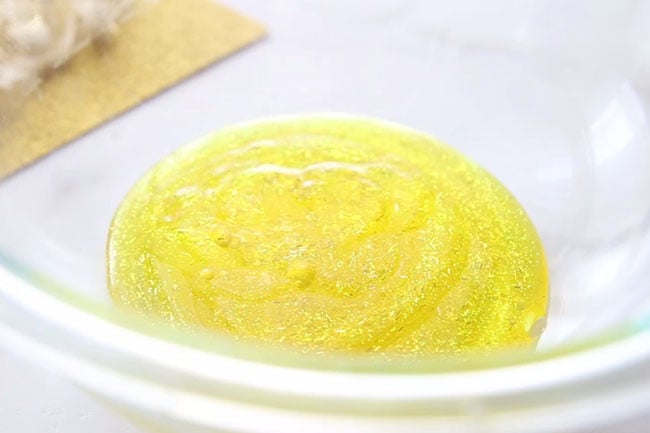 3. Add 1/2 teaspoon of baking soda to the bowl of water and mix.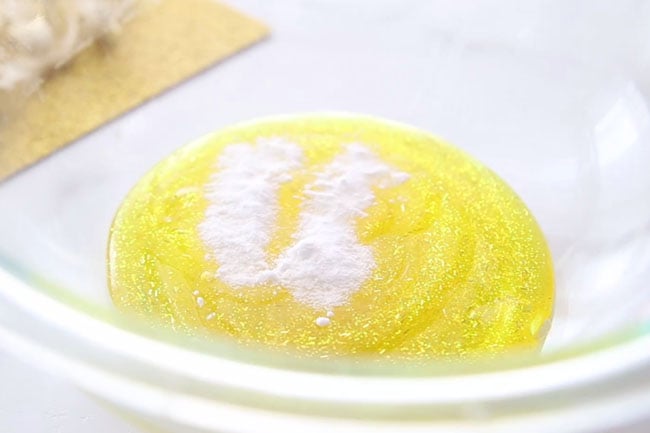 Add in 1/4 cup of water and mix.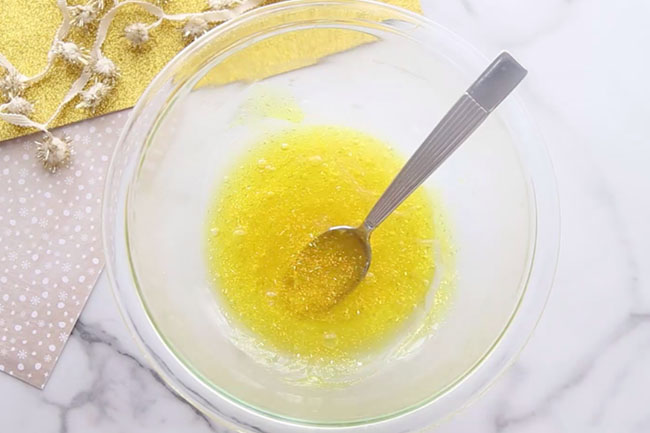 4. Now add in your glitter.
Pour some glitter in to start and then add more if needed.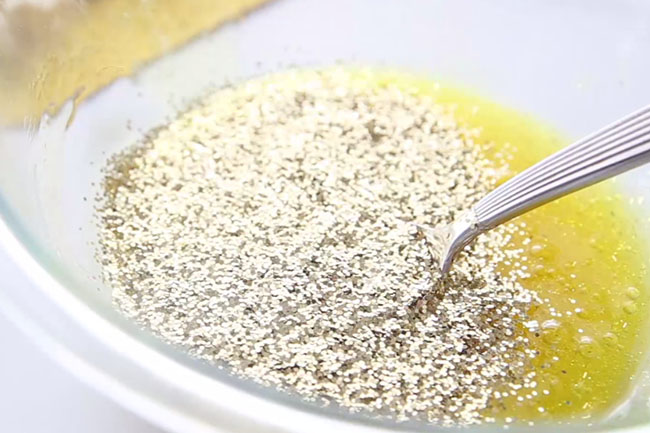 5. Now slowly add in your contact lens solution until it starts to pull away from the bowl.
Add one tablespoon to start and then mix.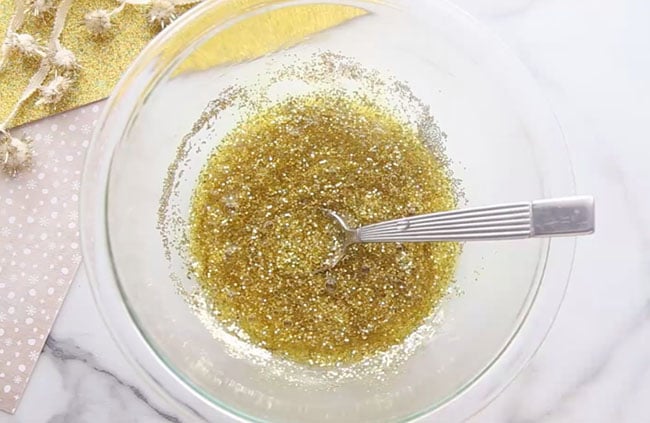 Once the slime starts to pull away from the bowl you can take the slime out and knead with your hands. It will still be very sticky at this point and that is normal. Keep kneading for 5 minutes. The more you knead, the less sticky it should be. We added extra water in this recipe than our regular recipe because of the glitter, so it will be extra stickier than you may be used to. Just keep kneading and it will become a good consistency.
Reminder: your contact lens solution should contain boric acid and sodium borate or your slime will not form.
If you still find the slime to be too sticky after kneading for 5 minutes we recommend trying to add some baby oil or lotion to your hands first. That way you can make sure you don't over-activate the slime.
If you've tried all of the tips above and it's still too sticky, you can also add in another 1/2 tablespoon of contact lens solution. Add this in slowly, an extra teaspoon at a time and continue to knead until you find it to be a consistency you like.
Now your slime is ready to play with! Kids will love stretching this gold slime for New Year's Eve!
How to Store Slime
Store your slime in an air tight container or bag and it will last at least one week.
See more of our favorite slime recipes:
Slime Safety & Precautions
Note: Making slime is a science experiment and safety precautions should still be made when creating slime. By making this slime, you agree to our site terms which you can read here.
Adults should handle any chemicals and products
Adults should make the slime
Always read and follow the labels of products used. If contact lens solution is accidentally ingested, seek medical attention immediately.
This project is not suitable for children under 4.
Slime should not be placed in the mouth. Always wash hands before and after playing with the slime.
If you notice any skin irritation, discontinue use immediately. If you have sensitive skin, wear gloves while making and playing with the slime.
Slime is a science experiment and should be made and played with in moderation. Do not allow children to make their own slime and do not play with slime for an extended period of time.