Paper snowflakes are much easier to make than they look! We're going to show you how to easily make your own or you can use any of our templates as a starting point. Every snowflake is unique, so kids can have fun creating and designing their paper snowflakes too! We'll show you how to make paper snowflakes with a full video tutorial and step-by-step instructions. Once you have done one or two you'll get the hang of it and will want to create more!
RELATED: Snowflake Templates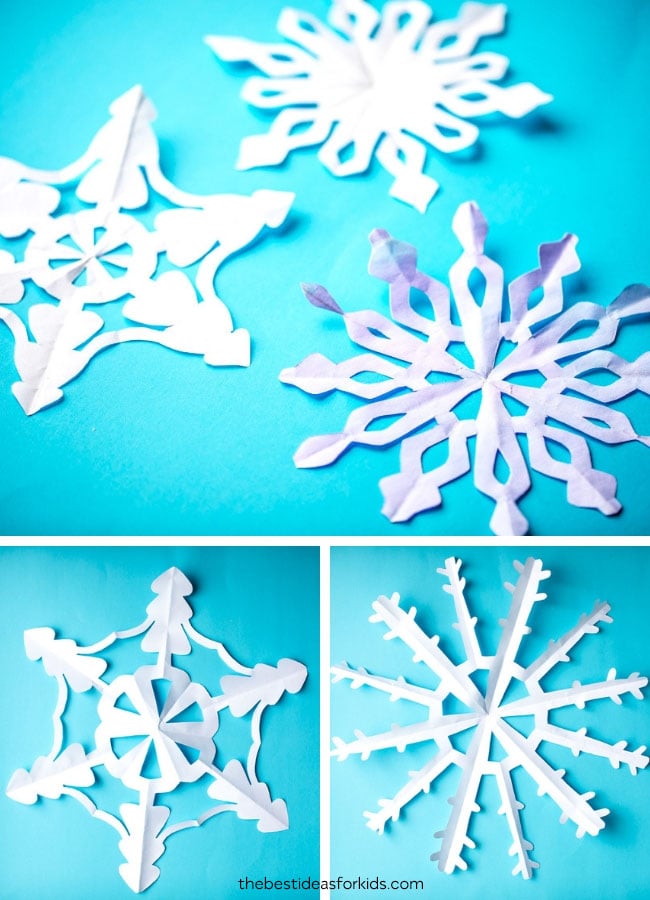 How to Make a Snowflake Out of Paper
Making paper snowflakes is a fun kids activity for Christmas! Adults will have to help with the cutting but kids can help decorate the snowflakes or even draw out their own designs. We love how you can hang these up on windows or around a classroom for decorations. We'll show you how to make these giant snowflakes too – which look so impressive on the walls or windows!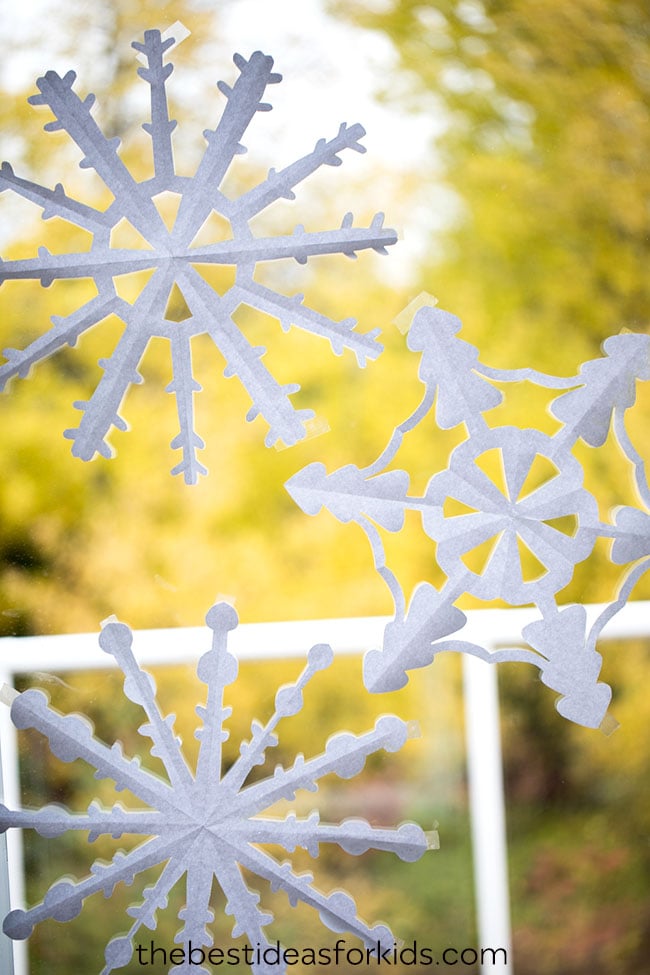 Follow our easy video tutorial to see how to make a snowflake out of paper.
Watch the Video Tutorial
How to Make a Paper Snowflake – Easy Step-by-Step Tutorial
1. First you'll need to print off the snowflake templates. 
You can get all of the templates at the bottom of the post.
Here are a few of the templates. There are 6 snowflake templates included: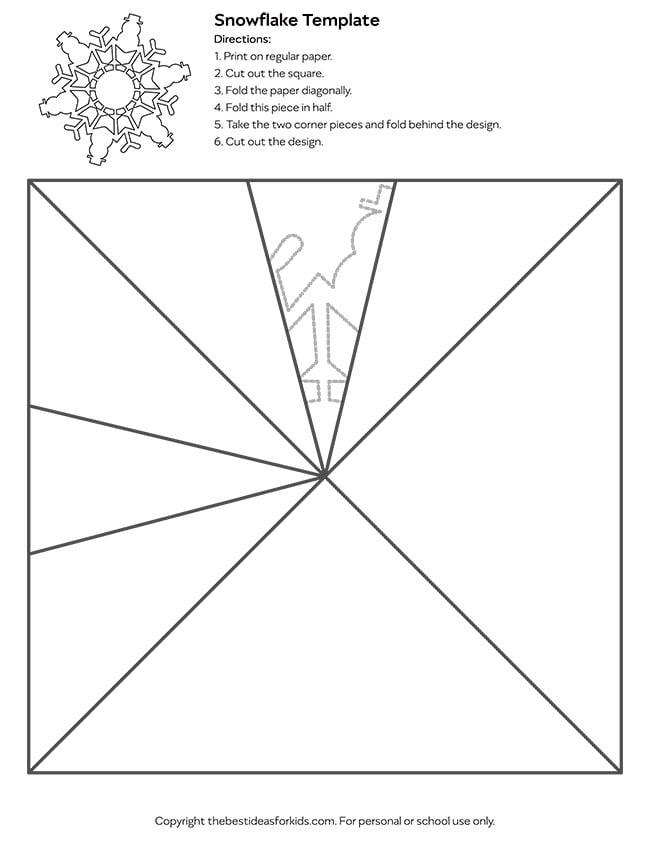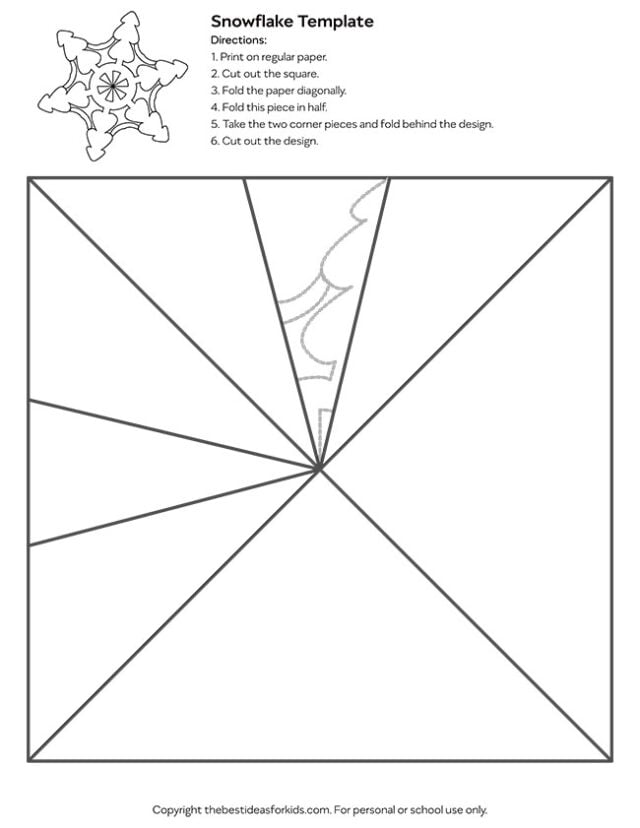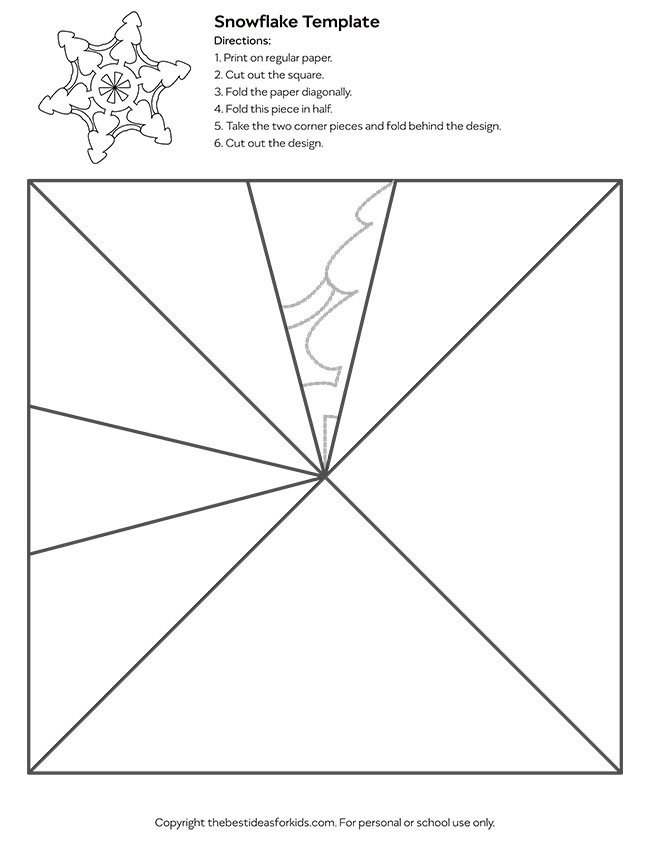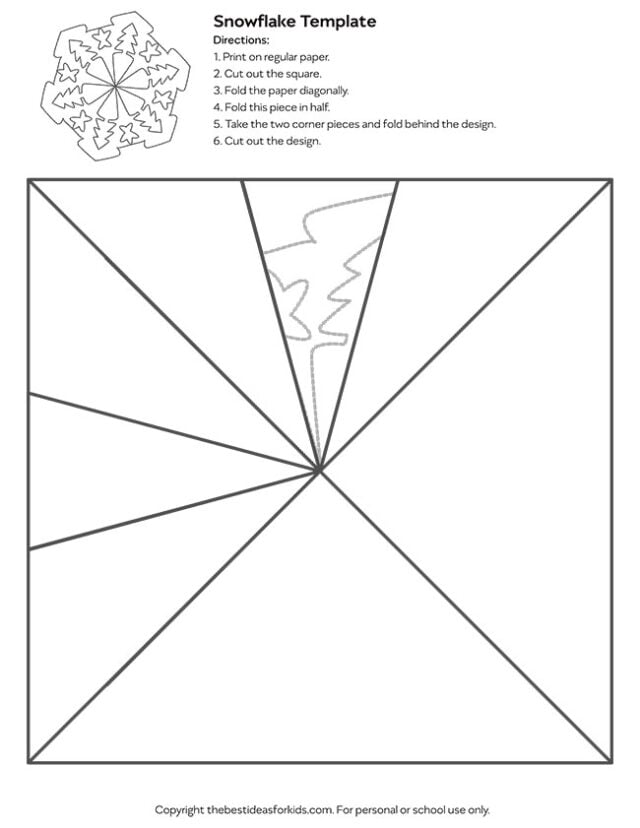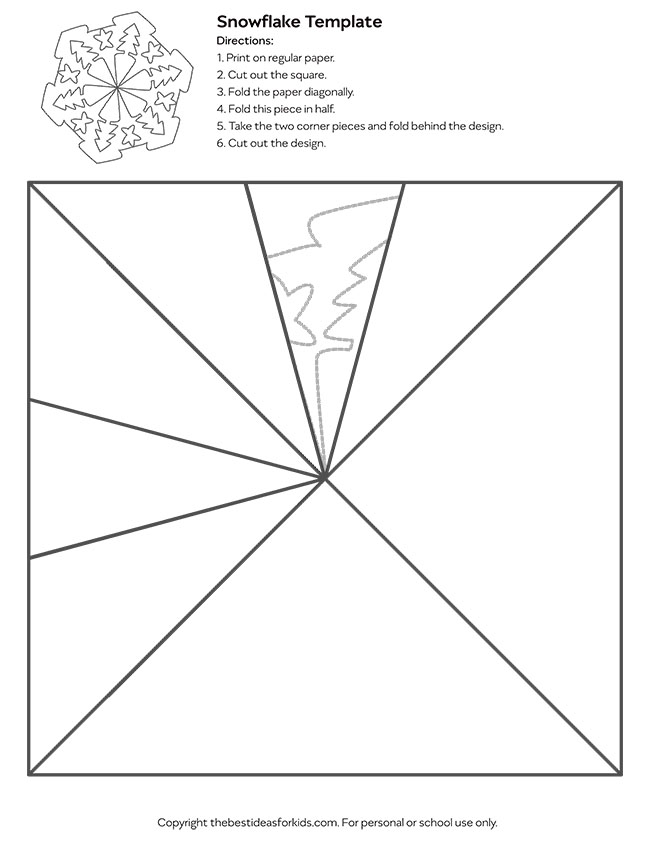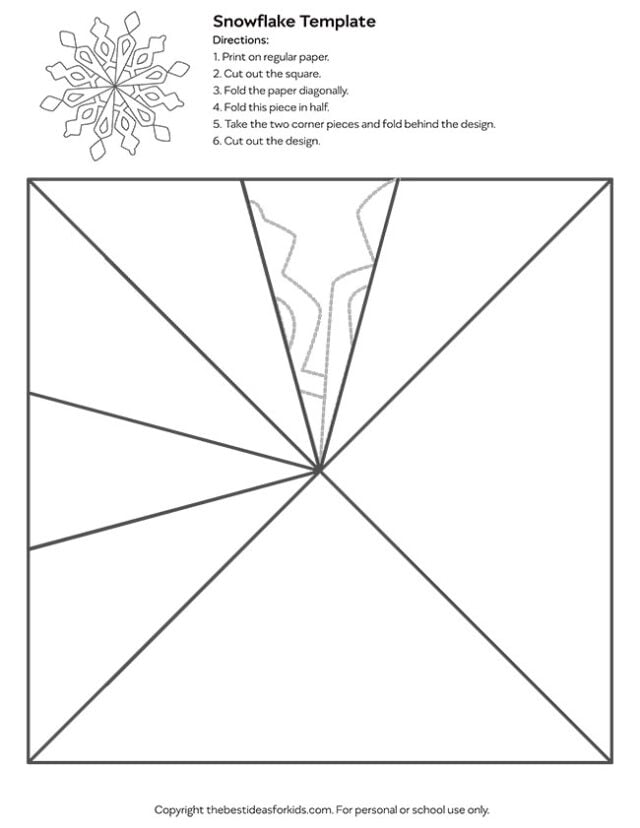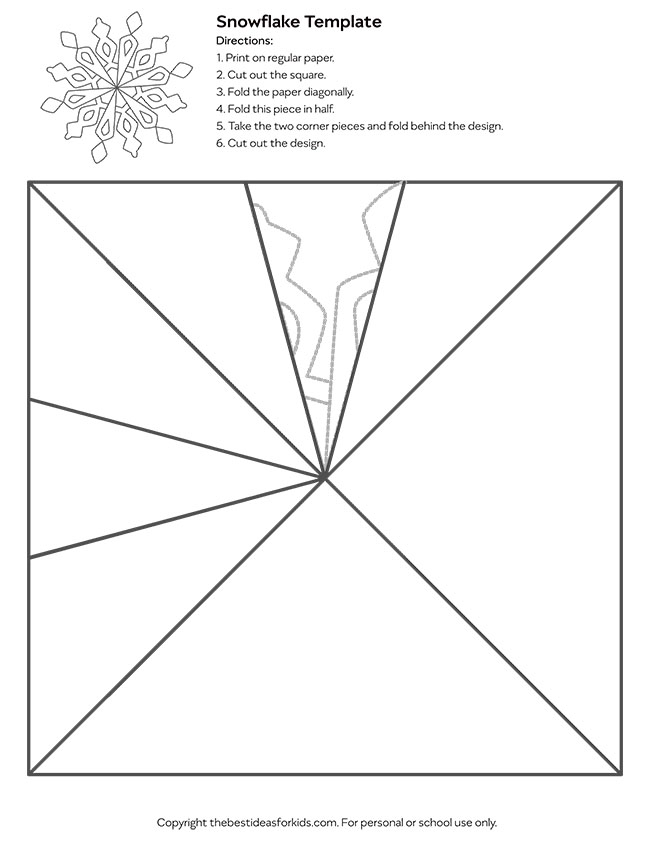 We have 6 templates you can choose from! There is a snowman, Christmas tree, one with a tree and star and 3 other beautiful snowflake designs. These are great for getting started with making your own snowflakes if you haven't done them before. Once you have some practice cutting out these designs you can make more of your own designs!
To make the giant snowflakes – you'll need large white easel paper and you can use our templates as a guide to sketch out the design, or create your own.
2. Have kids color or paint the templates before cutting.
Allow the templates to dry over some wax paper before cutting.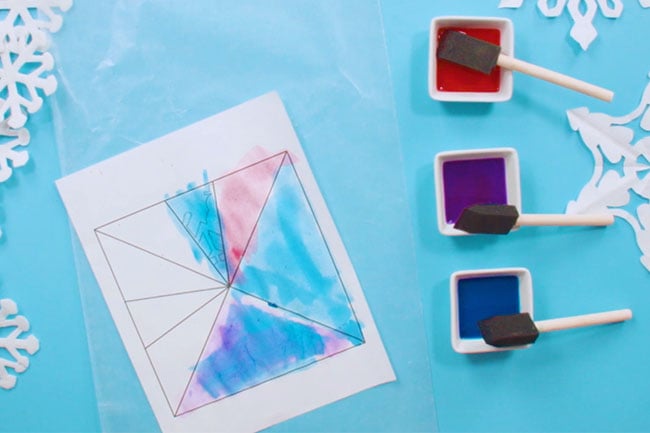 3. Cut out the square portion of the template.
If you are making your own designs, you will need to start with a square piece of paper and then follow the same folding instructions.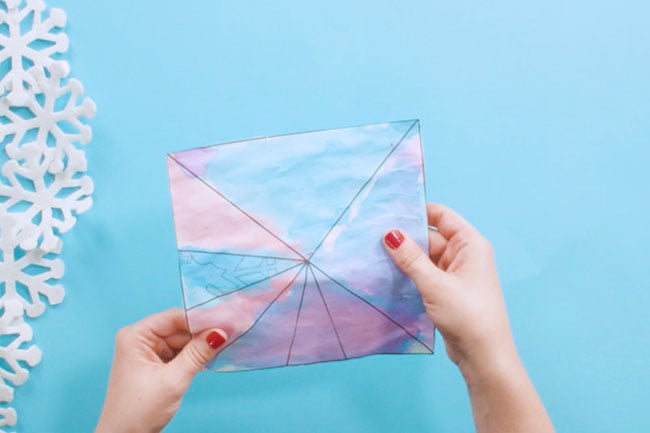 4. Fold the paper diagonally.
Then fold again in half so that you are left with the paper looking like this: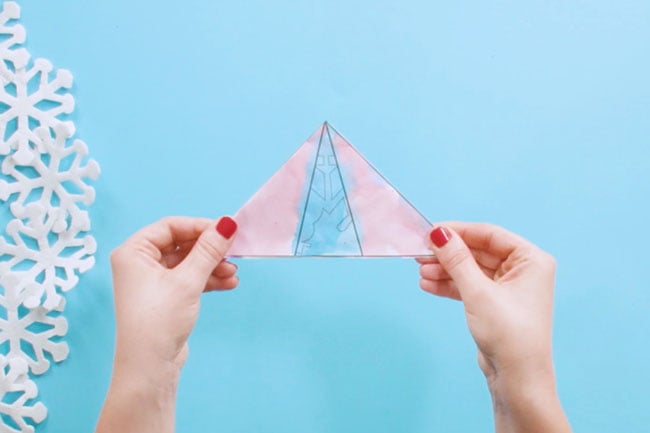 5. Now fold each corner remaining behind the portion of the design.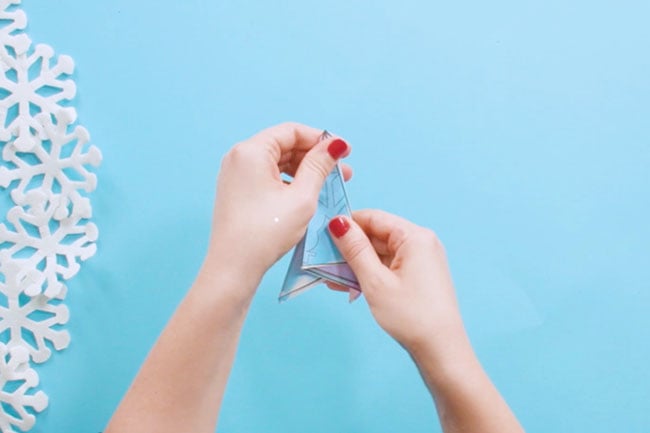 6. Carefully cut out the design.
If using the templates on regular 8.5×11 paper the portion to cut out is small. We found it was helpful to use strong scissors and to take your time cutting out the snowflake.
If you make larger snowflakes the cutting is much easier as the design is larger.
Using as thin of paper also helps since you need to cut through quite a few layers of paper. This is why we recommend regular paper only to make your snowflakes, not cardstock or construction paper.
Now carefully open up your snowflake after cutting.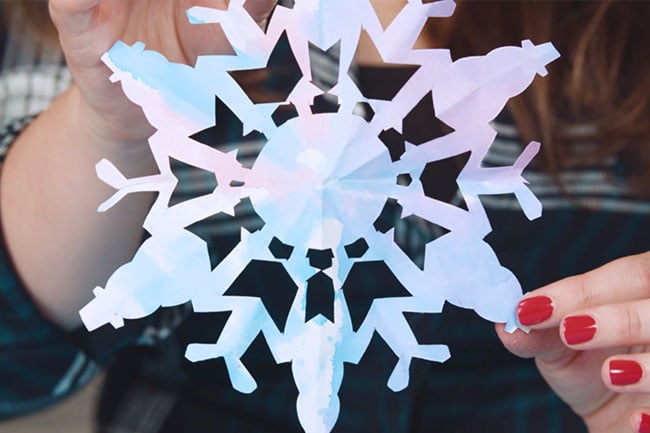 7. If you did not color or paint the template before cutting, you can still decorate your snowflakes when you're done!
Kids can add glitter and sequins to their snowflakes.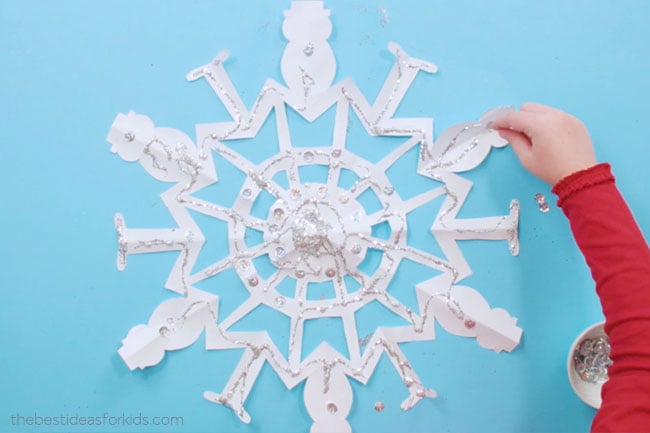 Tip: To make giant paper snowflakes you just need bigger paper! This large white easel paper is great or you can get even large butcher-style craft paper. Here is the size difference from easel paper to 8.5×11 paper snowflakes.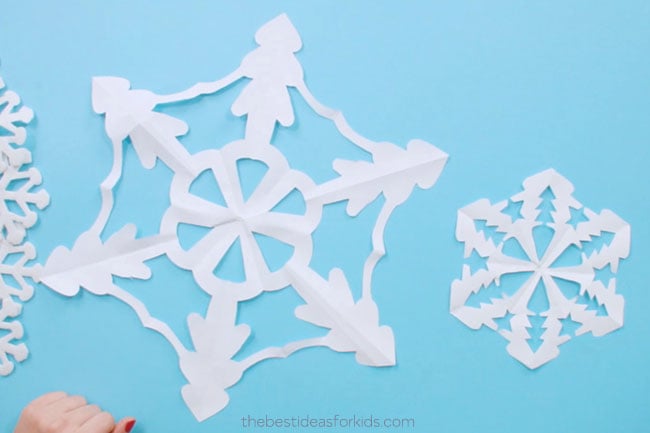 See more snowflake templates here.
Free Printable Snowflake Template
More Snowflake Crafts