This Kool-Aid Playdough recipe is a fun twist on our traditional playdough recipe. You can use different flavors of Kool-Aid to achieve vibrant colors and a little scent. If you love making your own homemade playdough, then you will definitely want to try this recipe!
RELATED: Playdough Recipe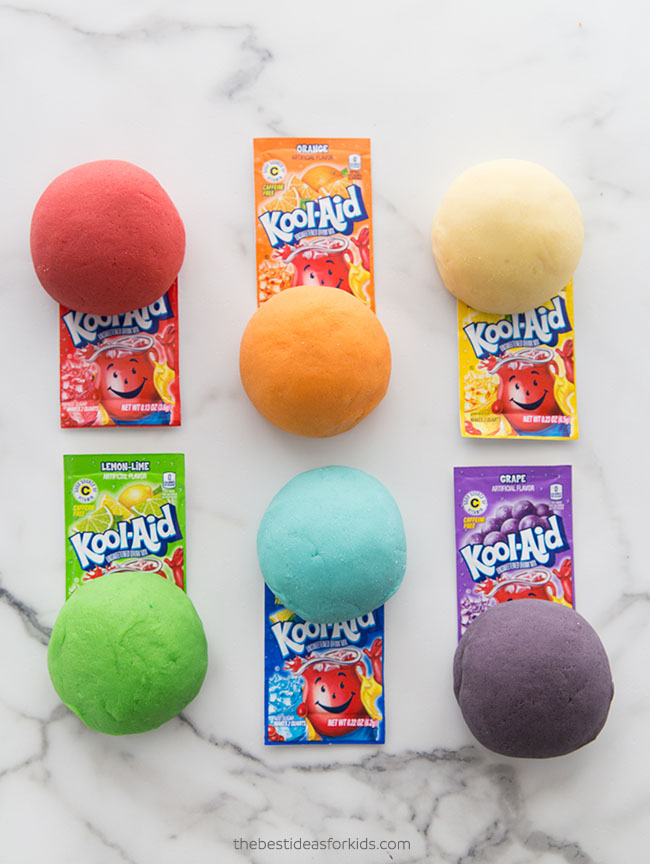 Kool-Aid Playdough
Even if you have never made your own homemade playdough, this is a great recipe to start with. You will be surprised at how easy it is!
You only need a few ingredients and it's fast to make multiple batches. Since the Kool-Aid powder is what gives the playdough it's vibrant colors, you don't need food coloring to dye the playdough.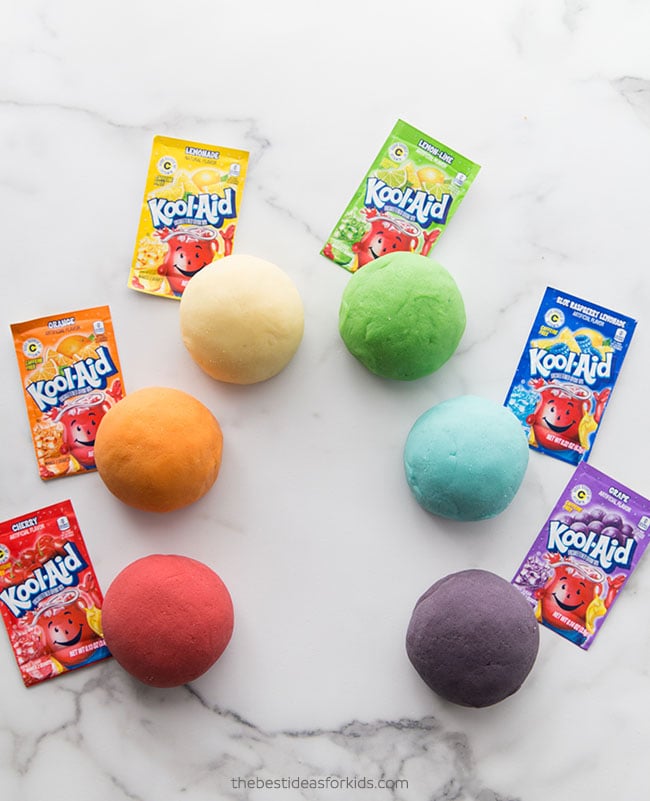 Watch the Video Tutorial!
Older kids can help make the playdough too by mixing and measuring all of the dry ingredients. Once your playdough is made, this is a great activity for kids of all ages! Make a bunch of colors and keep them in an airtight container to pull out when you need an easy indoor activity!
How To Make Kool-Aid Playdough
This is a stove-top playdough recipe, so you will need to cook it. The mixture comes together easily in 5 minutes (it's fast!). I prefer the stove-top method over using boiling water as I found using boiling water was trickier to mix.
Here are the ingredients you will need: 
Flour – regular all purpose flour
Vegetable oil – Note: avoid olive oil since it has a stronger smell and will change the coloring of the Kool-Aid.
Kool-Aid packets – we like this pack of 50 which comes with a variety of colors. You want the kind that does not have sugar already added to it.
The flavors we used to get each color were: Red (cherry or strawberry), Orange, Yellow (lemonade), Green (lemon lime), Blue (blue raspberry lemonade), and Purple (grape).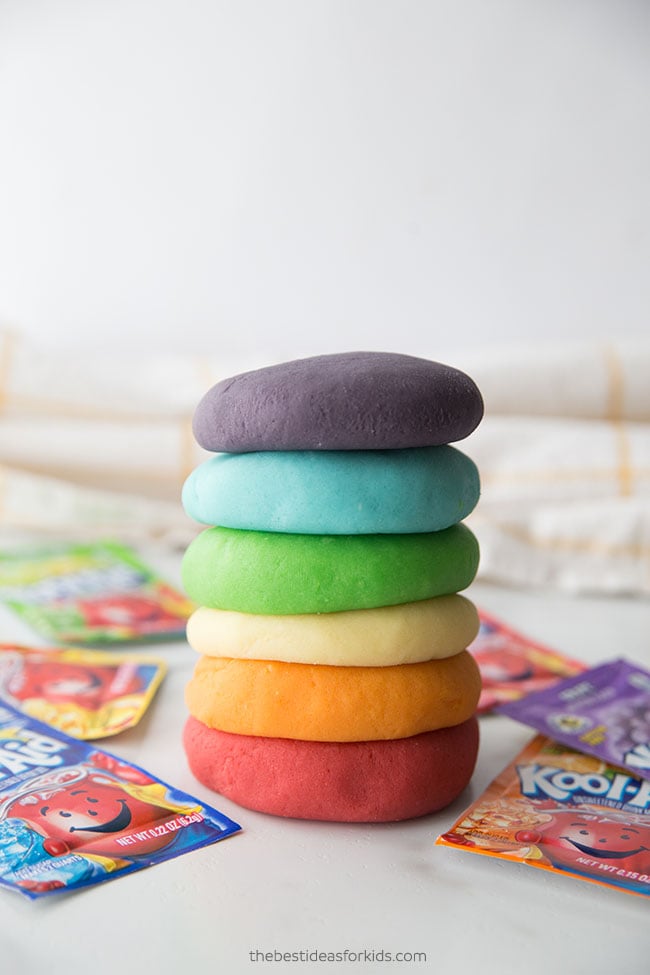 How much Kool-Aid will I need? 
We found that you will need at least 2 Kool-Aid packets per color of playdough. Some colors (such as blue) may require an extra packet of Kool-Aid to make it more vibrant. If you need to add more Kool-Aid packets to achieve a certain color, just be aware that it may take a little longer to cook on the stove-top. You can also add a little drop of food coloring to the water if you just want to use the Kool-Aid to add scent.
How do I store Kool-Aid playdough?
To help your playdough to last as long as possible, it's important to keep it as airtight as possible so that it doesn't dry out. Wrap each color of playdough in plastic wrap and then place it in an airtight container to help it stay soft. If you find that your playdough has become a little dry, you can add a little bit of oil or water and knead it in.
How long does Kool-Aid playdough last?
We have had our Kool-Aid playdough last for months! As long as you properly store it (see instructions above) and keep air and moisture out, the playdough should last at least one month.
How do I keep the playdough soft?
First wrap your playdough in saran wrap then store in an air-tight container or Ziploc bag. You'll notice that playdough will go hard if left out – so the less air that can get to the playdough when storing, the longer it will last!
How do you make playdough soft again?
If your playdough dries out or turns out to be a little dry after making it, try adding in a little more oil first. You can knead the oil in with your hands. You can also knead in a little bit of water.
Will This Dye Hands?
When you are first mixing and kneading the playdough you will want to wear gloves (or be mindful it may slightly dye your hands – but don't worry it washes off typically in a day). Once the dough is all kneaded, it should not dye hands when playing with it.
In a large bowl, combine all of your dry ingredients (flour, cream of tartar, salt, 2 Kool-Aid packets) and mix well.

Add the vegetable oil and water to a pot. Mix together.

Add the dry ingredients to your pot and mix well.

Cook on low to medium heat until dough starts to form and become dry.

Once a ball of dough starts to form and the playdough looks fully cooked, remove from the heat and let the dough cool before touching. If you added in extra Kool-aid packets, it may take longer to cook. Just keep mixing until the dough forms.

After the dough has cooled, knead it for 5 minutes to make the dough soft and smooth.
If you would rather not use Kool-Aid to add color to your playdough, see our regular playdough recipe here.
Once your Kool-Aid playdough is finished, use cookie cutters and rolling pins to play with it! When you are finished, simply put the playdough in plastic wrap and store in an airtight container to help it last longer.
Try our other scented playdough recipes!