For a fun summer scented playdough – try this easy to make lemon playdough recipe!  Using the scent of a fresh lemon, this is a fun summer activity for kids!
RELATED: Playdough Recipe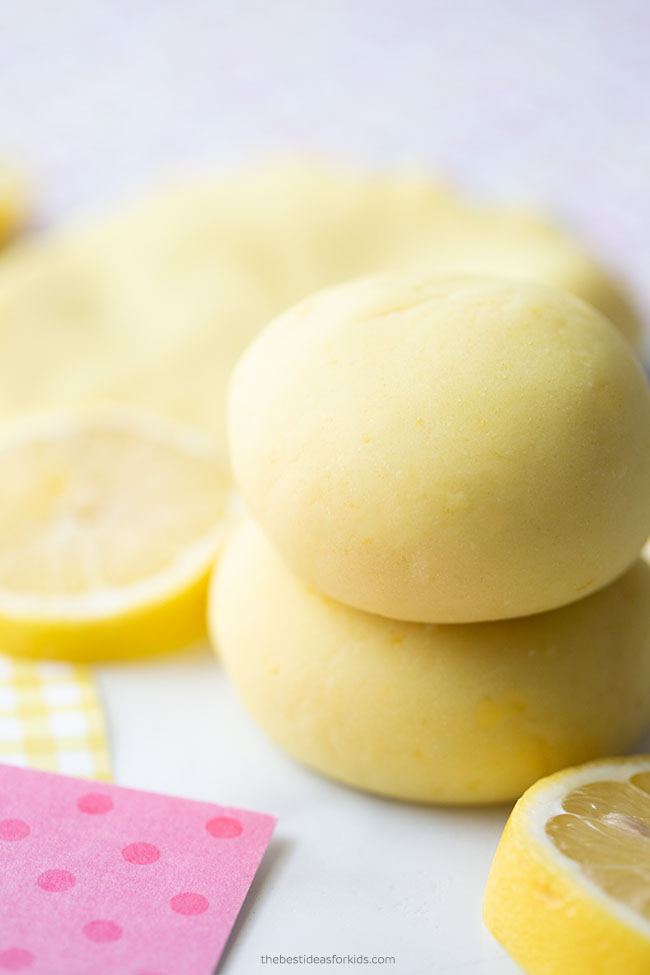 Lemon Playdough Recipe
The scent of this playdough is a very light lemon scent. If you want a stronger lemon scent you can use a little bit of lemon flavor or use the lemonade flavored Kool-aid with our Kool-Aid playdough recipe.
Add some fresh lemon slices to the playdough set-up and kids can pretend to make their own lemonade stand with this lemon scented playdough!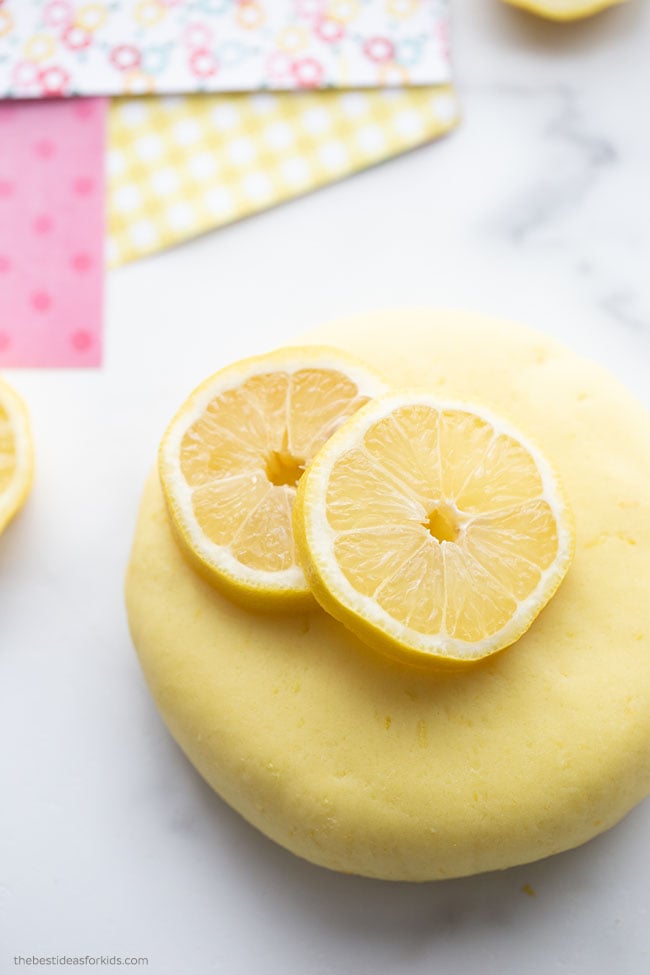 How to Make Lemon Scented Playdough
There are many ways to make playdough – using a stove-top or using a kettle with boiling water. Personally, we prefer the stove-top method. We find it's easier to mix the ingredients in the pot.
There are also no-cook playdough options but we also prefer this cooked playdough recipe. We find this recipe to last the longest and be the softest. This recipe only takes a few minutes to make and it will last for months!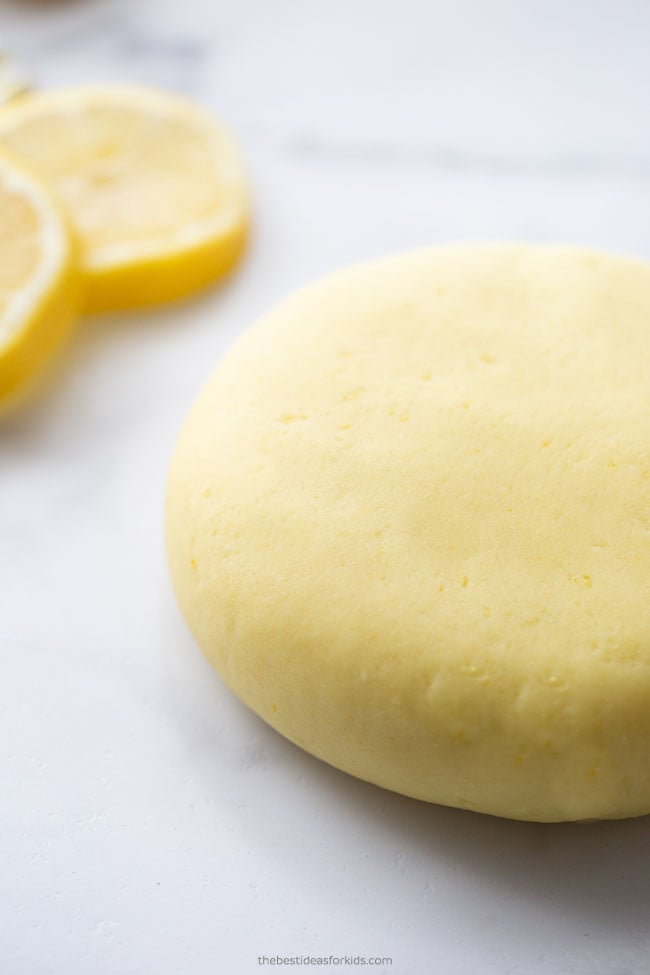 Here are the ingredients you'll need: Flour, Salt, Cream of Tartar, Water, Oil, Lemons.
Skip down to the recipe card below to see the full recipe instructions and video.
Do you need cream of tartar? I do recommend using cream of tartar with this recipe even though lemon juice is included in it. The lemon juice will help keep your playdough longer just like cream of tartar does. However, if you do not have cream of tartar you can skip this in the recipe.
Want an easier recipe to make? Try our traditional playdough recipe.
How to Keep Playdough Soft
First wrap your playdough in saran wrap then store in an air-tight container. You'll notice that playdough will go hard if left out – so the less air that can get to the playdough when storing, the longer it will last!
How Do I Make Playdough Soft Again?
If your playdough dries out or turns out to be a little dry after making it, try adding in a little more oil first. You can knead the oil in with your hands. You can also knead in a little bit of water.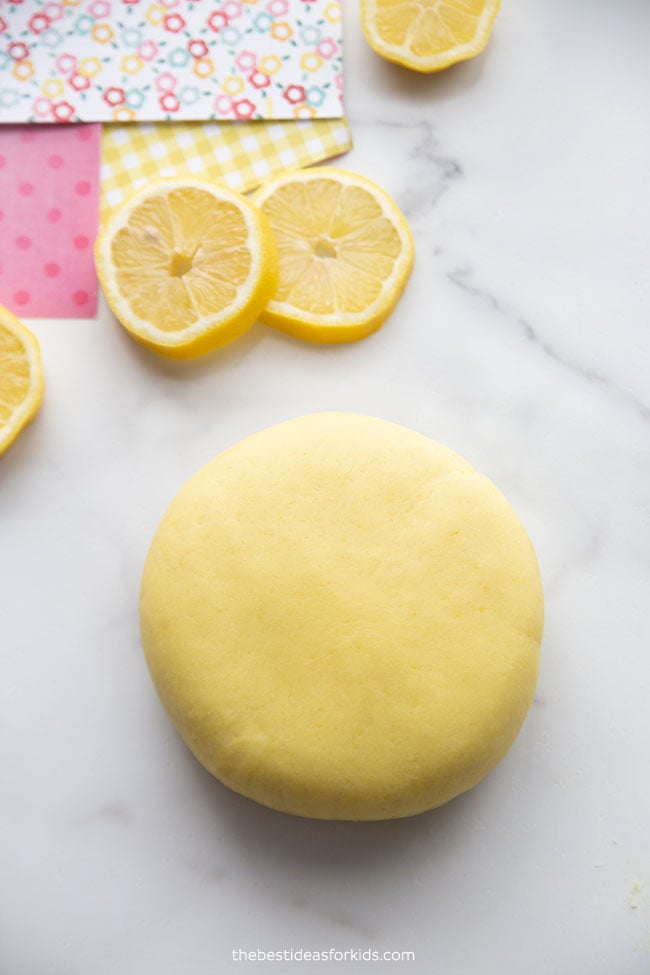 In a large bowl, combine all of your dry ingredients (flour, cream of tartar, salt) and mix well.

Squeeze the juice out of 1 lemon and pour into a 1 cup measuring cup.

Fill the remaining measuring 1 cup with water.

Add 2 drops of yellow food coloring into the water and mix.

Add the vegetable oil and water/lemon juice with food coloring to a large pot. Mix together.

Add the dry ingredients to your pot and mix well.

Cook over low to medium heat until the dough starts to form and becomes dry.

Once it starts to form a ball together and looks fully cooked, take off the heat. Let the dough cool first before touching

Once cool, knead the dough for 5 minutes to make the dough soft.

Grate the rind of 2 lemons with a zester. Knead the lemon zest into the playdough to create a a stronger natural lemon scent. Once kneaded in you shouldn't be able to see it the lemon zest.
Note – this recipe has a very light lemon scent. For a stronger flavor, see our Kool-Aid playdough recipe (use lemonade) or use lemon flavoring. 
More Playdough Recipes
Also try our Kool-Aid Playdough recipe – it's a fun scented playdough for summer!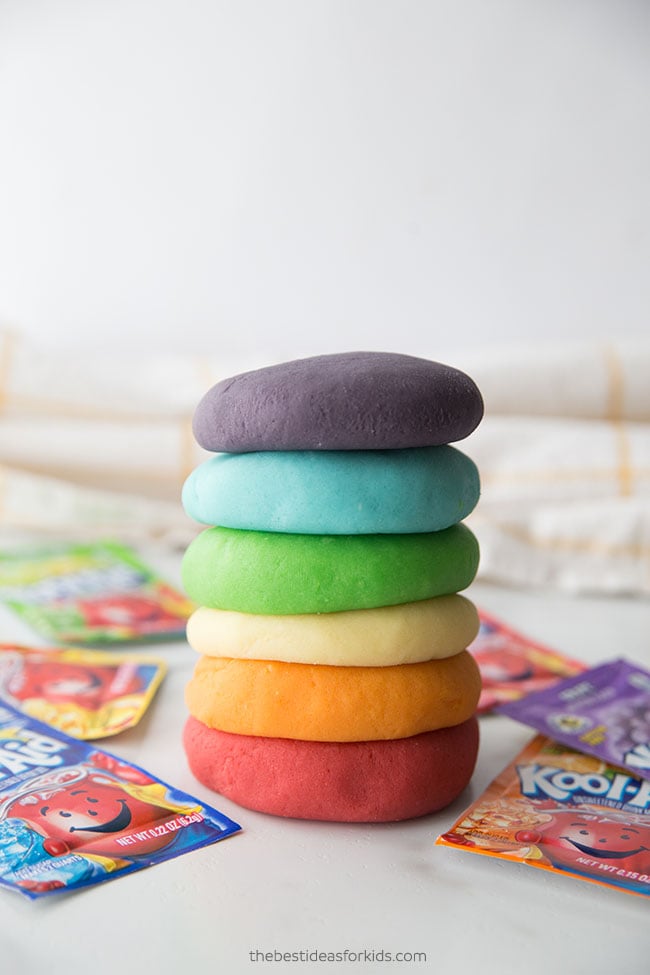 Also try making sand playdough – which is a fun summer activity too!