Looking for easy lunch ideas for kids? Here are 16 suggestions for things you can pack in kid's lunch boxes. You can easily rotate 15 of these school lunch ideas on a 3 week schedule.
RELATED: Mac & Cheese Bites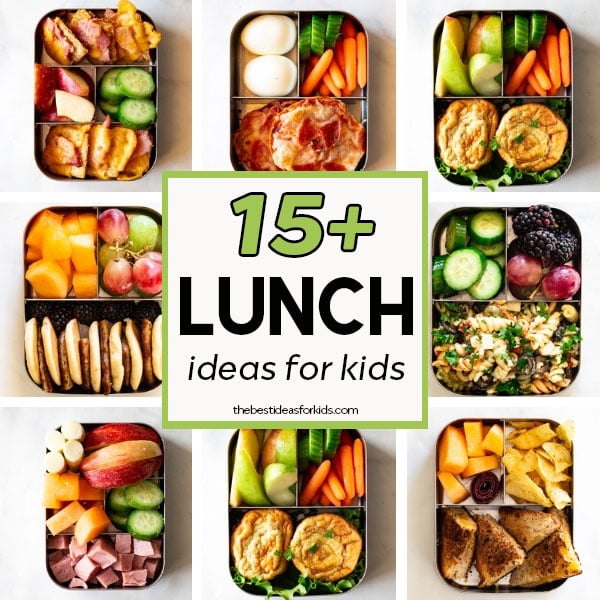 15+ Lunch Ideas for Kids
To save containers and waste from plastic bags, get a reusable bento box lunch container. We used these ones. We also really like the Yumbox. They are great for packing lunches and snacks in teh same container.
For any sauces, you may want to pack these separately in a container so that they do not leak.
Watch the Video Tutorial!
Portion Sizes
This post is meant to inspire ideas for your kid's lunches. Adjust the portion sizes to your own child's appetite and needs. Add additional protein if needed. You can add extra hard boiled eggs, pepperoni sticks, milk (to drink) and yogurt for additional protein on some of the lunch ideas that are more carbohydrate-based.
How to Keep Lunches Warm?
If your kids prefer the lunch items to be kept warm, pack the individual item into a thermos.
1. Breakfast for lunch
Mini pancakes paired with quartered sausage rounds and fruit for the perfect packed 'brunch'. Add a little container of syrup for an extra special treat.
Note: a friendly reminder to cut up grapes for little ones! Cherry tomatoes, hot dogs and grapes should all be cut up for young children.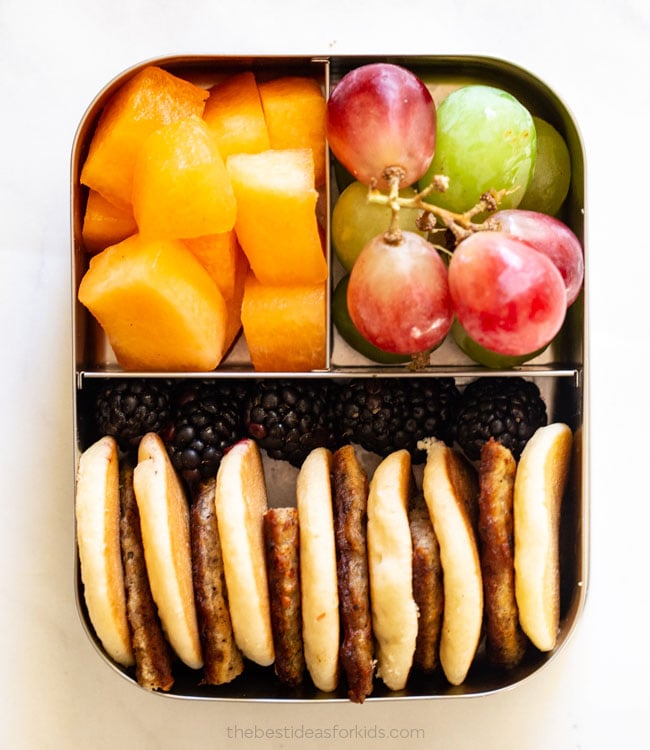 2. Homemade Lunchable
Crackers, sliced ham, and sliced cheddar cheese make for the perfect homemade lunchable.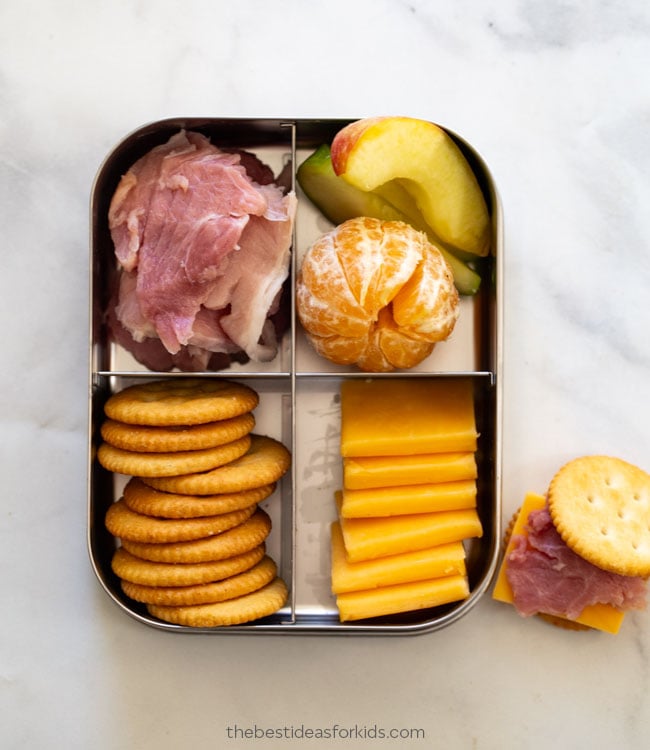 3. Quesadilla With Salsa
Quickly make a whole-wheat quesadilla and add some salsa and sides for an easy lunch. To make the quesadilla, butter the outside tortilla shells. Then add shredded cheese in between. Cook in a pan at medium heat for 1-2 minutes on each side or until cheese is melted. Cut into wedges and serve with salsa.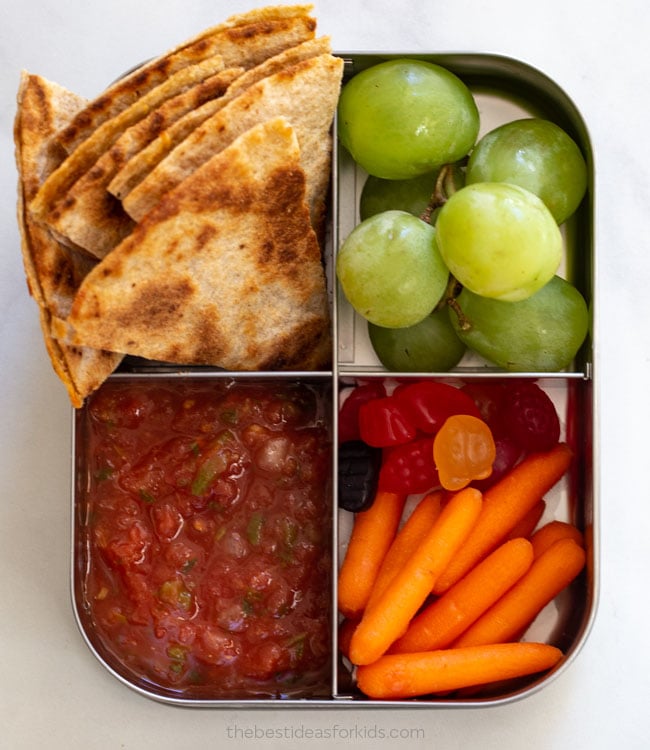 4. Mini Bagel Pizzas
Mini bagel pizzas are fun and kid-friendly! Simply top mini bagels with marinara sauce, shredded mozzarella cheese, and pepperoni and bake for 7-10 minutes at 350 degrees Fahrenheit. Serve with hard boiled eggs, cucumber and carrots.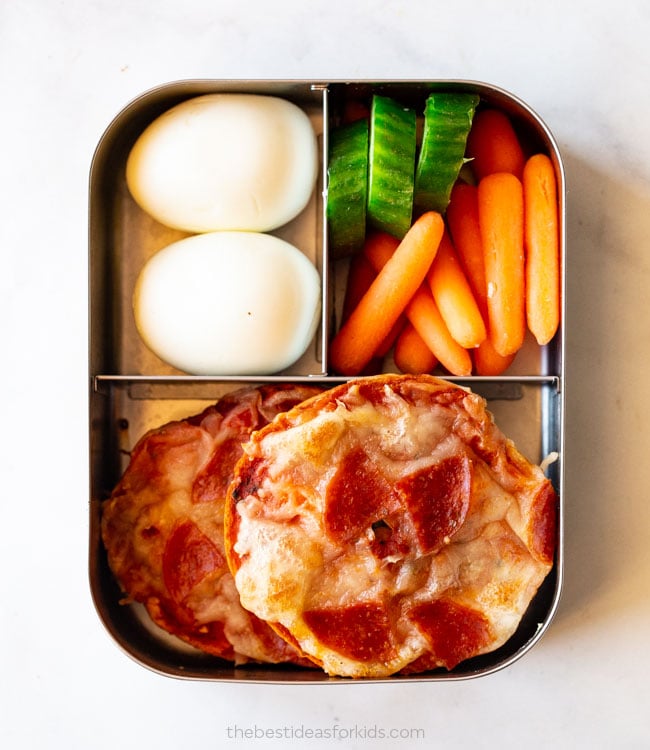 5. Ham, Cheese, and Melon
Simply cube a few pieces of ham and melon, dice a string cheese, and serve. For older children you can skewer the ham, cheese, and melon, if desired.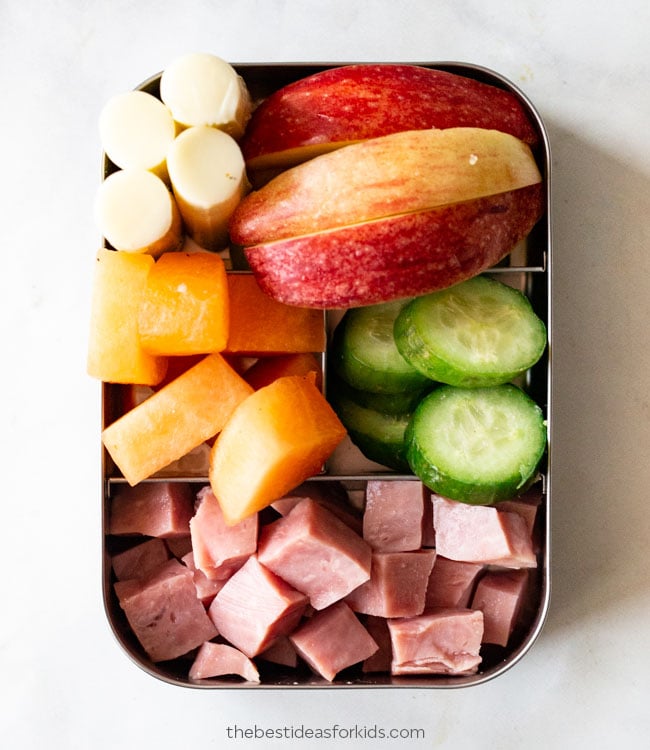 6. Hummus Turkey Roll-Up
Spread hummus on a piece of flat bread or tortilla. Layer with fresh lettuce, turkey, and cheese. Roll into a tight log and slice into mini rolls.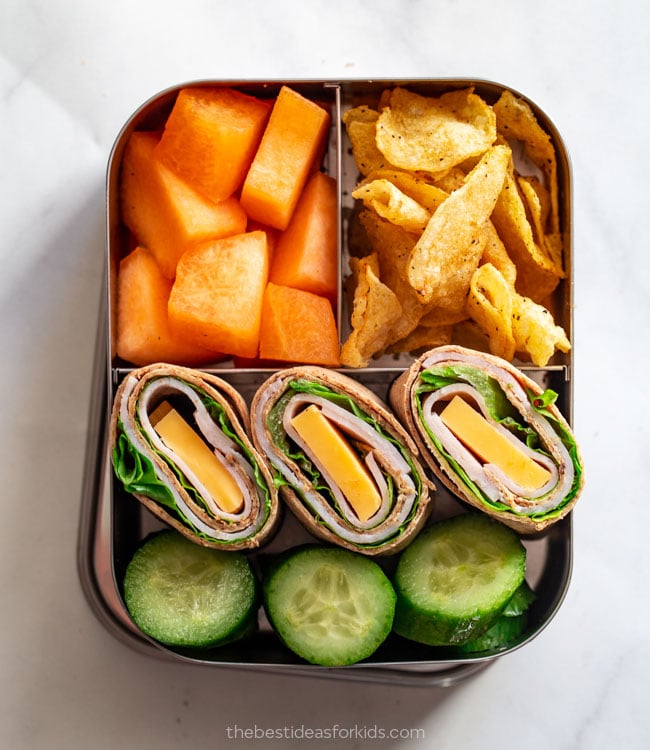 7. Cheesy Pigs In a Blanket
Unroll a biscuit roll can and remove raw biscuits. Separate biscuits and flatten slightly. Cut each biscuit into 3 pieces and stretch slightly. Lay a slice of cheese on each biscuit. Place smoked sausage or cooked hot dogs on one end and roll. Place seam side down on a cookie sheet. Bake for 10-15 minutes or until biscuits are golden brown.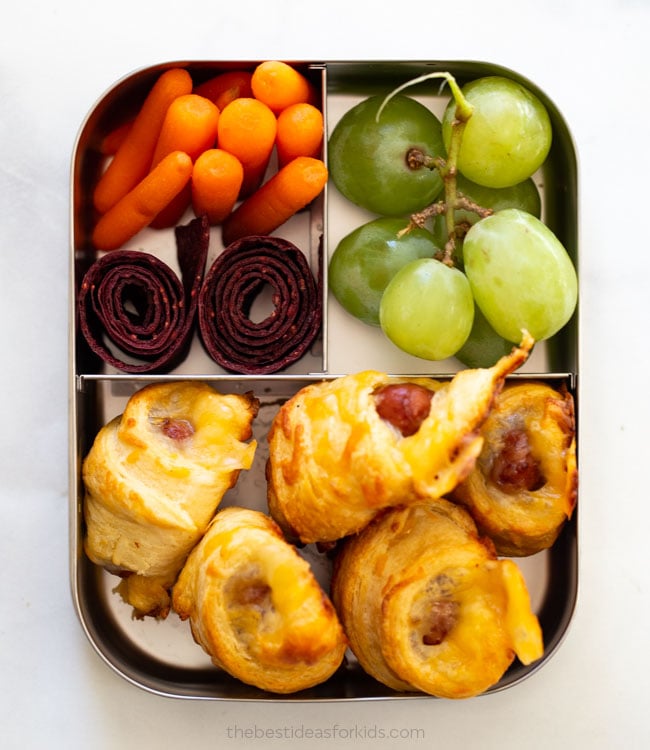 8. Mini Mac and Cheese Cups
Bite-sized mac and cheese. These are perfect for little fingers to eat!
Get the recipe here.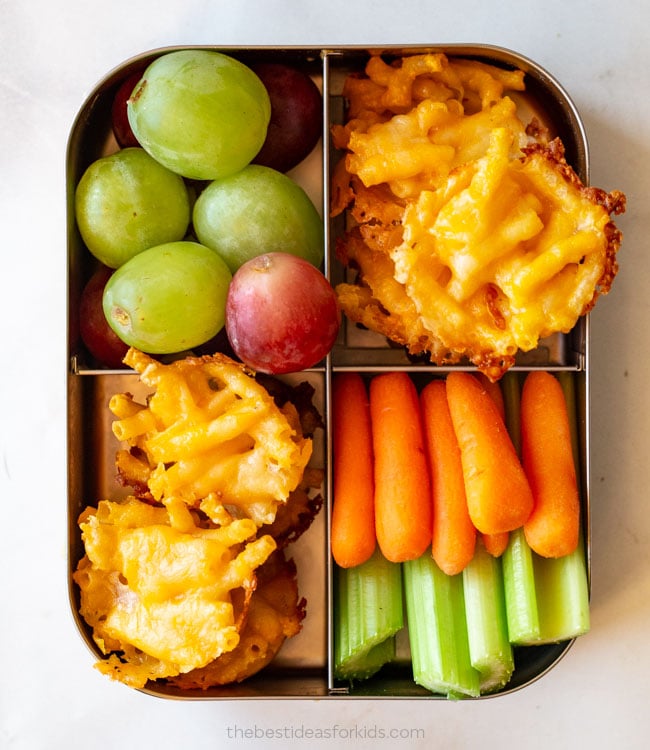 9. Chicken Salad Pitas
Make a simple chicken salad by combining 1 large can of chicken, drained, 1/3 cup mayonnaise, salt and pepper, and ¼ of a cup of dried cranberries (optional). Spoon into 2 pita breads packed with lettuce for a delicious and filling lunch.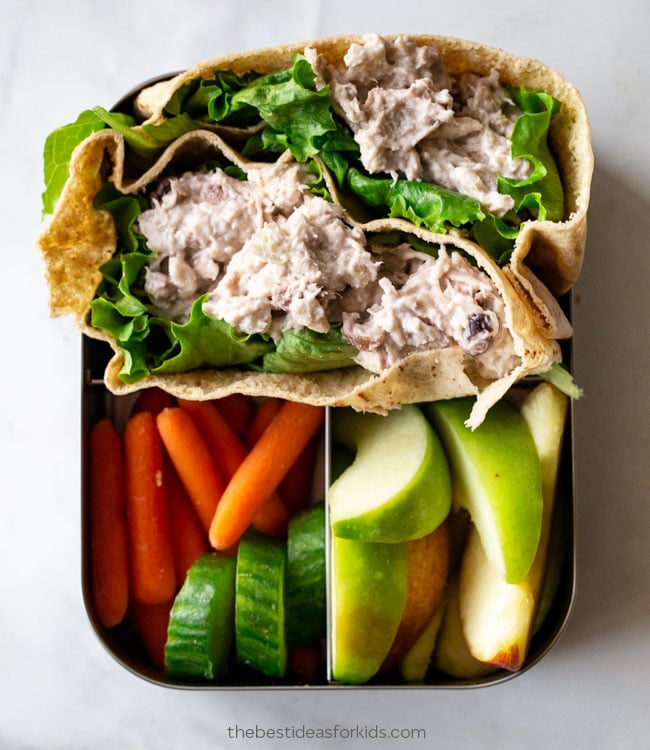 10. Grilled Cheese
Make a traditional grilled cheese sandwich and slice into triangles. Serve with fruit, veggies and chips. Add homemade fruit-roll-ups for an afternoon treat.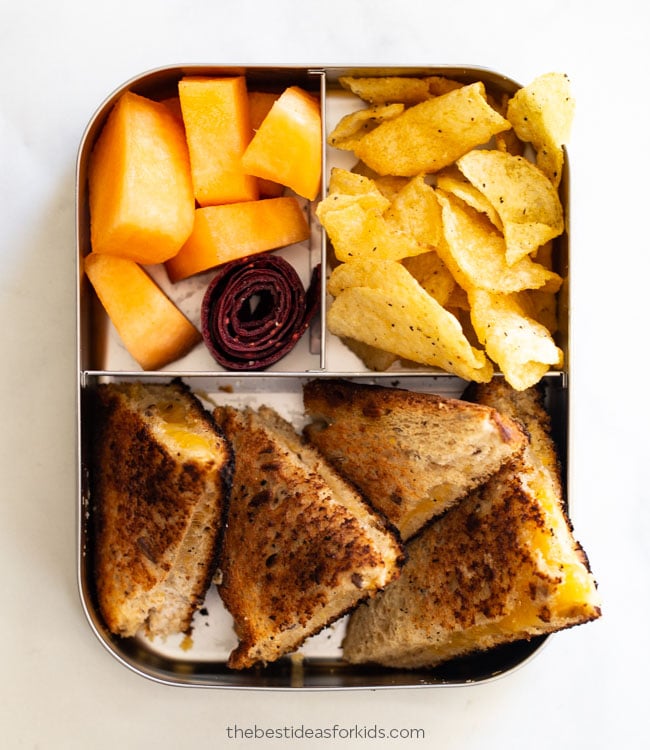 11. Turkey Cracker Melts
Top Triscuit crackers with a slice of turkey and cheese. Place under the broiler for 2-4 minutes or until cheese has melted.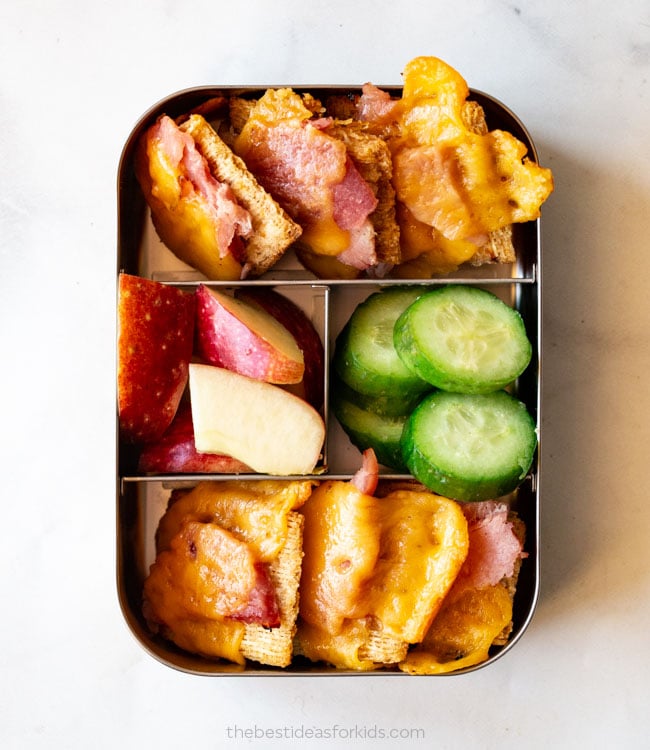 12. Pasta Salad
Combine leftover plain pasta with your favorite cubed cheese and lunch meat. Add a bit of Italian dressing, peppers, olives or garnish and toss.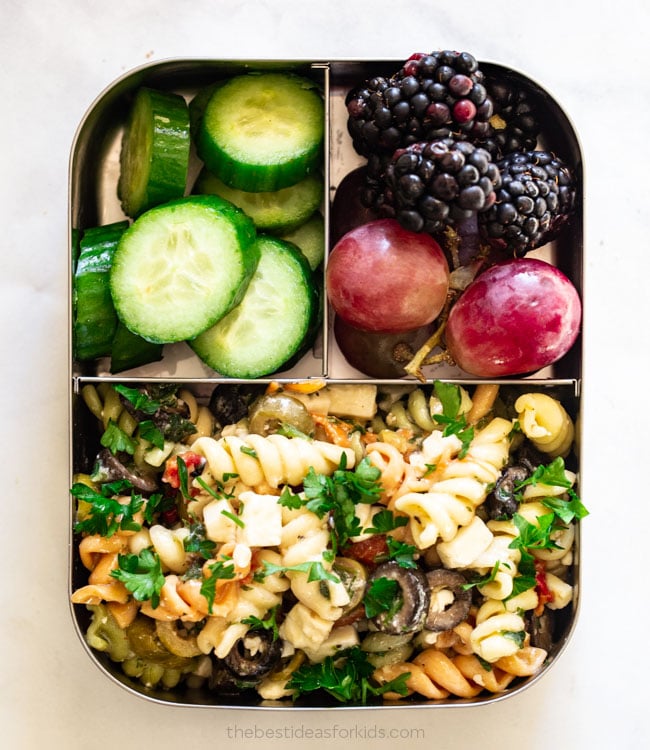 13. Ham and Cheese Hash Brown Waffles
Combine ½ cup raw, defrosted hash browns with 1 egg, 2 tablespoons diced ham, and 2 tablespoons shredded cheese. Place in a hot, greased waffle iron and cook for 4-5 minutes or until waffle is golden brown and crispy.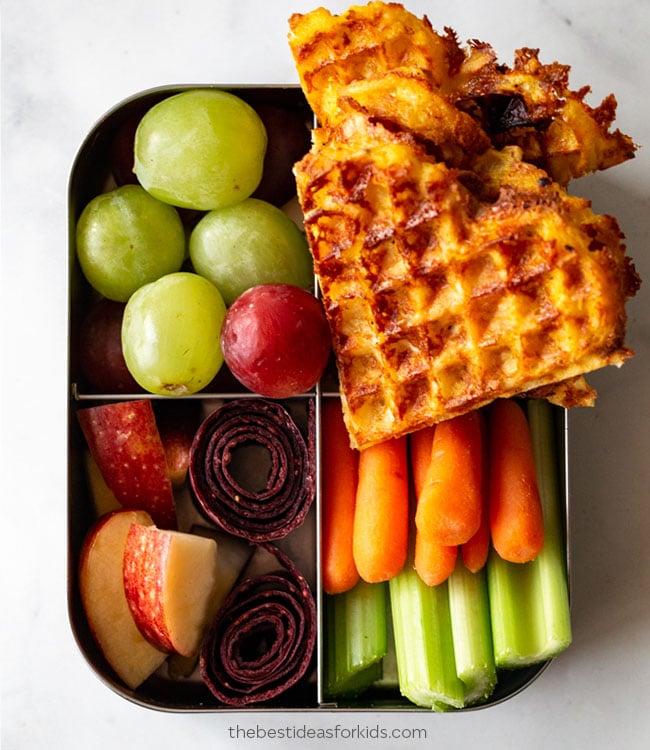 14. Breakfast Egg Cups
Whisk eggs with your favorite fillings (diced spinach, peppers, onions) and pour into a non-stick muffin pan. You can also spray the pan with cooking spray. Bake at 350 degrees Fahrenheit for 20-25 minutes until the egg cups are set and the centers are no longer runny. Serve with apple slices and cucumbers and carrots.
15. Egg Salad Roll-Ups
Make egg salad and spread it onto flat bread or a tortilla. Add some lettuce and roll into a log. Slice into mini rounds.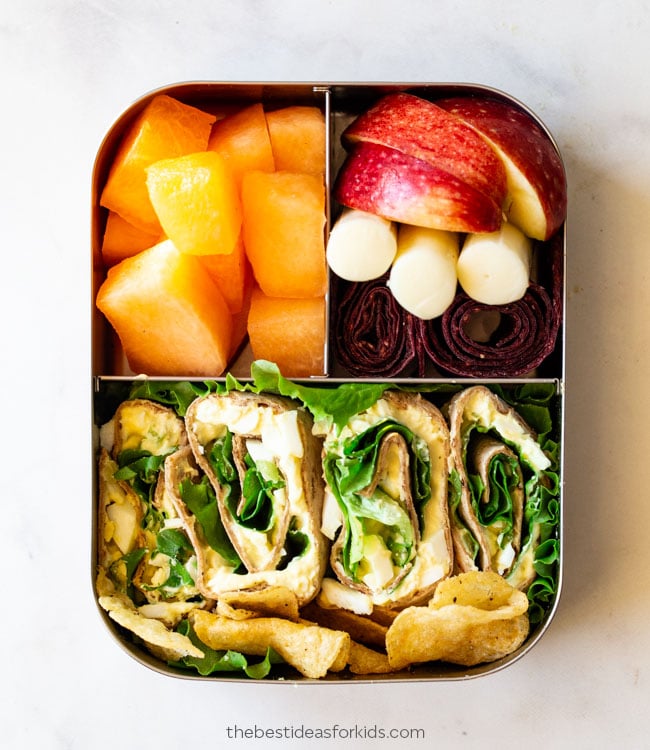 16. Hummus Dippers
Pack your favorite hummus dip with veggies and crackers.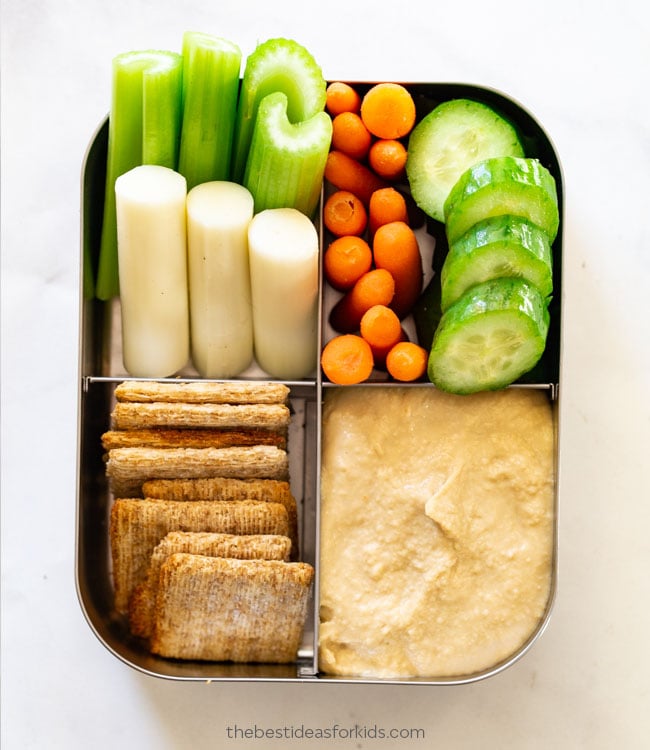 Those are all of our favorite non-sandwich lunch ideas for kids! Do you have any you like to make?
More Recipes for Kids