This DIY Pine Cone Wreath is the perfect holiday craft project you can do with your kids! Kids can help with painting the pine cones and the cardboard base. This could also be turned into a table centerpiece. And it's the perfect Christmas gift for older kids to make.
RELATED: Handprint Wreath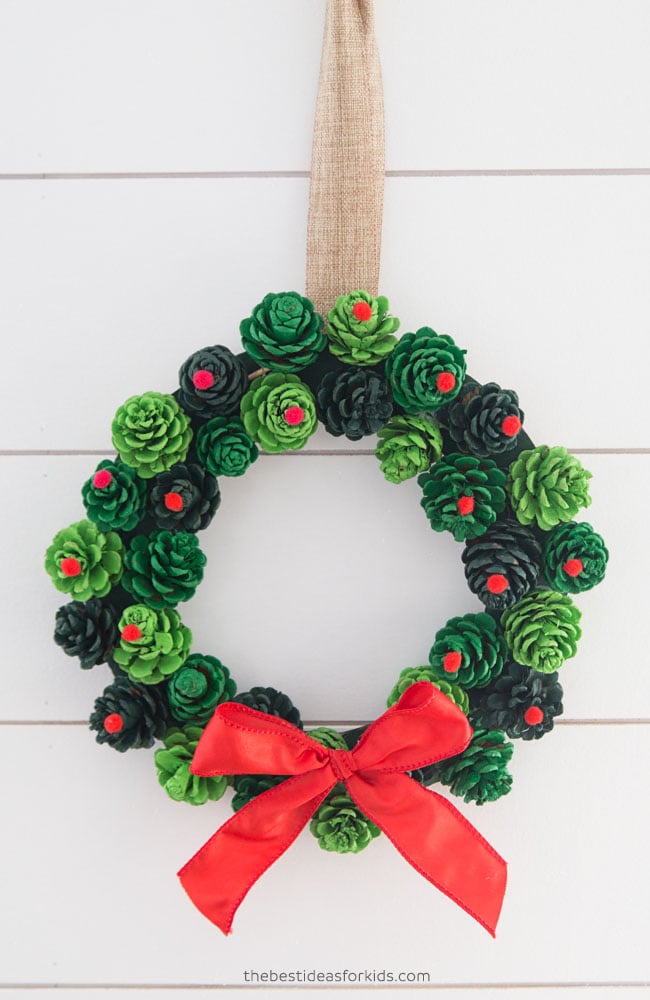 DIY Pine Cone Wreath
This pine cone wreath would be perfect to make as a gift to give at Christmas. You can even make different seasonal versions – paint them orange, red and yellow for fall or blue and white for winter.
And if you love pine cone crafts, also make our pine cone Christmas tree craft!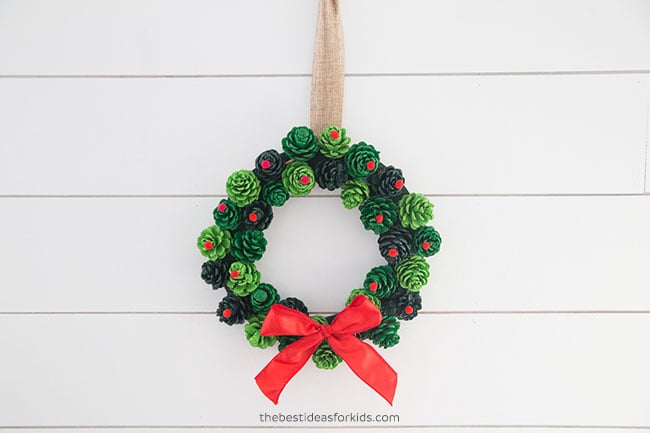 If you want to create a paper wreath instead, see our handprint wreath craft.
Watch the Video Tutorial
Supplies Needed to Make a Pine Cone Wreath
Small – Medium Pine Cones – We used 38 pine cones (approx 2.5 inches long) but you may want to get extra depending on the size of them.
You can use pine cones from outside but make sure they are clean and free of any insects before using. If you cannot find enough pine cones, you can order some on Amazon here.
Paint – 3 different colors of green acrylic paint – a darker green (evergreen), a regular green color and a light green (to mimic holly greens). This set of paint has 2 colors and you can order the lighter green here.
Note: if you want to have your wreath outside, you'll need to use outdoor paint or seal with an outdoor sealer. You'll also need to use a wire wreath base instead of cardboard.
Red Ribbon – the thicker the better so it stands out on the wreath
How to Make a Pine Cone Wreath
1. Start by painting your pine cones.
Paint the same number of pine cones in all 3 green colors. Let them dry.
Do I need to clean the pine cones? If you collected the pine cones from outside, give them a close inspection to make sure there are no insects in them. Avoid using any pine cones that has sap on them. You may also want to wipe them down with a damp cloth to wipe off any excess dirt before painting.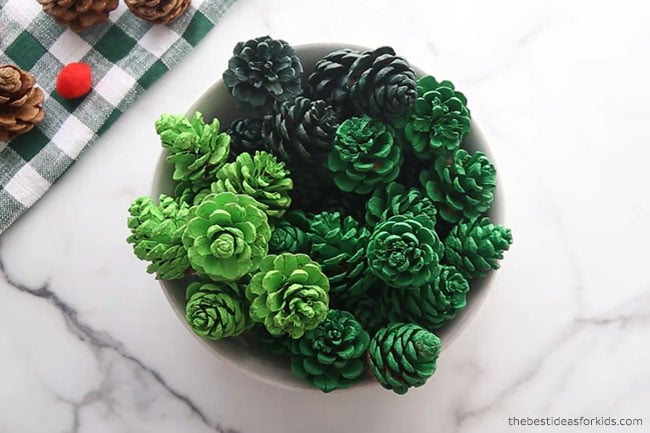 Note: If you want to use this wreath for outside, you will need to use outdoor paint. Or you'll need to seal the pine cones to prevent the paint from weathering.
2. Create your wreath base from cardboard.
Use a thicker cardboard in order for it to hold the weight of the pine cones. If you want it to be more durable, then use a metal wire wreath base.
We used a paper plate for the center to trace around for the center. Then trace around another circle object you may have to create the outside circle.
Our wreath was 13 inches tall by 13 inches wide.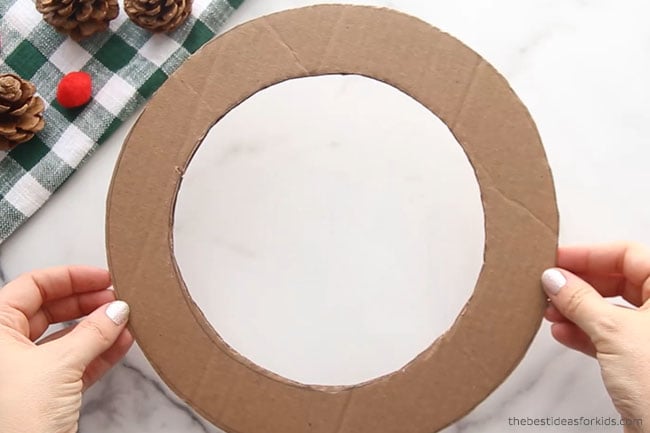 Note: If you want to use this wreath outside, you cannot use cardboard for the base. You'll need to use a metal wire wreath base like the following: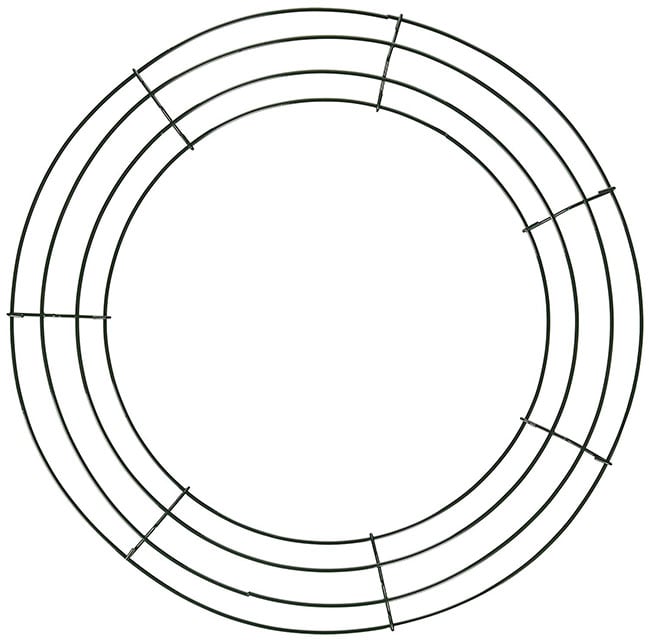 You can get this metal wreath wire from Amazon here.
Gluing the pine cones onto the wire wreath base is a lot more difficult so you may need to use a lot more glue. To make it easier you could wrap some outdoor burlap ribbon around the base first.
3. Paint the cardboard base the dark green color and let it dry.
4. Start hot gluing your pine cones on. Adults should help with this step for younger kids.
Alternate the colors as you go so that the same 2 colors are not side by side.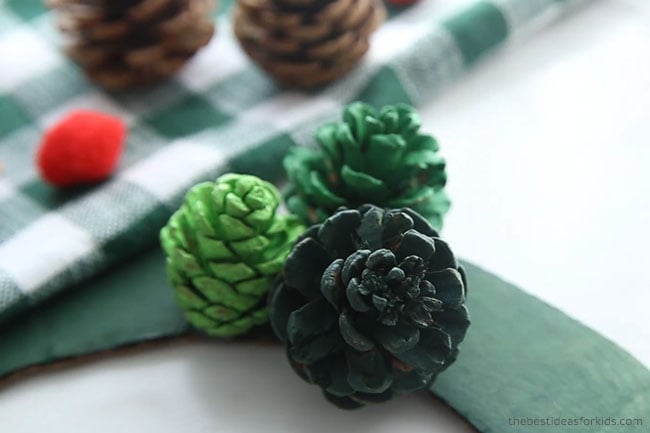 Glue 2 beside each other on the base and work your way around the wreath until the base is filled with pine cones.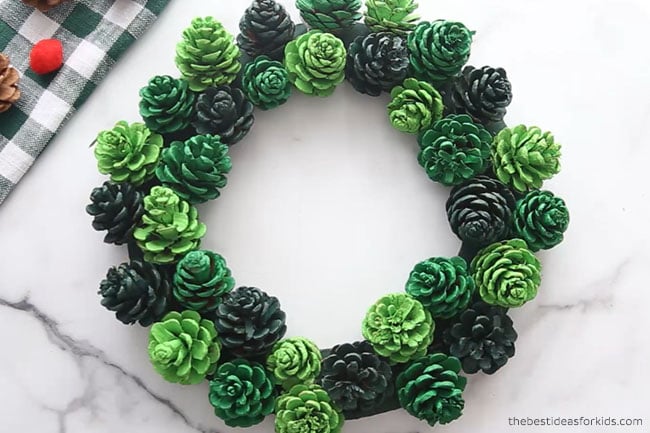 You may need a lot of hot glue to get some of them to stick.
5. Glue small red pom poms around the wreath.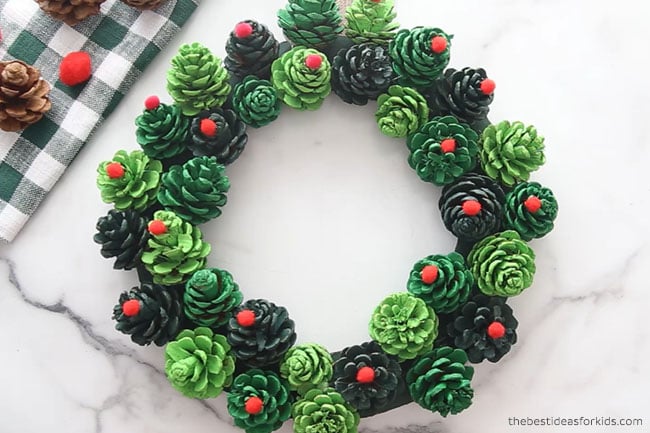 6. Glue a large burlap style ribbon to the top back for hanging.
Glue a red ribbon to the bottom.
More Christmas Crafts
See this handprint wreath – made with a paper plate and handprints!