If you're looking for an easy fall kids craft then you'll love this Popsicle Stick Scarecrow. Kids will love making these adorable scarecrows and you can customize them to look however you'd like!
RELATED: Fall Crafts for Kids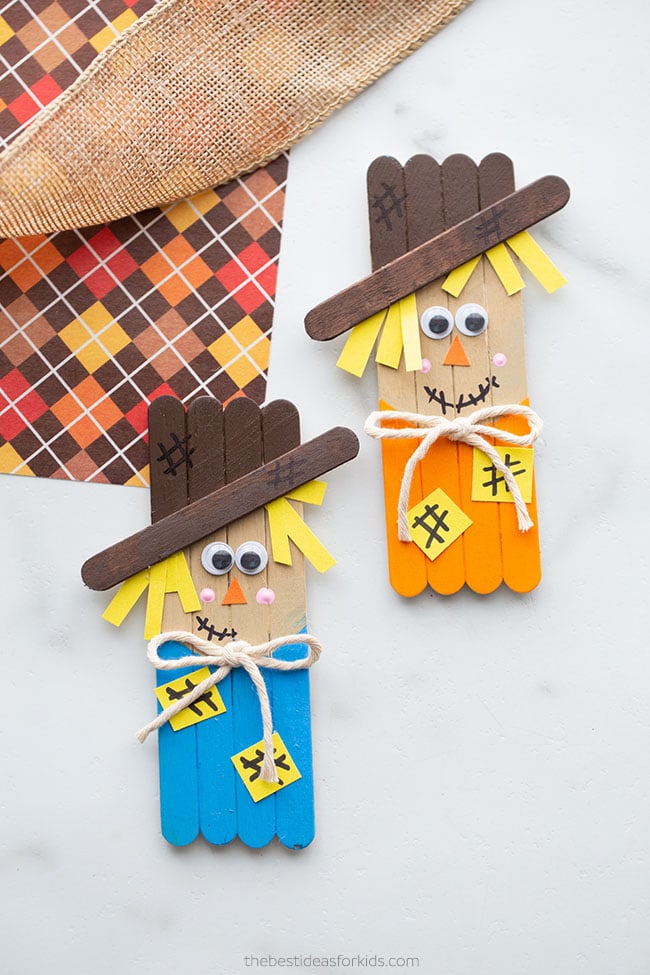 Popsicle Stick Scarecrow Crafts
Grab some popsicle sticks and you can create these adorable scarecrows for fall or Halloween!
And if you love popsicle stick crafts, see our recycled craft book for kids which has a whole chapter of popsicle stick crafts!
Pair this activity with our paper plate scarecrow!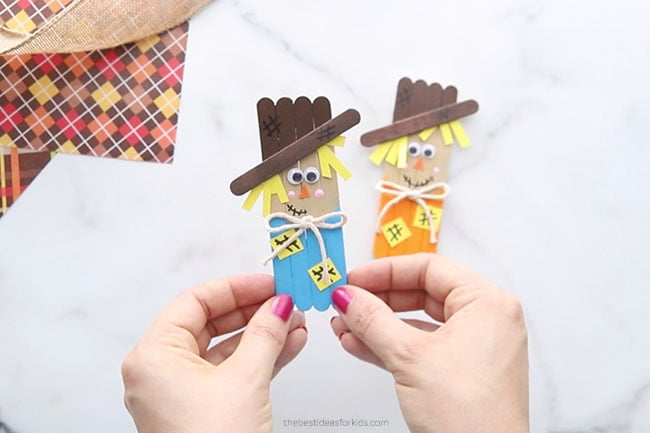 These popsicle stick scarecrows are a breeze to make and a lot of fun to put together too. You can even turn these into magnets by adding a few stick-on magnets to the back.
Supplies Needed to Make Popsicle Stick Scarecrows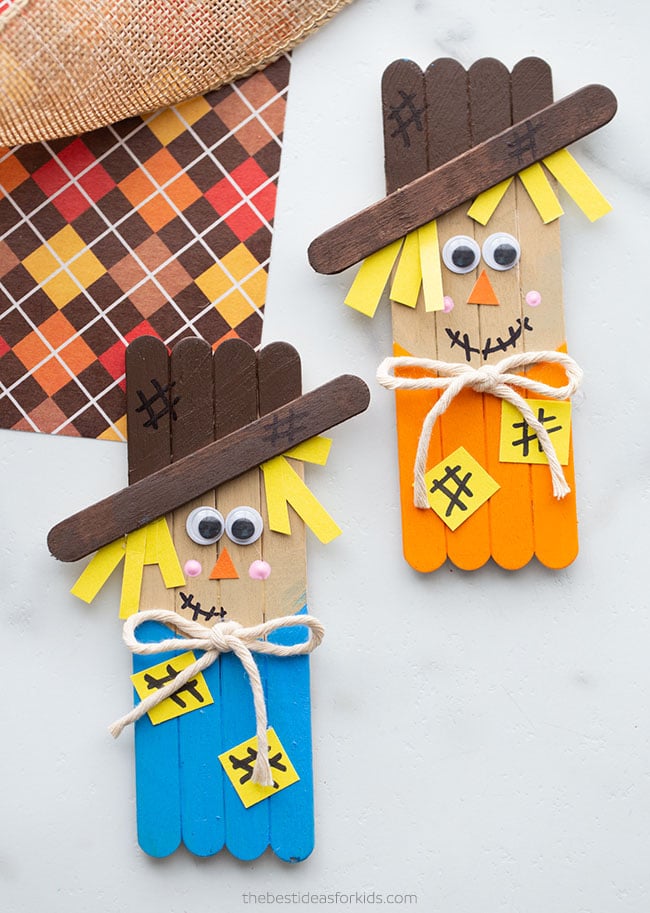 Watch the full video tutorial here!
How to Make a Popsicle Stick Scarecrow
1. Line up 4 regular popsicle sticks together.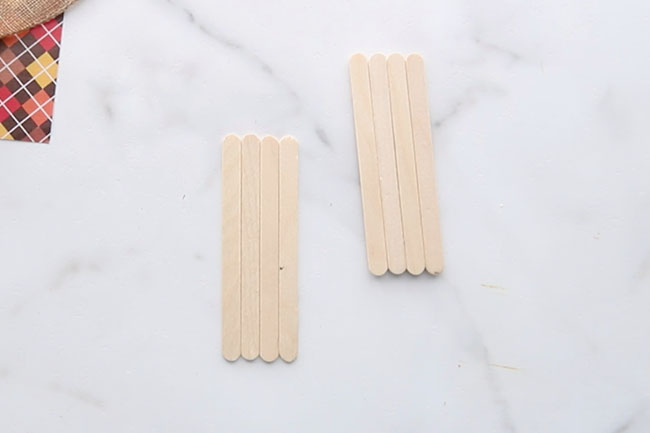 2. You can add 2 mini craft sticks to the back to glue the 4 regular popsicle sticks together.
Or you can cut some regular sticks into smaller pieces and glue them to the back.
3. Paint the top of the popsicle stick brown on an angle of where you want the hat brim to go.
Paint the next area a light brown. Add a slight curve to where the face ends on the bottom of the face.
Then paint another color underneath. We used orange and blue.
Glue on strips of yellow paper to the edge of the dark brown paint on both sides for the hair. The top part will be hidden when you add a mini stick on top for the brim of the hat.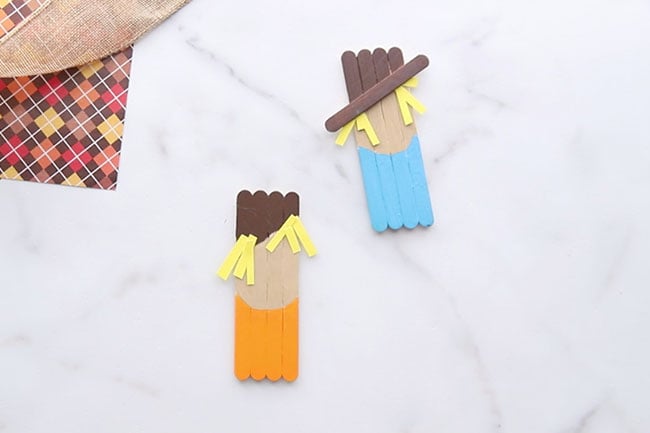 4. Paint 2 mini sticks dark brown.
Glue the mini stick on an angle to make the brim of the hat, making sure to cover up the tops of the yellow cardstock.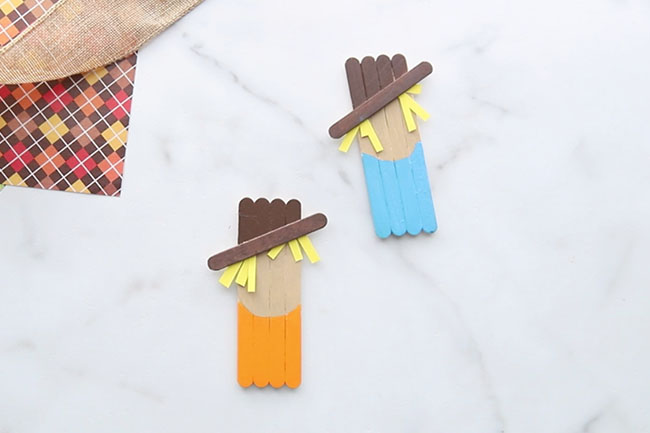 5. Glue on 2 small googly eyes.
Make the nose from orange cardstock and glue on.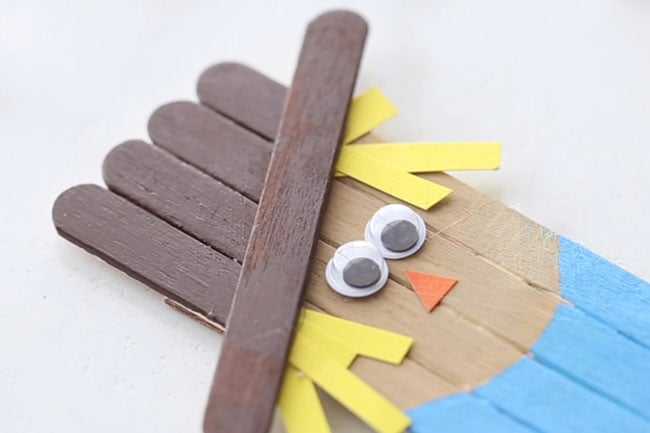 6. Draw the mouth on with a black sharpie.
Note – if you do not paint the face the sharpie may bleed on the popsicle stick. We found painting first helped the sharpie not bleed.
Using the back of a paintbrush, add 2 dots of pink paint for the cheeks.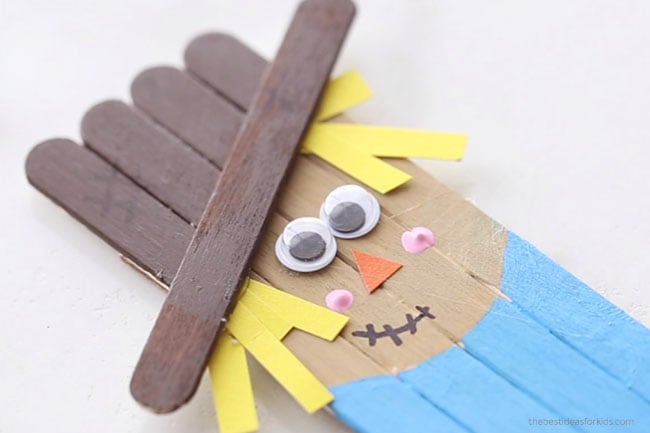 7. For a finishing touch, cut out some small squares from yellow cardstock.
Add some hash marks to the squares and glue to the scarecrow body.
Make a bow from twine and glue just under the face.
You can also add a few hash marks on the hat with a black sharpie.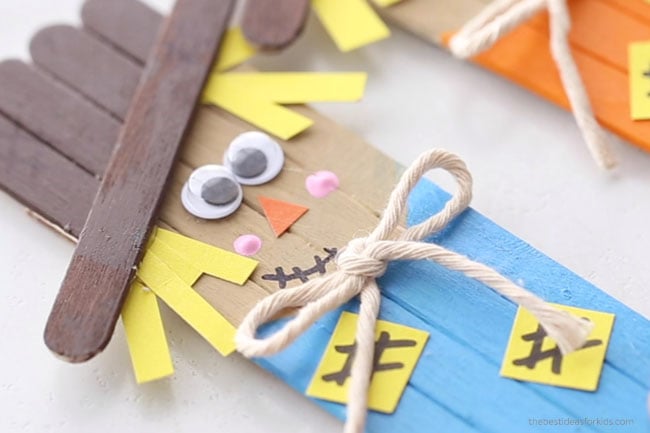 8. Your popsicle stick scarecrows are now done!
These little guys can be placed around the home for Halloween or fall decor. Or you can add a magnet to the back and place them on the fridge!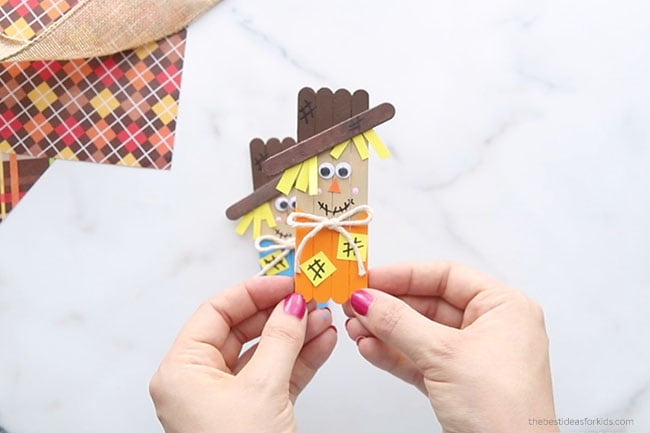 More Scarecrow Crafts
See these adorable clothespin scarecrows. Get a free printable template to make them too!