These pressed flower ornaments are a really pretty craft to make for Christmas! Hang them on your Christmas tree or wrap them up to gift to teachers, friends and family.
RELATED: How to Press Flowers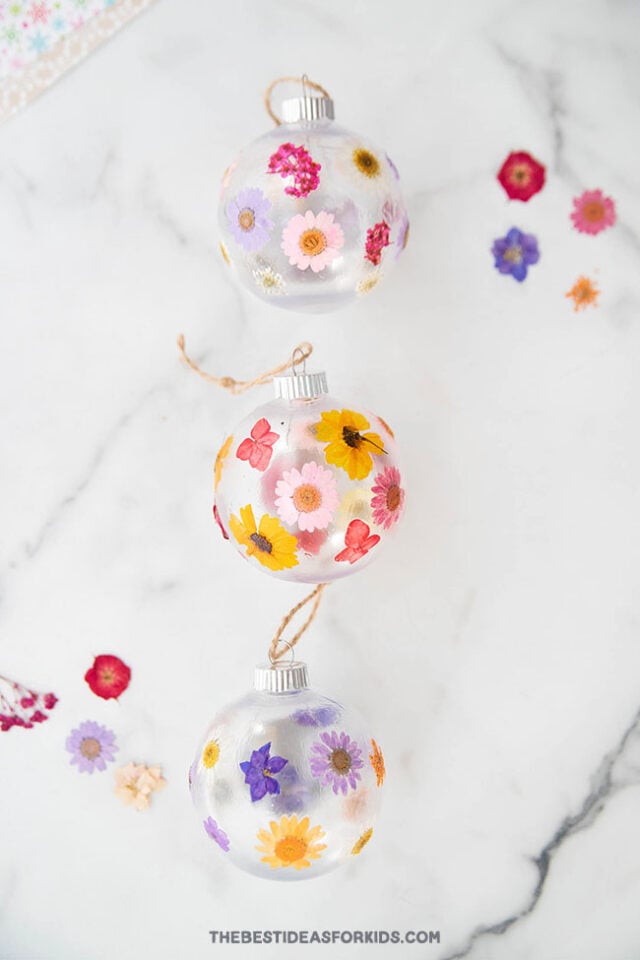 DIY Pressed Flower Ornaments
These ornaments look very pretty hanging on the Christmas tree! You can make a collection of them, or just make one to match your Christmas tree colors.
These also make a beautiful gift to make for teachers, friends or family this year.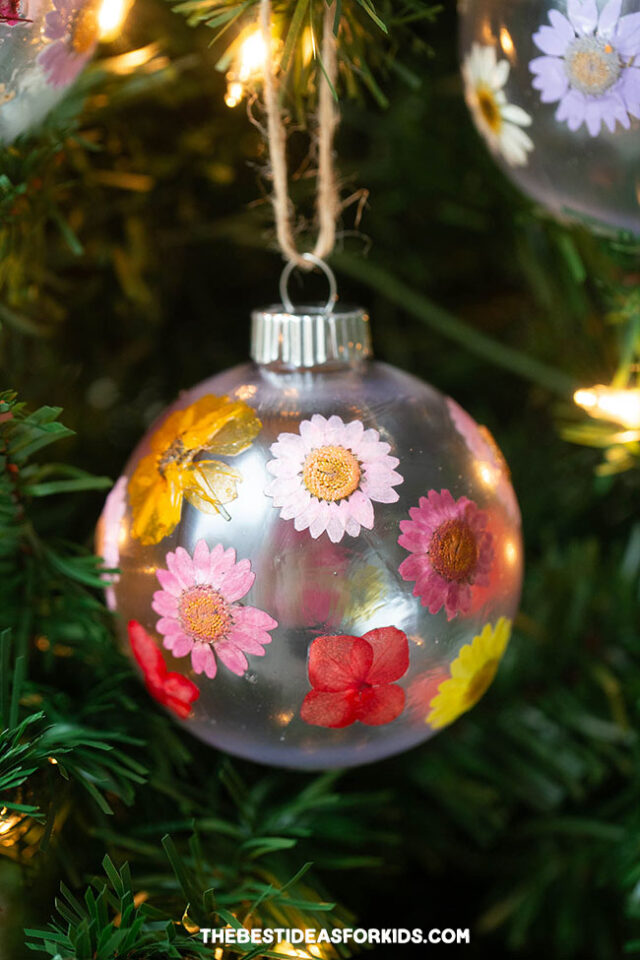 You can make this a two-part activity, collecting and saving flowers and then creating the ornament. City park grasses around playgrounds often have lots of wildflowers that will get cut. If is snowy and flowers are not in bloom where you are, you can order some pressed flowers here.
If you've never made your own pressed flowers, it is really easy! See our simple tutorial how to press flowers.
Watch the Video Tutorial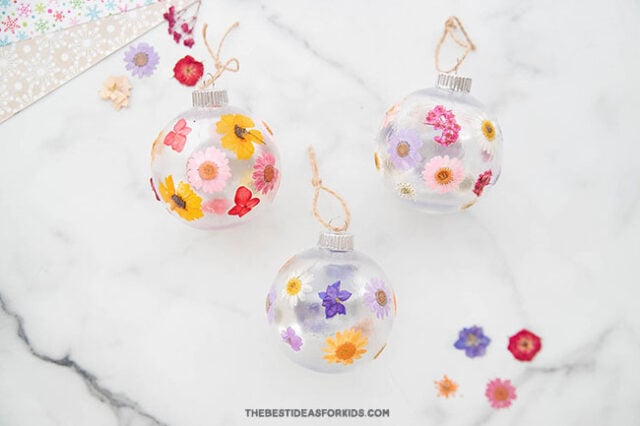 Supplies Needed to Make Pressed Flower Ornaments
How to Make a Pressed Flower Ornament
1. Gather the pressed flowers you want to use.
We paired colors together like pink, white and purple, orange and purple and white, and yellow, red and pink. You can choose any color schemes or just add a mix of all the colors.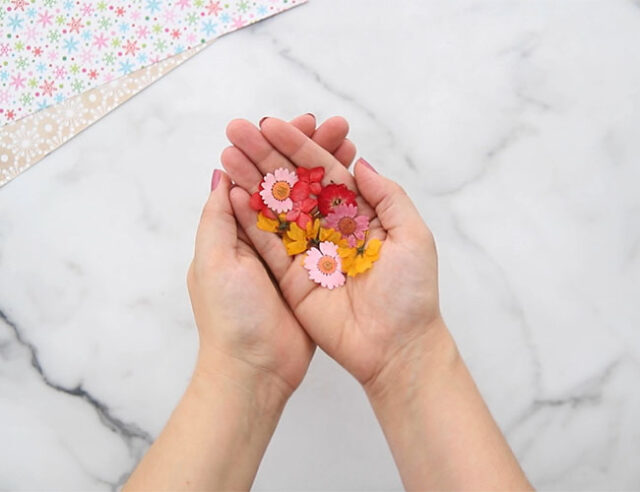 2. Paint mod podge on the clear ornament.
Add a thin layer of mod podge (enough for the flower to fully stick but not too thick) to the clear ornament. Work in small areas at a time or the mod podge may dry before you can add the flowers.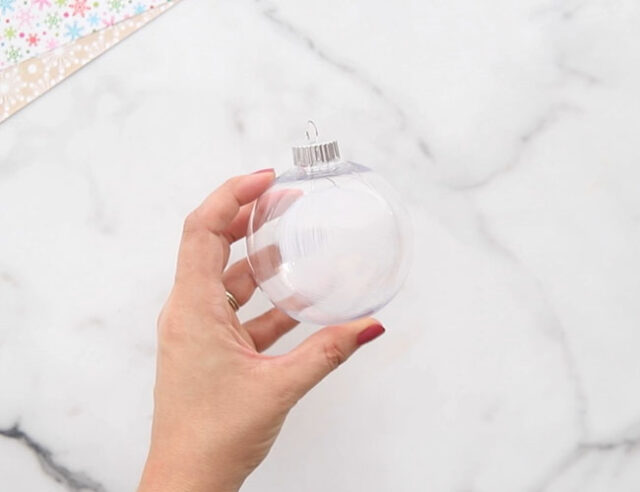 3. Add a flower on top of the mod podge.
Make sure all of the petals are sticking to the ornament. You may need to use more mod podge on some of the thicker flowers if they don't stick well enough.
We recommend using smaller flowers as shown here for easier adhesion to the ornament.
What if my flower won't stick?
If your flower won't stick then add some mod podge on top of it when placing it down. The mod podge on top of the petals will make the flower stick to the ornament.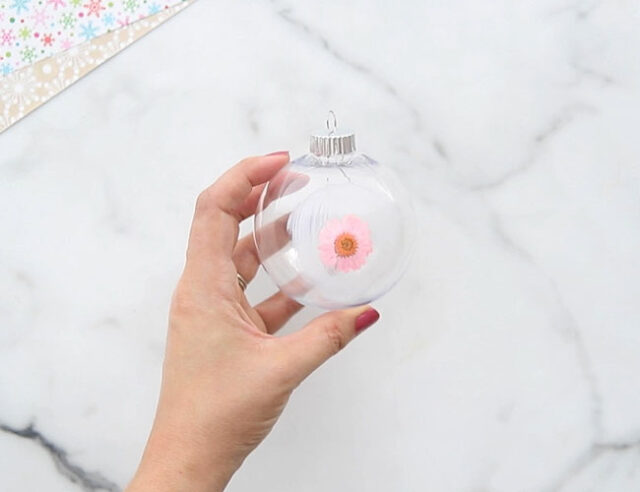 4. Continue adding flowers.
Continue adding flowers on the whole ornament until you are happy with the amount of flowers on it.
You can completely fill the ornament with flowers or leave some space in between. The mod podge will dry clear.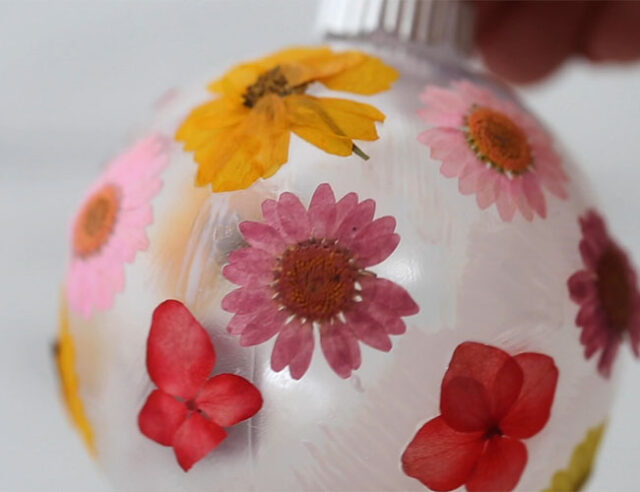 5. Paint mod podge on top of the flowers.
Add another layer of painted mod podge on top of the flowers and the whole clear ornament as a final coating to protect the flowers.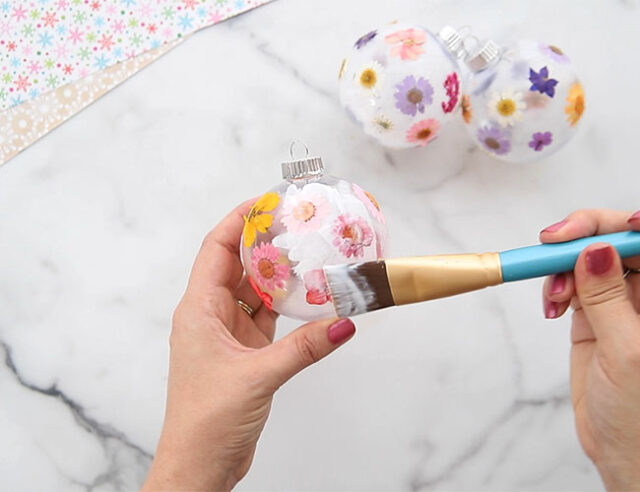 These make the prettiest ornaments for your Christmas trees.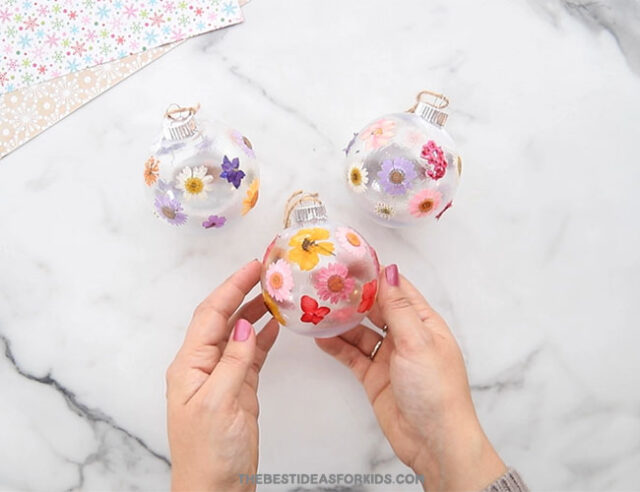 See more pressed flower crafts: