These scrabble tile ornaments are a quick and easy holiday craft to make for the Scrabble lover in your family! They also make great DIY homemade Christmas gifts for friends, family, and teachers. You can make ones with names or holiday words such as family, love, peace, and joy!
RELATED: Salt Dough Ornament Recipe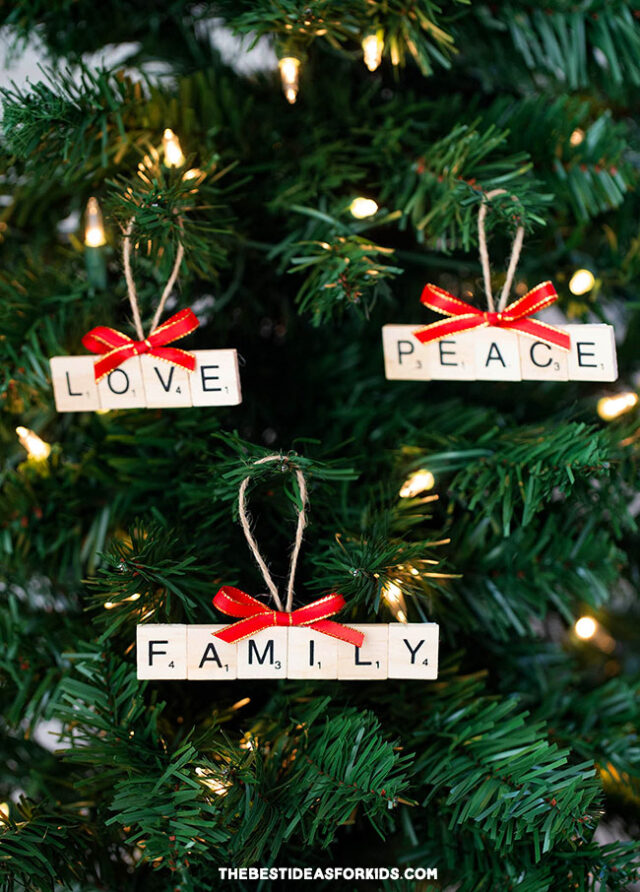 DIY Scrabble Ornaments
Kids will love making these ornaments. They can practice spelling or create gifts for teachers or family.
Make ones with names of different family members or classic holiday words such as family, love, peace, or joy. You can even make one with your pet's name.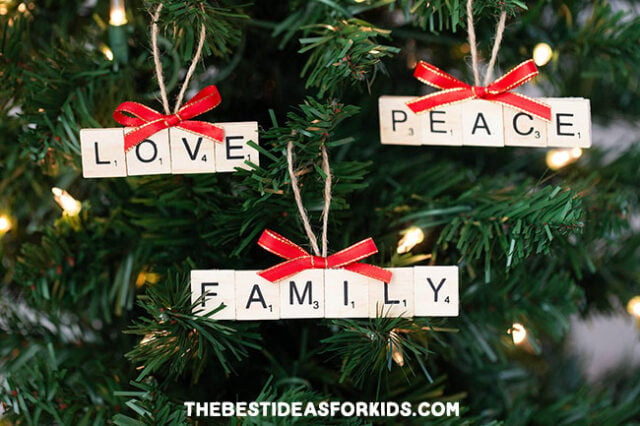 The best part about this Christmas craft is that they're easy and inexpensive to make! You can find bulk alphabet wood tiles at crafts stores or on Amazon.
Watch the Video Tutorial
Supplies Needed
Scrabble letters – you can get them here. Craft stores also sell them – look for alphabet wood tiles.
Red ribbon – we used ¼ inch red ribbon
Stiff white felt – you'll want a minimum of 2mm thickness, this 3mm felt would be even sturdier
Twine
Hot glue (adult assistance)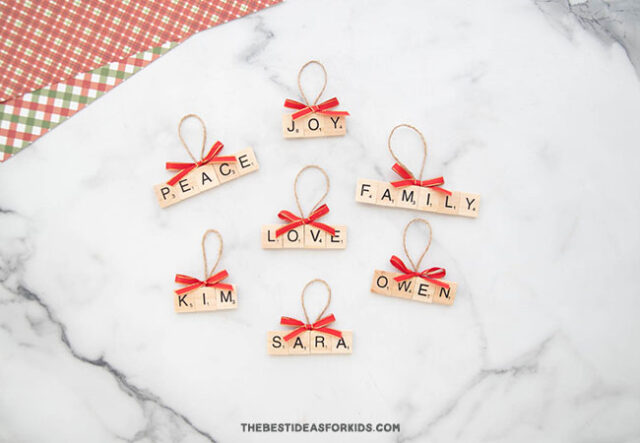 Ways to Use the Alphabet Wood Tiles
Names – kids can make Christmas ornaments with their names or make some for their family, friends, or teachers.
Holiday words – you can make holiday words like love, family, peace, winter, and joy.
Change alignment – instead of sticking the letters together horizontally, you can also line them up vertically. 
Turn into framed art or magnets – you can use these scrabble letters to create other Christmas gifts like framed art or magnets.
Directions to Make Scrabble Tile Ornaments
1. Create your words.
Select the letters you want to use to spell out the words for your ornaments.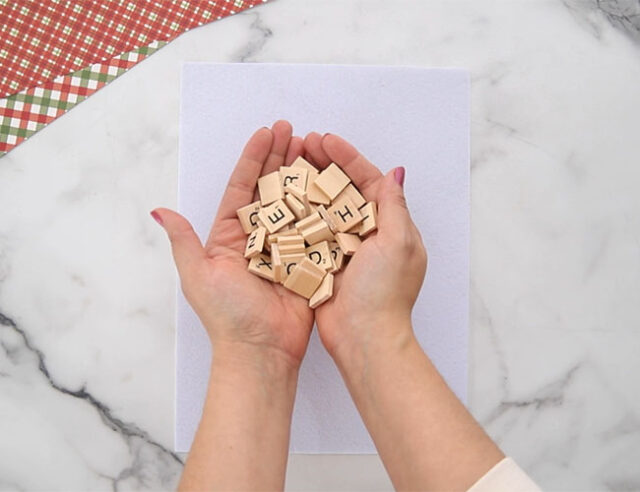 2. Trace around the letters.
Place the scrabble letters on the white stiff felt to form your words.
Trace around the letters with a light marker or pencil to form the template for the size you need.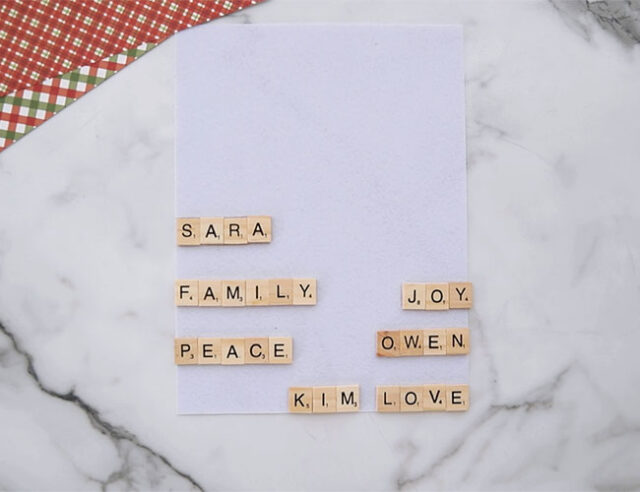 3. Cut out the felt templates.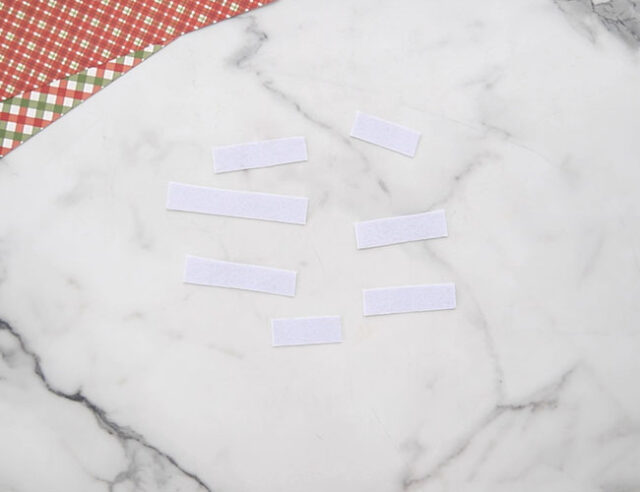 4. Glue the letters onto the felt.
Hot glue (with adult assistance) each letter to the felt.
We also recommend adding some glue in between the letters to prevent them from bending sideways.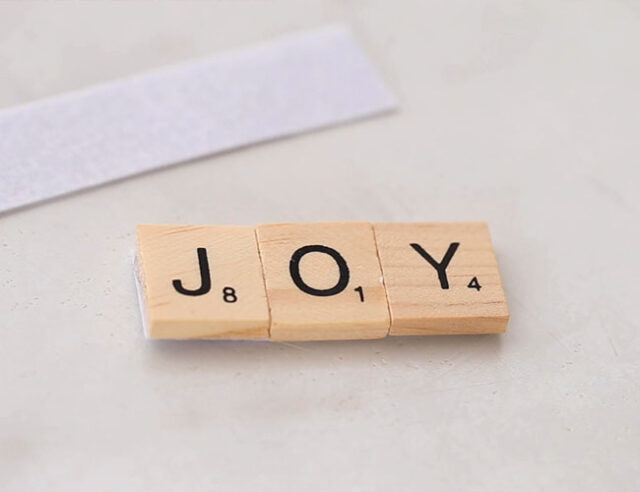 5. Glue a red bow on top of the letters.
Add a festive touch to your ornament with a bow.
Tie the bow. Then add a little bit of hot glue to the center of your word to glue the bow to.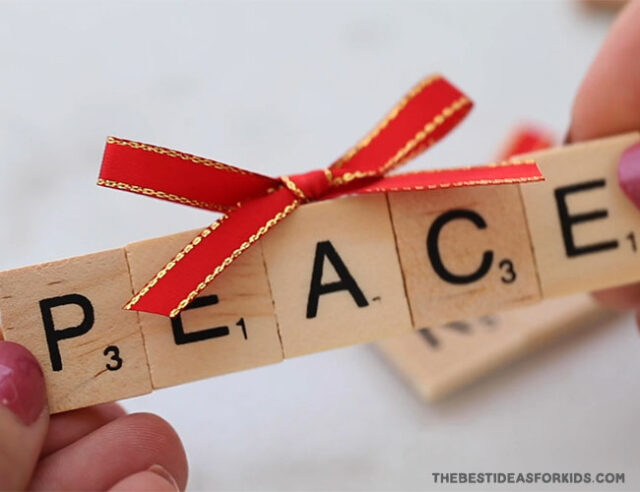 6. Glue ribbon or twine to the back for hanging.
If you want to hang your letters, glue a piece of twine to the back.
You can also use the letters to create framed art or glue magnets to the back!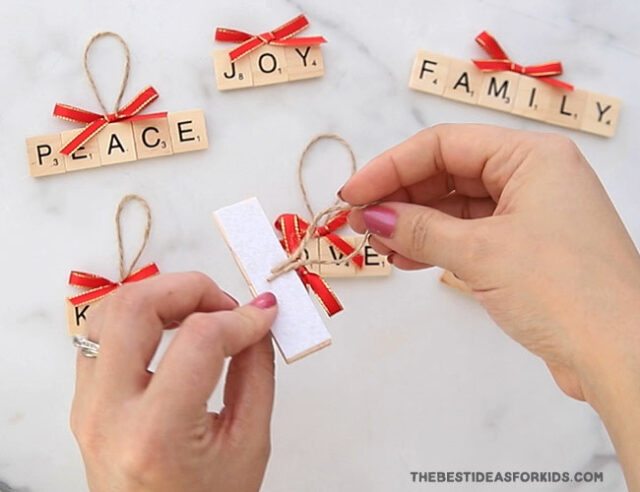 Kids will love hanging these handmade scrabble ornaments on the Christmas tree!