Simon says is a great activity to keep kids busy and active indoors. Whether you are encouraging kids to play a game of Simon Says in a classroom setting, or just at home, it's usually a big hit with lots of giggles and laughter. Sometimes it can be hard to think of creative Simon Says actions on the spot, so we created a list of over 50 Simon Says action ideas you can print off.
RELATED: Would You Rather Questions for Kids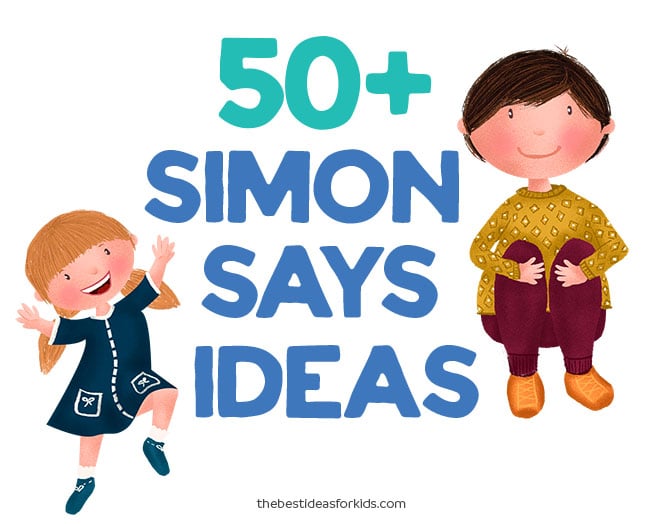 To make it easy, we have created a printable list of 50+ Simon Says Actions.
We also have all of the Simon Says actions in this post if you need them. You can copy and paste to create your own printable, or use the one that we have already created for you! We only ask that if you are reprinting in a community newsletter or school newsletter that you credit our website as the source.
How Do You Play Simon Says?
One person is the leader and calls out the actions. Everyone else must follow the leader and do the action, but only when Simon says. For example, Simon says, touch your toes. Everyone must touch their toes.
Then the leader has to try and get everyone to do an action without saying Simon says. If someone does the action and the leader did not say Simon says, that person is out of the game. For example, if the leader says just "touch your toes" and someone touches their toes, they are out of the game.
The leader can try to make things more difficult by speeding up the pace of calling out the actions.
When Should I Play Simon Says?
Get kids active when stuck inside on a cold or rainy day
Have ideas ready when you need a quick activity in a classroom setting
Bring them with you on a trip or a vacation
Make it a fun activity for a sleepover
Play the game for a family game night activity
Use as an Icebreaker
Printable Simon Says Ideas
Here are the 50+ Simon Says Ideas. Some are simple enough for a toddler to do, others are so silly that it will result in giggles.
Either way, these Simon Says actions are great for kids of all ages and will keep them busy while getting their bodies and minds moving.
Here is an image with all of the actions you can print off. A pdf file for printing is located at the bottom of the post.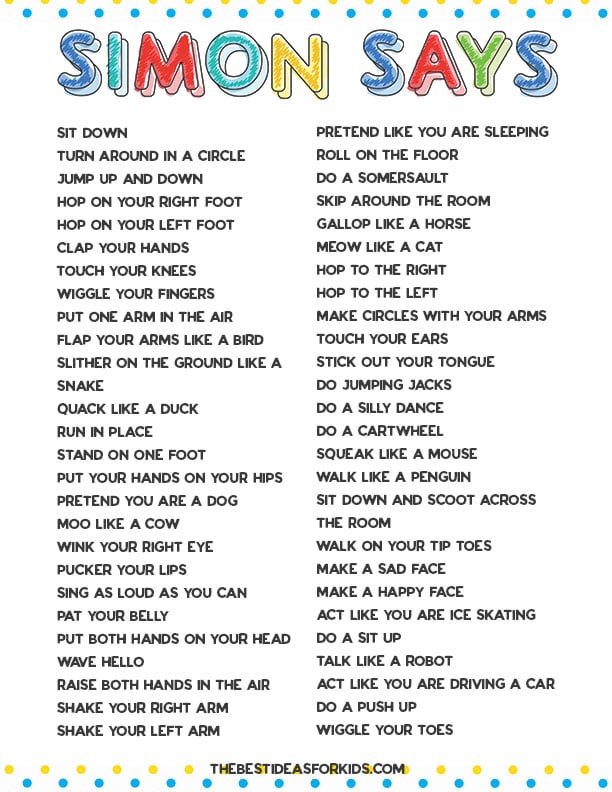 50+ Simon Says Ideas for Kids
Flap your arms like a bird
Slither on the ground like a snake
Put your hands on your hips
Put both hands on your head
Raise both hands in the air
Pretend like you are sleeping
Make circles with your arms
Squeak like a mouse
Sit down and scoot across the room
Act like you are ice skating
Act like you are driving a car
Get the PDF printable of all of these Simon says ideas HERE. 
We hope your kids enjoy these Simon Says actions. You can even get the whole family involved in this fun game.
If you're looking for another easy indoor game, try Would You Rather Questions for kids. We have a printable file you can get with cards that you can pass around for everyone to take turns asking questions!