No need to buy store-bought play doh after you try our homemade playdough recipe! This easy playdough recipe takes 5 minutes to prep and 5 minutes to make. And the playdough will last for months! It's super soft, stretchy and non-toxic for kids.
RELATED: Kool-Aid Playdough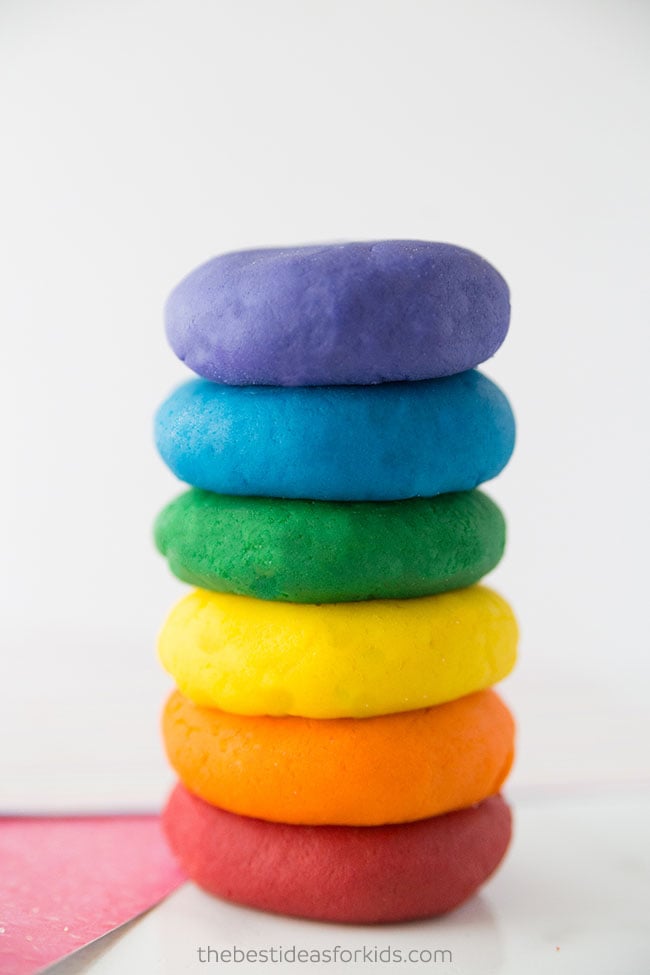 The BEST Playdough Recipe
We have tried a few recipes before that require you to mix the coloring in after the playdough is made. This was SO messy! We got food coloring all over our hands and surfaces doing it this way. You'll love this method because there's no need for bags to mix the coloring with and no mess too!
It's easy to make a batch of all different colors for the kids to play with. Just store the finished playdough in an air-tight container. It will help to also wrap it in some saran wrap to keep the air from touching the playdough which can make it go hard.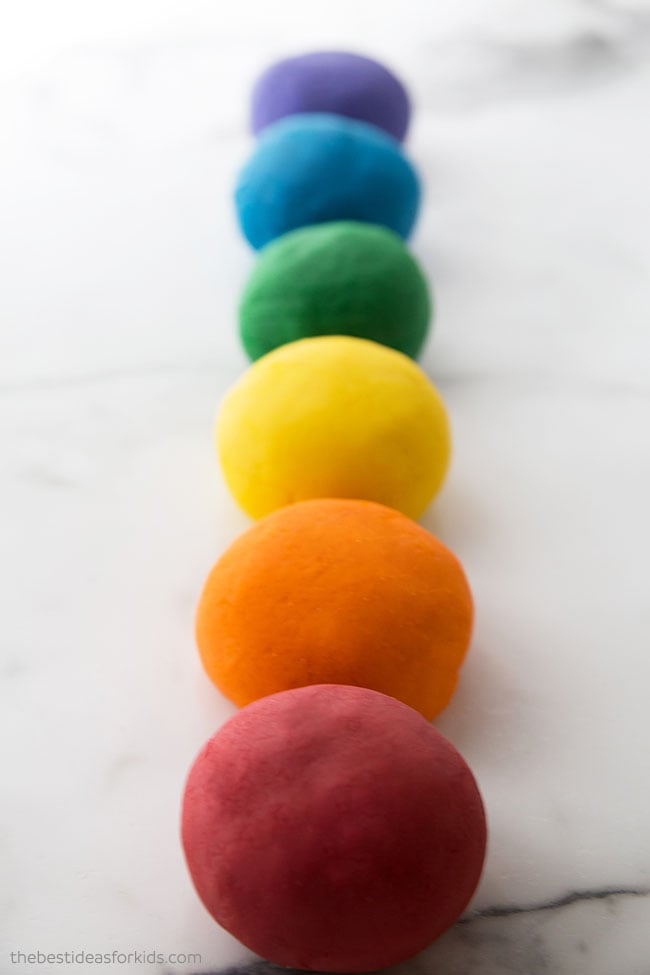 How to Make Playdough
There are many ways to make playdough – using a stove-top or using a kettle with boiling water. Personally, we prefer the stove-top method. We find it's easier to mix the ingredients in the pot. There are also no-cook playdough options but we also prefer this cooked playdough recipe. We find this recipe to last the longest and be the softest. This recipe only takes a few minutes to make and it will last for months!
Here are the ingredients you'll need:
Skip down to the recipe card below to see the full recipe instructions and video.
Do you need cream of tartar? 
Yes, if you want a soft playdough and want it to last longer, you need to add a little bit of cream of tartar. We tested different amounts and found 2 teaspoons to be the perfect amount to make the playdough super soft. If you skip the cream of tartar your dough may turn out a bit more dry and crumbly. It also helps your playdough last longer. If you want a dough recipe without cream of tartar, see our cloud dough recipe.
How do you get vibrant playdough colors?
We like to use this liquid food coloring. It makes the playdough much more vibrant than regular food coloring. If you're using regular food coloring, you'll need to add in a lot of drops. And don't mix after you make the playdough – add it into the water instead which is so much easier and less messy!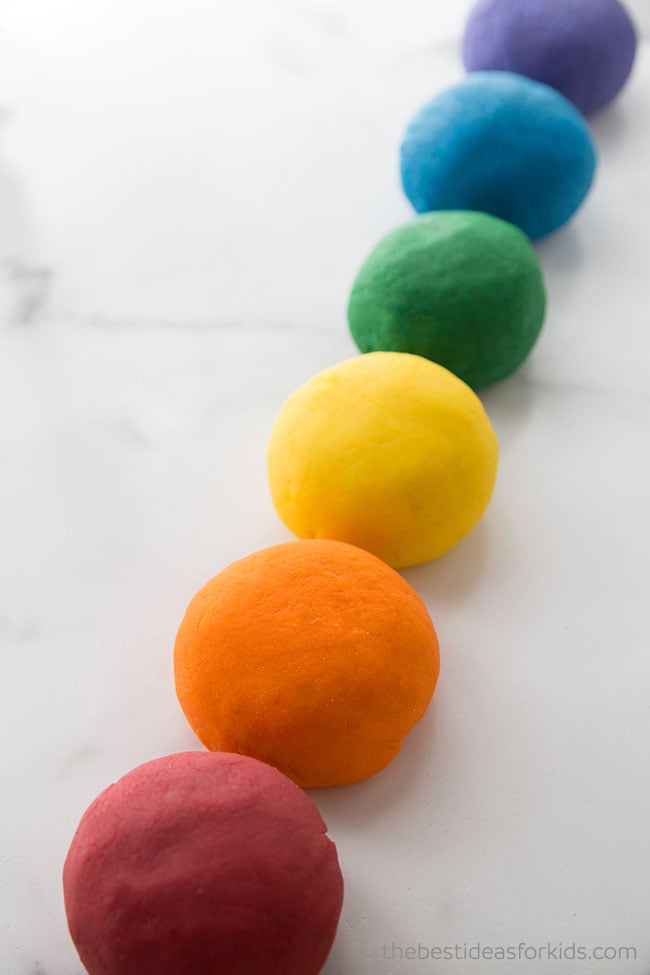 How to Keep Playdough Soft
First wrap your playdough in saran wrap then store in an air-tight container. You'll notice that playdough will go hard if left out – so the less air that can get to the playdough when storing, the longer it will last!
How Do I Make Playdough Soft Again?
If your playdough dries out and turns out to be a little dry after making it, try adding in a little more oil first. You can knead the oil in with your hands. You can also knead in a little bit of water.
When you're done making your playdough, get out some cookie cutters and have fun making shapes! We also like using rolling pins and stamps to play with our playdough.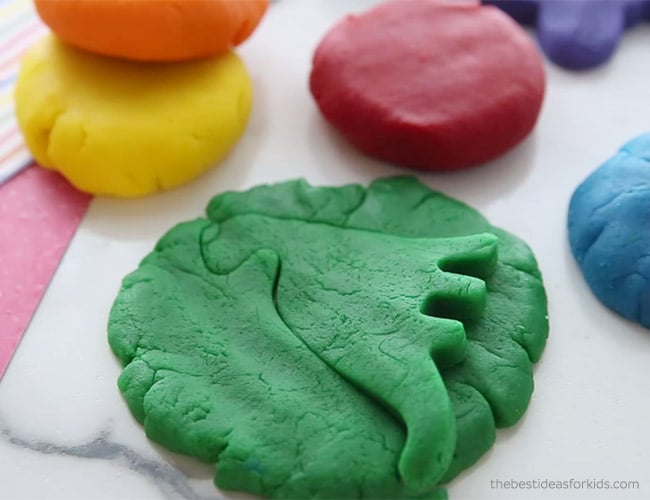 Homemade Playdough Recipe
In a large bowl, combine all of your dry ingredients (flour, salt, cream of tartar) and mix well.

Mix food coloring with your water first. Then add the vegetable oil and water with food coloring to a large pot. Mix together.

Add the dry ingredients to your pot and mix well.

Cook over low to medium heat until the dough starts to form and becomes dry.

Once it starts to form a ball together and looks fully cooked, take off the heat. Let the dough cool first before touching.

Once cool, knead the dough for 5 minutes to make the dough soft.
If your dough is not soft, continue kneading for another 5 minutes. If you find it is still too dry add a little bit more oil and knead in.