For a kid-friendly, frozen treat, try these watermelon popsicles! These are easy to make with only a few simple ingredients. They would also make the perfect summer BBQ treat!
RELATED: Fresh Fruit Popsicle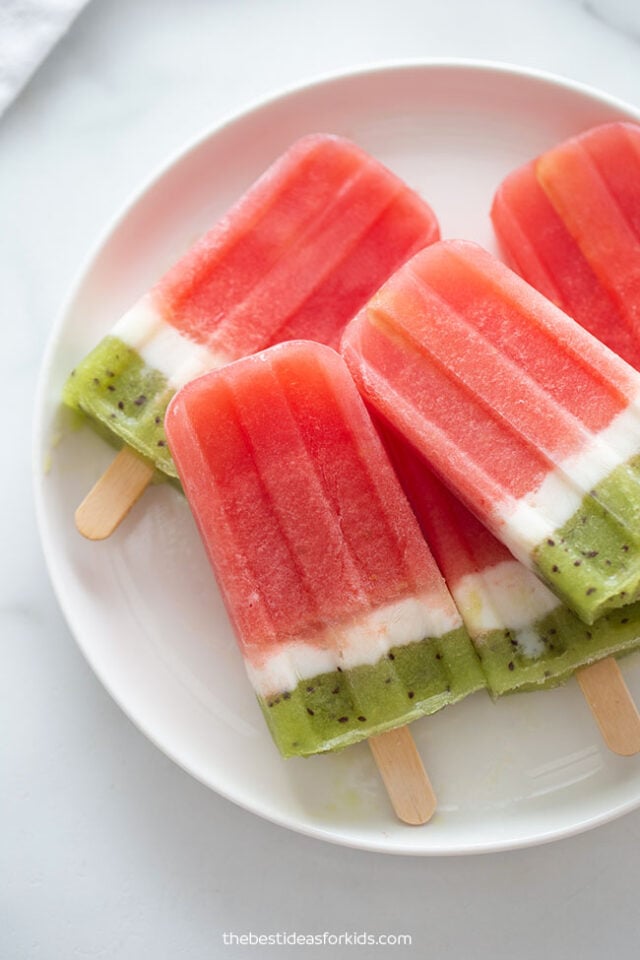 Watermelon Popsicle Recipe
These watermelon popsicles are a fun summer dessert for kids. They are made with simple, fresh ingredients and don't require any added sugar.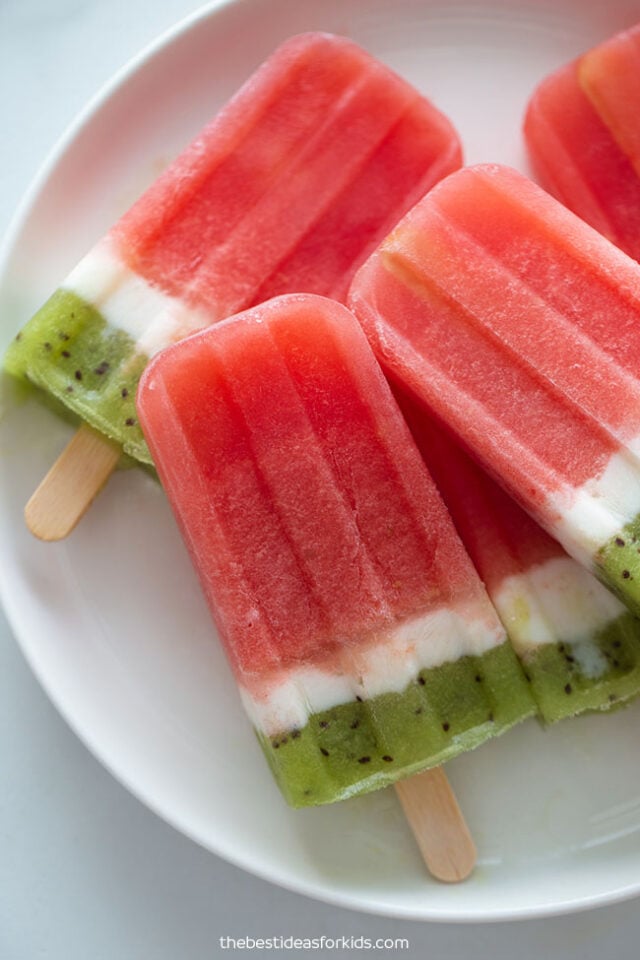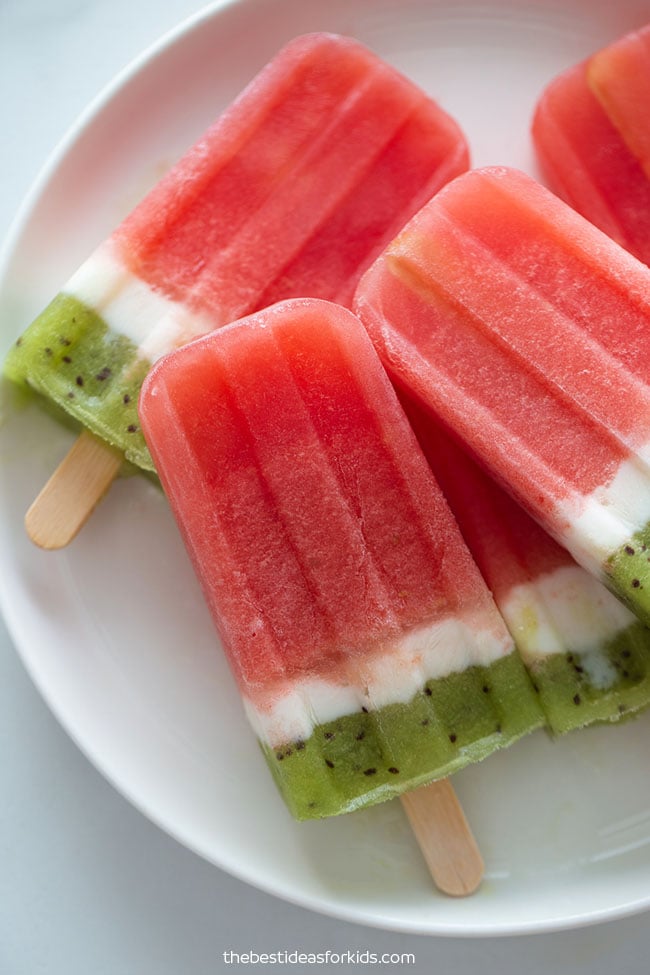 All you will need to make these watermelon popsicles are fruit and yogurt. If you choose to use coconut yogurt, these are also dairy free.
The best part about these popsicles is that they are layered to look like a watermelon. Kids will love trying these popsicles at your next summer BBQ!
Here are two other fun popsicle recipes to try: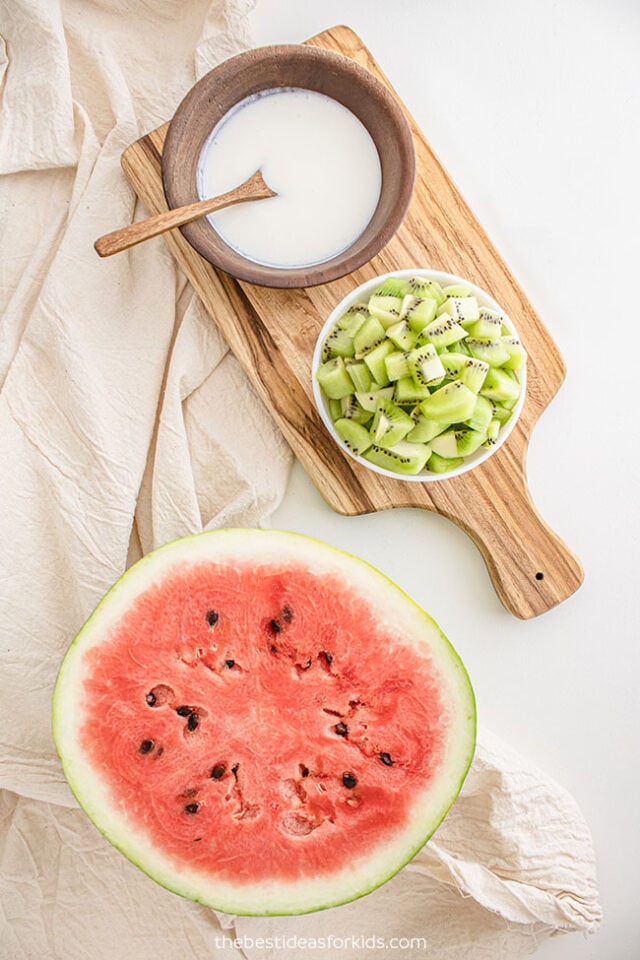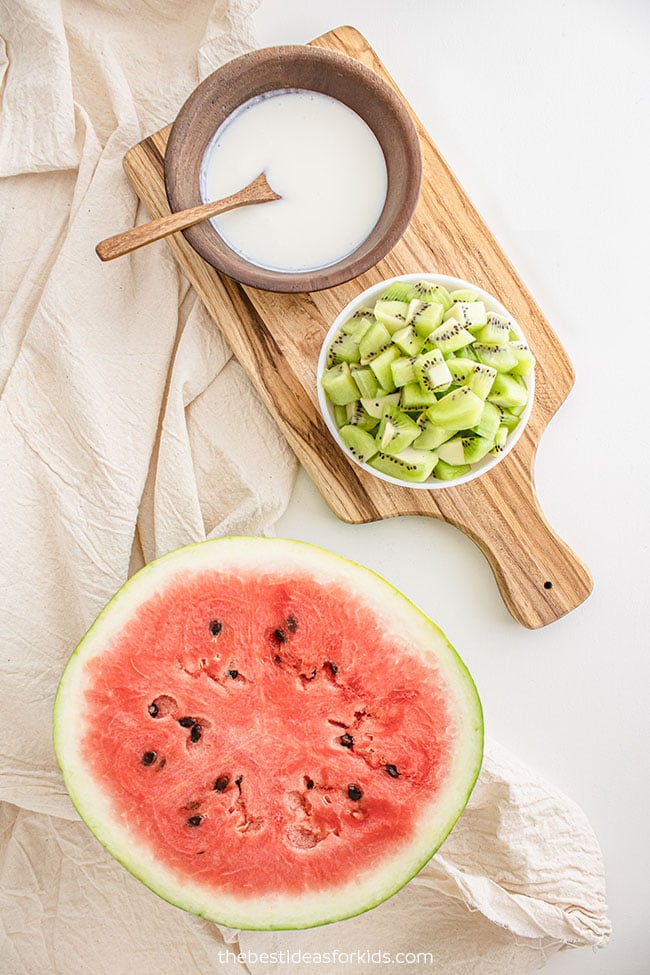 Ingredients Needed
Here's what you will need:
3 Cups Fresh Watermelon, cubed
3/4 Cup Coconut Yogurt
4-5 Kiwis, cubed
Popsicle Mold
Popsicle Sticks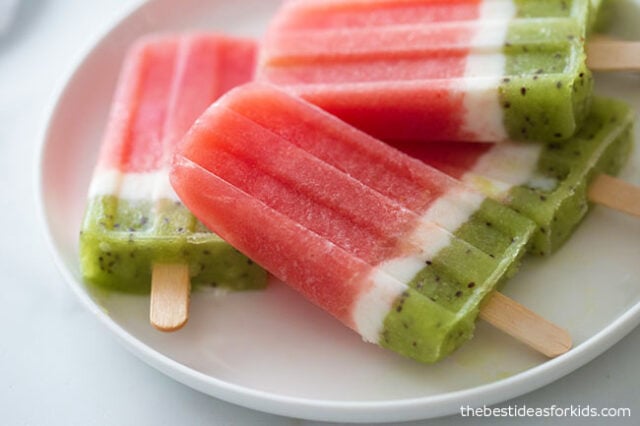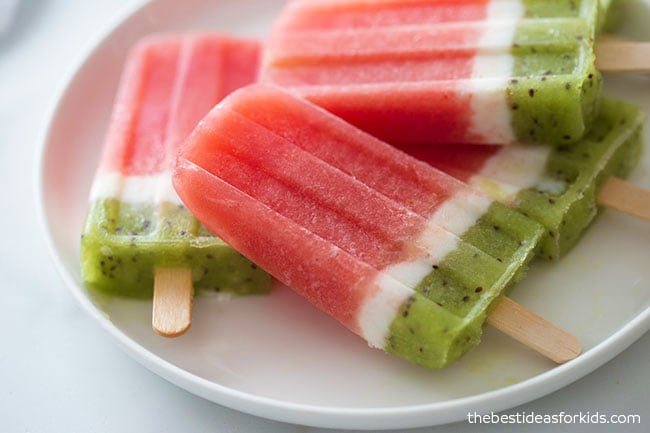 Can I use another kind of yogurt? 
Yes! You can use vanilla yogurt, Greek yogurt or plain yogurt. If you use plain yogurt you can also add a little bit of honey to sweeten it (honey should not be given to babies under 1 year old).
How many popsicles does this make? 
For a standard popsicle size mold, we made 10 popsicles. If your mold has larger popsicles you may only be able to make 6-8.
How long does it take to freeze? 
Each layer will take a minimum of 30 minutes to freeze before adding the next layer. We recommend 3 hours for the watermelon layer and one and half hours for the yogurt layer. Then leave in the freezer for 6 hours or overnight to harden completely.
Calories: 51kcal, Carbohydrates: 11g, Protein: 1g, Fat: 1g, Saturated Fat: 0.4g, Polyunsaturated Fat: 0.2g, Monounsaturated Fat: 0.2g, Cholesterol: 2mg, Sodium: 11mg, Potassium: 170mg, Fiber: 2g, Sugar: 8g, Vitamin A: 317IU, Vitamin C: 38mg, Calcium: 41mg, Iron: 0.2mg
We hope you love this easy popsicle recipe! It's a fun alternative to any store-bought popsicles and the perfect treat to bring to your next summer barbecue party!
For another fun frozen treat, try our ice cream in a bag recipe!